This week was filled with Biswap accomplishments! Here is a recap of noteworthy events.
​​Join Biswap Grand Event! | A Chance to Claim Unique Biswap Presents!
Binance Blockchain Week Conference will bring lots of surprises. We know you've been waiting for this, now you can't miss this chance!
Participate in Biswap Grand Event online & claim cosmic gifts:
📆 02:00 PM UTC, 9–30 September
🤩 40 winners
🎓 Take part: https://biswap.org/blockchain_week
Become an owner of:
🎁 Unique Biswap merch
🎁 Mercedes Benz E Class 2022 AMG or $50K
🎁 iPhone, PlayStation & the latest Apple devices
Play Spin & Win Activity at the Biswap booth at the conference:
🎁 Comfy Hoodie | 🎁 Stylish T-Shirt | 🎁 Fancy Cap
🎁 High-quality Bottle | 🎁 Handy Notebook | 🎁 Magical Pen
🎁 Bright Sticker | 🎁 Mighty 20 BSW
Which item would you like to get❓Put your luck to work and join the Biswap events! Details 👉https://bit.ly/3q5fWmY
Biswap Success Story | Appreciation to Binance Labs!
Biswap has achieved a lot since its launch. It wouldn't be possible without our great investor — Binance Labs. With your help, we reached great heights:
☄️ Worldwide exposure & Community growth
☄️ Powerful partnerships & Recognition in the DeFi
☄️ Support from TOP platforms
Discover more here: https://bit.ly/3Qx9nVn
​​$50B+ Total Trading Volume | Biswap Reached Colossal Stats!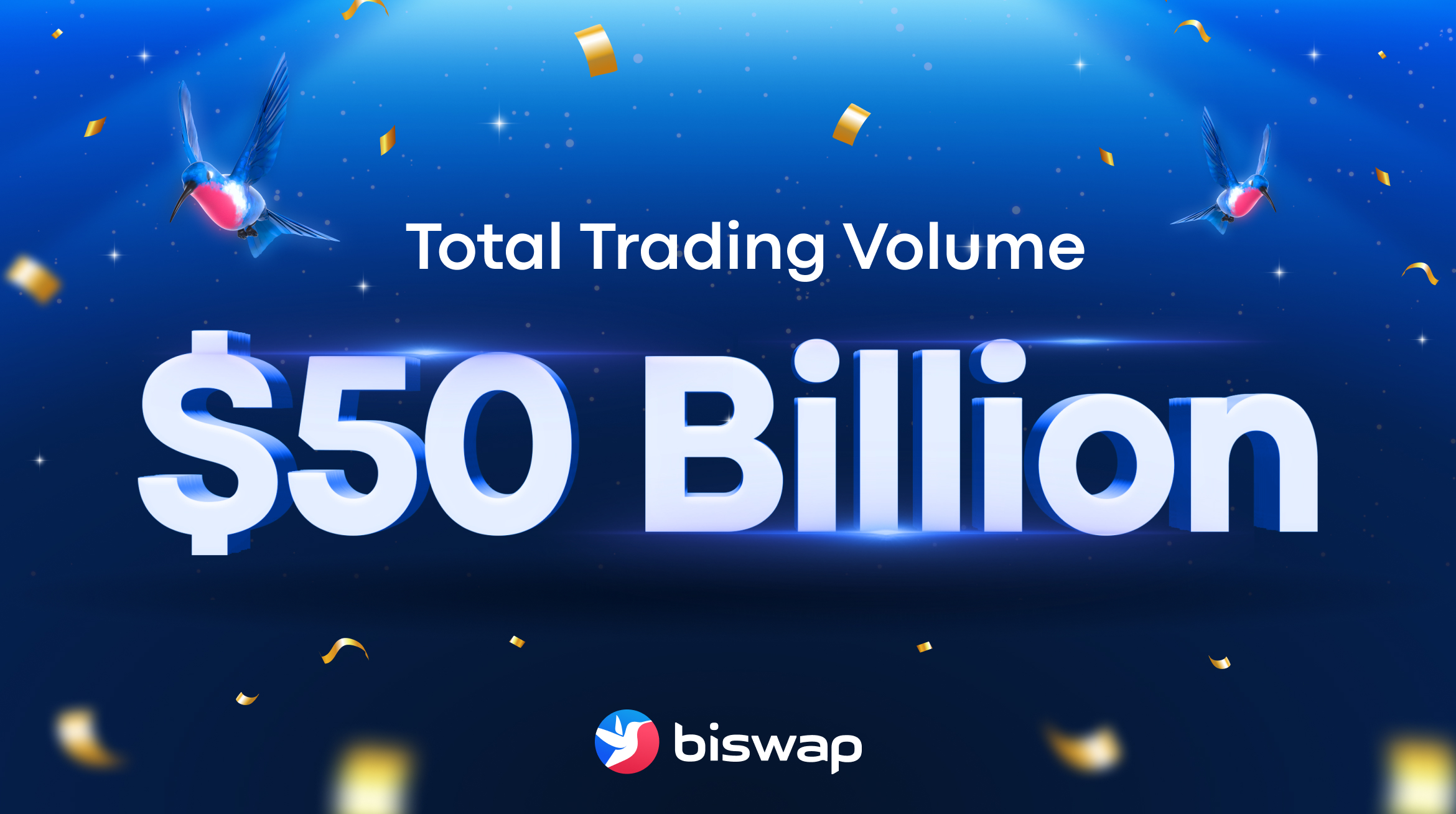 Our joy knows no bounds! Look at these cosmic numbers:
🔥 500K+ Active Users
🔥 $50B+ Total Trading Volume
HOW? Here are a few reasons:
🪐The lowest 0.2% trading fee
🪐Benefits for traders & BSW holders
🪐75% LP Rewards for Biswap Investors
🪐TOP offers & features, such as Multi-Reward Pool
Trade actively on Biswap. Let your assets reach their potential!
​​Join Profitable Launchpools | Stake BSW & Earn TOP Tokens!
Come here to raise your assets with a high APR:
https://biswap.org/pools/stake_bsw
💸 Stake BSW — Earn MLS
💸 Stake BSW — Earn BSW & ATOM
⏱Duration: 30 days
🙋Make your day via lucrative stake!
​​Biswap x WOO Collaboration | Biswap Keeps Growing!
〰️ WOO Network is a liquidity network connecting traders, exchanges, institutions, and DeFi platforms through their products. Binance Labs invested $12 million in WOO Network.
Its native token is officially listed on Biswap!
Swap WOO with the lowestfee — 0.2%!
💸 exchange.biswap.org
Make a lucrative swap now!
APY Increase on TOPFarm | Super Offer for Liquidity Providers!
Hot APY offer is here for you! Provide liquidity to enable Farm:
https://biswap.org/farms
🔥 23.39% for BNB-USDT
Enjoy profitable benefits👇
💵 75% LP Rewards
💵 Passive BSW income
Multi-Reward Pool Event | $2K in BSW Biswap x BSCDaily!
Meet collaborative initiative by TOP projects! Be active on social media & try Biswap's new feature:
💰 Total Pool: $2 000 in BSW
📖 Details:https://bit.ly/3er4gIB
📆 Dates: 10:00 AM UTC, 6–13 September
🚩 Social Media Campaign | $1 500 in BSW for 75 winners
1️⃣ Follow BSCDaily & Biswap Twitter, Biswap TG Channel and Chat
2️⃣ Quote RT with a BEP-20 wallet & share your emotions about Multi-Reward Pool
3️⃣ Tag 3 friends in the comments
4️⃣ Fill out the form
🚩Stake-Trade-Earn Campaign | $500 in BSW for 10 winners
1️⃣ Get 30+ BSW on biswap.org
2️⃣ Stake them in the Multi-Reward Pool
3️⃣ Fill out the form
Rush to join Biswap x BSCDaily lucrative event before it's over!
​​Space Agents Program | Additional Topic for Spacewalk
The new exciting theme for your content! In honor of the Binance Blockchain Week:
📅 Deadline: October 1 (02:00 PM UTC)
🎉 Topic: Binance Blockchain Week 2022 │ Biswap Journey to Paris
📝 Task: Tell your audience about Biswap's:
Participation in the conference
Exclusive events
The importance of the involvement for further development of the project
Create content & take these steps:
📍Fill out the Participation Form to join
📍Share the content via the Submission Form
Find more details here: https://biswap.org/space_agents
The new space adventure awaits!
Discover Biswap DEX | New Video Guide on YouTube!
Explore the world of benefits via Biswap EduHub on YouTube:
🎬https://www.youtube.com/watch?v=okSdc8Lyqoo
Looking for the best conditions?
💸 The lowest 0.2% fee & high APYs
💸 Up to 20% Multi-type Referral program
💸 Potent BSW — a key to extra profit!
Look at the Biswap Grand Ecosystem:
💪 TOP partners
💪 Mighty investors
💪 Collaborative initiatives
Find everything you need on Biswap!
Biswap is on Facebook | Join & Stay Updated!
We keep on conquering social media.
🤩The Biswap Facebook profile is launched:
https://bit.ly/3DdVjwE
You're welcome to the new place, where you can:
Show your activity & support
Read all the latest Biswap news
Communicate with other Biswappers
Subscribe, stay informed & find new Biswap mates!
BNB Chain India AMA Session | $200 in BSW for Completing a Quiz!
Users had a great opportunity to get to know Biswap better with this AMA!
Moreover, some of them shared $200!
💰 Prize Pool: $200 in BSW
🏅 Winners: 10
📍 Where: BNB Chain India Community
Gaining rewards for your knowledge is possible with Biswap!
​August Spacewalk Report | Winners Will Share $10K+ in BSW!
Best Space Agents were chosen! 10 Biswap bloggers and influencers will share the reward pool:
💎 Main Gains: $7 500 in BSW
💎 Extra Gains: $2 500 in BSW
🌟 Additional Biswap x Beefy topic: $200 in BIFI
Review the glorious champions: https://bit.ly/3TVr4R4
💰Next month — you can be a winner! Review the details here:
https://biswap.org/space_agents
Let's see your skills in action!
Follow the Biswap Social Media:
🔥Website | Telegram Channel | Telegram Channel in Russian
Telegram Chat | Twitter | YouTube | Instagram | Medium | Zendesk
Local TG Communities:
🇲🇨 Indonesian-Speaking | 🇻🇳 Vietnamese-Speaking | 🇷🇺 Russian-Speaking
🇫🇷 French-Speaking | 🇵🇹 Portuguese-Speaking | 🇩🇪 German-Speaking
🇨🇳 Chinese-Speaking | 🇹🇷 Turkish-Speaking | 🇪🇸 Spanish-Speaking
🇮🇳 Indian-Speaking