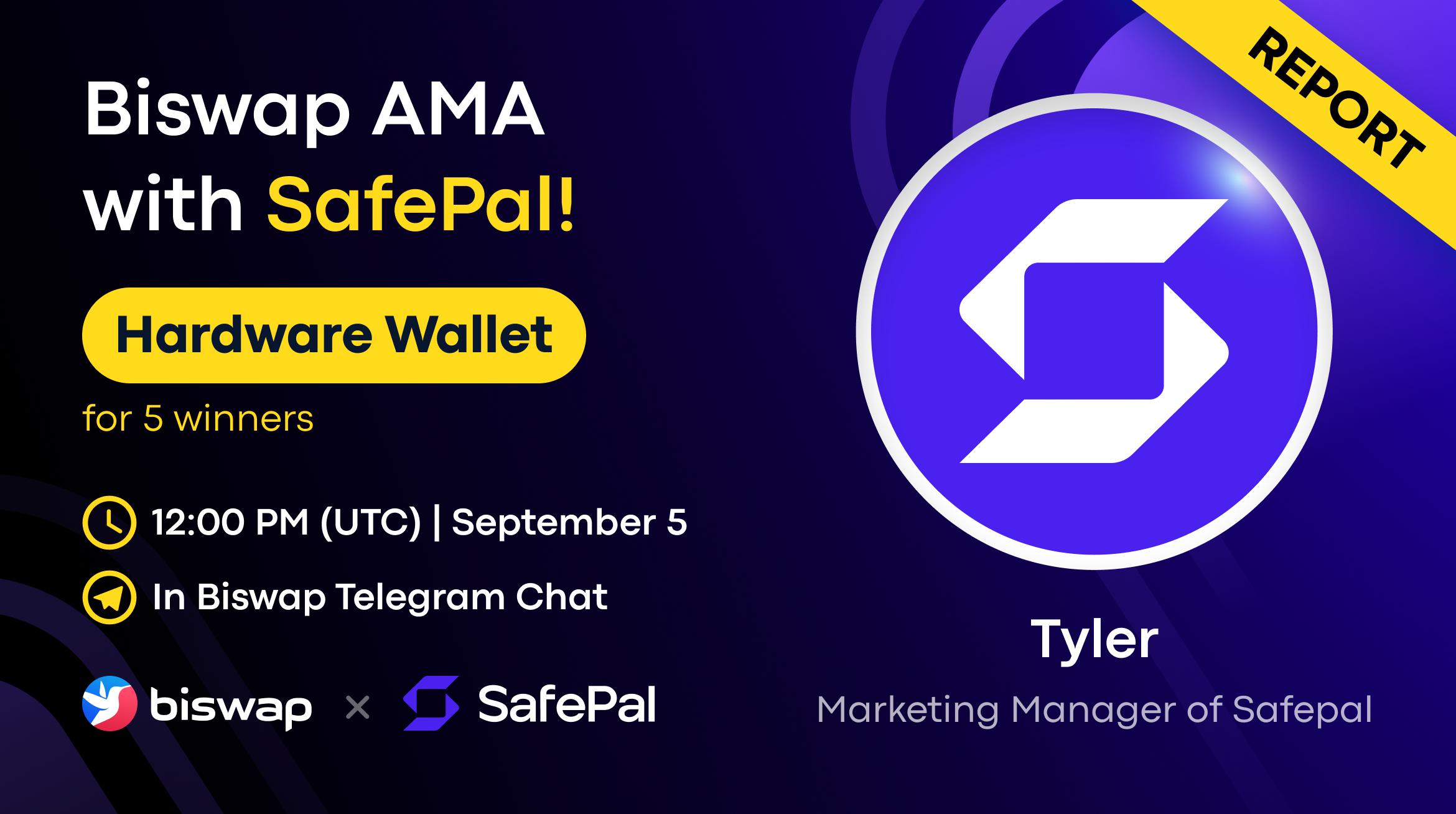 Dear users, we appreciate your curiosity about Biswap DEX and SafePal cooperation! That is why we were happy to share with you important information during our collaborative AMA Session. In this report, you will find answers to our team and users provided by Tyler, Marketing Manager of SafePal.
But first, let us announce the winners whose questions were selected for AMA!
Lucky user's Twitter nicknames that won 5 hardware wallets:
🎉 agasta47
🎉 EvandaEscobar
🎉 coinmarket222
🎉 arrow7788
🎉 kushagrabhatt30
Standing ovations and gratitude for your contribution to our AMA session!
Let's start with a question from the Biswap team! You will find a lot of useful facts and information about our partner SafePal!
Part 1. Questions from the Biswap team!
1. Could you give us a brief SafePal introduction and some features of its key products?
SafePal was founded in 2018. SafePal is a cryptocurrency wallet that aims to provide a secure and user-friendly crypto management platform for the masses. Being the first hardware wallet portfolio of Binance, SafePal now serves more than 6 million users across the globe. SafePal provides hardware wallet, software wallet and browser extension wallet product lines, all paired and managed through the SafePal App, where users can easily store, manage, swap, trade, and grow their crypto wealth. SafePal has not only supported 15 languages, 48 blockchains, 100,000+ tokens, and NFT support but also integrated with Binance DEX, Binance Spot Trading, and all DApps on Ethererum, BSC, Solana, Tron, Polygon networks and many more.
SafePal is one of a kind within the crypto industry as the only hardware wallet product backed and invested by Binance Labs. SafePal offers a complete web3 wallet experience, such as having all 3 types of wallet solutions. Many wallet providers only focus on one, while the crypto community is quite diverse, and user behaviors change over time. Therefore by offering all 3 types of wallet solutions, SafePal provides unparalleled security for its community as well as asset accessibility. Right now, we have three types of wallets:
SafePal S1 — a 100% offline device that keeps private keys safe. It is built with an air-gapped signing mechanism, self-destruct mechanism, and other security features to protect your assets and privacy. Meanwhile, users can enjoy the flexibility and mobility to manage their crypto assets anytime, anywhere, with SafePal S1 Hardware Wallet.
SafePal App Mobile Wallet — a mobile crypto portal for secure and easy crypto asset management and trading your favorite crypto assets on the go.
SafePal Extension Wallet — a browser extension for a secure and seamless Defi experience, available for Chrome, Firefox, and Microsoft Edge.
Through the wallets, we provide value-add features and services for users to easily manage and grow their crypto wealth:
Cross-chain Bridge and Swap: Users can easily migrate their funds across different chains.
SafePal Earn — A Defi yield aggregator that provides secure and simple stake-to-yield services to users so that users don't need to open different DApps and invest one by one anymore.
Trading Mini-programs: SafePal is the only decentralized wallet aggregating CEX and DEX for seamless trading experiences. Right now, we have integrated Binance, MEXC, and ApolloX. In the future, there will be more.
LP Center: Easily set up your own LP tokens without opening third-party DApps.
Revoke Manager: View all the authorized smart contracts of your wallet and revoke any of them in a few clicks.
Built-in web3 browser that allows users to explore, bookmark and access DApps from different chains.
Download the SafePal Wallet: https://www.safepal.com/download
2. What are the latest updates on your project?
The new SafePal Extension Wallet allows users to navigate the web3 world conveniently, securely, and, most importantly, in a decentralized manner. Users can enjoy exploring the world of blockchain, cryptocurrency, NFTs, and more using their favorite browsers, knowing that SafePal securely protects their crypto assets. SafePal browser extension wallet allows users to open and stay connected across multiple different blockchains and DApps simultaneously without the complexity of configuring nodes and networks.
No more complicated setups
No more complex networks and node configurations
No more disconnections when switching DApps
By launching the SafePal Extension Wallet, we're not only expanding our SafePal collection to include an extension. We're improving the experience of using one.
More Compatible
Enjoy unlimited blockchain access, EVM or non-EVM
From today you can install the SafePal Extension Wallet and store assets from 30+ blockchains (still growing rapidly), EVM, and non-EVM chains, all in one place. No need to install different extensions for different chains anymore. With the SafePal Extension Wallet, you enjoy the ease of storing and managing BTC, ETH, SOL, AVAC, BCH, and more. (View the full list)
More Powerful and Convenient
Always stay connected, whichever chain you are on
Connect hundreds of DApps across different blockchain networks all at once!
SafePal Extension Wallet allows you to stay connected to different DApps, regardless of which chain they are on. For example, suppose you are connected to Uniswap and want to switch to the BiSwap tab. In that case, the extension connection will automatically follow you and maintain the connection on the new page.
Enjoy SafePal Swap service, and coming next, many other more on the extension.
Swap across different blockchain network assets instantly.
SafePal Swap is supported on the new extension wallet from Day 1. You can move assets across different chains via SafePal Swap, just like in the SafePal App. There will be more new features implemented in the extension wallet, such as compatibility with other software wallets and hardware wallets on the market. Sit tight and stay tuned for our latest update!
We feel excited about the final launch of the new extension wallet. Through it, we hope to bring the same secure, friendly and seamless experience to you on your desktop. Join us and start a brand-new Web3 experience with the next-level extension wallet.
Learn more about the SafePal Extension Wallet: https://www.safepal.com/extension
3. Can you introduce the events your team holds during the rebranding month?
SafePal has grown quite a lot in the past years, especially in recent months, as our S1 hardware wallet has been sold across 200+ different countries around the world. We have just reached 1 million Wallet App downloads on Google Play as well, currently one of the most downloaded hardware wallet apps in the crypto market. Just last week, we launched our exciting new visual identity, new logo, new website and browser extension wallet as well.
The New SafePal Look — This year, we have been focusing on building and improving upon our shortcomings, as one of the major drawbacks that reviewers mentioned about the SafePal S1 hardware wallet was not enough blockchain support, so this year we added 20+ new blockchain support. Now SafePal supports over 48 different blockchains, and we will continue to develop deeper synergy for both blockchain and NFT support. We have received quite a lot of positive feedback for the new UI after rebranding, most of the community loves that the design is more user-friendly, and we aim to position ourselves for mass adoption in the upcoming quarters.
Our core value to build the most secure and friendly solutions remains unchanged. We strive to be your go-to partner in exploring the web3 experience by utilizing state-of-the-art industry technology with the highest level of asset protection to keep you safe on your journey. With SafePal, you can always feel comfortable and confident about growing crypto wealth on your own terms. The new SafePal logo is designed in the shape of 'S', referring to 'SafePal', 'Secure', and 'Smooth', the three key core elements we build the brand with. The square shape in the middle represents the core value of SafePal, which is to protect your crypto assets, while the two separate logo pieces resemble two hands protecting users' assets. The whole logo delivers a dynamic and futuristic vibe to the new brand, as SafePal is always built for the future, for next-generation technology.
Lastly, the most exciting part of the launch has been the new SafePal browser extension wallet for Chrome, Firefox, and Microsoft Edge users, bringing the secure and seamless SafePal experience to the browsers. The launch officially marks a new milestone for SafePal to become one of the few wallets that provide comprehensive and integrated user experiences via hardware wallet, mobile wallet, and extension wallet. Through the SafePal browser extension wallet, users can effortlessly explore the Web3 universe on their computers. In this article, we are thrilled to share the product design of the new extension wallet and why it is better than other options like Metamask.
You can try out our new extension wallet today: https://www.safepal.com/download
4. Tell us about SafePal's security level, which is incredibly important for wallets.
SafePal Hardware Wallet Products are ultra-secure. The SafePal hardware wallet offers:
100% air-gapped and offline, with no Bluetooth, no WiFi, no NFT or any other radio frequencies, keeping your private key offline and secure
Mobile-friendly, manage crypto at any time, anywhere, without a laptop or USB cable.
1.3' high resolution IPS screen to display every transaction detail
Handy d-pad to navigate conveniently, ideal for crypto beginners
Supports 10 languages and 43 blockchains
The most competitive price offerings in the niche ($49.99)
Sold to 196 countries and regions
Extensive reseller network in 30+ countries of SafePal's wallet product lines are fully decentralized. You are the only individual with access to your funds and assets.
5. Could you briefly describe the milestones SafePal has achieved and your upcoming plans?
Our priorities have always been surrounding building decentralized, secure and friendly wallet experiences for the masses. With the complete product landscape of hardware, mobile and extension wallet, we are now able to provide wallet as the gateway to the web3 universe. Within the last few years, we have grown thousands of percent across all growth metrics such as downloads, product sales, users, assets under management, blockchain support and many more. Coming next, there are a few directions we are continuously exploring and developing:
Aggregated Swap and Trade services: We'd like to introduce more Swap and Trade options for users to easily exchange their tokens across different chains in the way they want. Furthermore, we facilitate product transparency so that users can view which channel their swap/trade orders are completed through and what the possible take rate could be.
More new features on the newly launched extension wallet: There are still a lot of improvements needed for the newly launched extension wallet, including adding more blockchain integrations and supporting custom-add tokens so that users can easily migrate their wallets from elsewhere to SafePal. Another key feature we plan for the extension is to build its compatibility with other wallets. In the future, users should be able to connect Metamask, TrustWallet, Ledger, Trezor and other wallets with the extension wallet to enjoy seamless wallet experiences on the browser.
Aggregated NFT marketplace: As NFT has become an important asset category, we are seeing growing demands of NFT asset management and exchange and also some common difficulties users are facing with. The team is doing early-stage research on how to improve users' NFT trading experience in the wallet.
New blockchains on all three types of wallets: This has always been part of our product roadmap. SafePal will support as many blockchains as possible to empower users to manage assets from different chains. New chains such as Aptos and SUI are already on our pipeline.
These are just some major directions the team is exploring. During the process, there will be a lot of details built into the products to make them easier to use and manage.
Part 2: Questions from Users!
1. In the current situation, tonnes of Solana wallets have been hacked. Hackers found a trick to steal our crypto currency from a wallet by sending their seed phrase and asking us to withdraw it to their address, by saying 'take some percentage to yourselves, and can you just transfer the rest of the USDT to the given new wallet address'. In this method, they can even steal the cryptocurrency in the hardware wallet. Have you come across any such situation and somehow retrieved or prevented the hack? And have you tried to pay any ethical hacker or normal hacker to break into a safe pal wallet somehow? What was the result?
Security is the MOST important part of a cryptocurrency wallet provider, and we at SafePal will always prioritize user asset security above all else. Ensuring that our users have a decentralized, safe and secure place to store their cryptocurrency assets such as coins, tokens, and NFTs remains our top priority. Since our inception, we at SafePal have never been hacked nor lost any user funds due to direct hacking attempts by both black hat and white hat hacker groups. Our products and services have been rigorously tested by some of the industry's finest audit groups as well as surprise audited by the likes of Kraken Labs, who have broken into many of our hardware wallet competitors, gaining access to the funds inside our competitors' wallets. However, our SafePal S1 hardware wallet did not suffer from any loss of assets or seed phrase breaches from professional teams such as Kraken Labs. Therefore we can confidently assure the community that the SafePal S1 hardware wallet provides the highest level of crypto asset security.
2. What inspired the recent rebranding, and what new strategies have you proffered to boost Crypto adoption in general?
The recent rebranding was inspired by our team's desire to drive web3 and blockchain adoption to the masses. Throughout the years, as we continued to build new tools and features for our community, the product over time became increasingly complex with some of the most cutting-edge industry 1st solutions. Over time many of the newer users that are just beginning to explore blockchain for the very 1st time felt overwhelmed by all of the possibilities and advanced features that were offered within the SafePal Wallet. Therefore we decided that it was time to revamp the experience and identify as well as improve the user journey through a rebranding of our visual identity. We invite you to come to explore our The New SafePal Look.
3. Do you have tutorial videos so we can get to know your wallet more clearly, or do you have a YouTube channel? Can you share it with us?
We fully understand the importance of tutorials and guides as the world of web3 is a difficult subject to master. This is why we indeed have a youtube account in which we have recently hired a full-time content creator to assist in creating tutorial videos and guides to help educate the community about web3 and asset protection.
Make sure to follow us on our youtube channel below and stay tuned for our 1st video 👉https://www.youtube.com/c/SafePalWallet/videos
We also look forward to the recently launched campaign with Biswap on community creator content, which we look forward to sharing with our community. Make sure to come to join us if you are interested in helping others better understand blockchain 👉 https://twitter.com/Biswap_Dex/status/1566320160713019392
4. You recently made KYC mandatory for using Binance in your app. Do you plan to make it mandatory for other CEXs and DEXs in the future?
SafePal is a 100% decentralized asset management platform in which you and only you can control your crypto assets. However, SafePal offers both centralized and decentralized solutions such as fiat onramp and exchange services. These 3rd party solutions, such as Binance Connect, BTC Direct, Simplex and Binance Mini Program, are centralized solution providers. Therefore they are the ones that require KYC. SafePal simply offers a portal to these 3rd party solution providers for users who wish to engage with these services. If users want to use centralized services, they will need to comply and meet the requirements of these 3rd party solution providers in which they will manage, review and evaluate the KYC process. Therefore all KYC processes are determined by the CEX and DEX solutions themselves and NOT SafePal. We do not have the power nor jurisdiction to implement KYC because we at SafePal are a fully decentralized wallet that DOES NOT KYC.
5. Will there be any Biswap edition Hardware Wallet of Safepal?
This is an interesting question, and if it's something that the community would like, we are happy to explore this together with the BiSwap team. SafePal has indeed created limited edition hardware wallets with partners, including Binance, for special occasions, and we would be happy to explore further with all of our partners and communities.
Closing words:
We hope that recap was helpful and informative. You are always welcome to join our collaborative initiatives and events. Stay tuned for more!
Follow the Biswap Social Media:
🔥Website | Telegram Channel | Telegram Channel for CIS Users
Telegram Chat | Twitter | YouTube | Instagram | Medium | Zendesk
Local TG Communities:
🇲🇨 Indonesian-Speaking | 🇻🇳 Vietnamese-Speaking | 🇷🇺 Russian-Speaking
🇫🇷 French-Speaking | 🇵🇹 Portuguese-Speaking | 🇩🇪 German-Speaking
🇨🇳 Chinese-Speaking | 🇹🇷 Turkish-Speaking | 🇪🇸 Spanish-Speaking
🇮🇳Indian-Speaking