One week closer to the Moon!
Here is the latest news summary for Biswappers.
Dynamic 15th Month of Biswap | Review the August Report!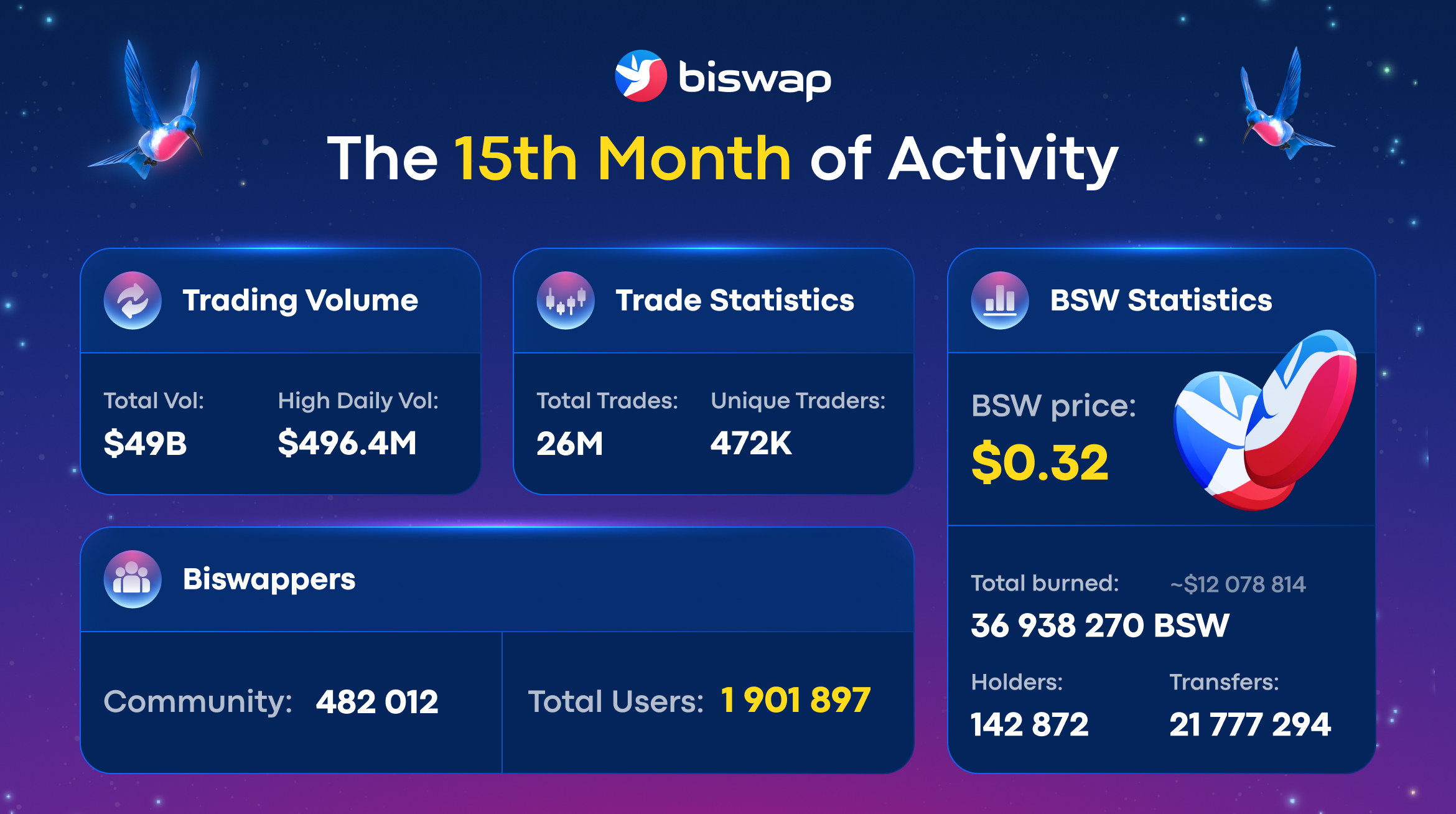 This month was too hot! Take a look at the report 👉https://bit.ly/3CudCxg
We are super high & came close to the stars:
☀️Multi-Reward Pool release
☀️0.2% trade fee implemented
☀️350K BSW Jackpot is shared in SNW
☀️12M+ BSW staked in a Holder Pool
☀️$49B+ Total Trading Volume
☀️142K+ BSW Holders
☀️Potent Integration into Moonpot
☀️New lucrative & fun activities
You know what? We might be higher!
🚀And Biswap will prove it soon!
Biswap DEX Globalization! | August Ecosystem Update
Biswap keeps on making friends and collaborating with prosperous projects!
Meet our new partner👇
🌔 Moonpot
The win-win savings game launched on BNB Chain powered by Beefy Finance.
Explore Biswap's rich ecosystem:
➡️ https://bit.ly/3RMBUaW
Open up new horizons with Biswap!
BSW Distribution Increased | Limited Offer In Multi-Reward Pool!
Gaining BSW is always a good idea! Only 15 days for an extra 93 000 BSW:
➡️https://biswap.org/multireward_pool
Look at the BSW boost and WBNB, BUSD Daily Distribution:
🔝10 296 BSW
💰1333.33 BUSD
💰4.7 WBNB
📌Additional BSW rewards are sponsored by the marketing fund.
Swap eligible trading pairs on biswap.org to profit!
Trade & Experience an exclusive offer NOW!
Extra Profit with BSW & AVAX | Meet the New Double Launchpool!
More crypto is just around the corner👇
https://biswap.org/pools/stake_bsw
💵 Stake BSW
💵 Earn BSW + AVAX
✅ Max stake per wallet: 1 500 BSW
✅ Stake 500 BSW in Holder Pool to join
Profit mighty on Biswap!
TopGoal x Biswap | $1 500 for the Swap Championship
Become closer to the football legends! Join the Biswap & our partner's TopGoal Championship 🔽
💸 Prize Pool: $1 500 TMT & BSW
🏆 Winners: 50 (20 first & 30 random)
🕰 Duration: 24–29 August
Just a few rules to score the goal:
1️⃣ Buy at least $20 in TMT on Biswap
2️⃣ Follow @Biswap_Dex & @TopGoal_NFT on Twitter
3️⃣ Quote RT with BEP-20 wallet
4️⃣ Fill in the Form
Make a Swap & Win a Cup!
Biswap x BNB Chain Chinese | $200 in BSW for the AMA Session!
We keep on doing international AMA sessions and spreading knowledge about Biswap. This time we talked to the Chinese community and had a quiz.
💸Pool: $200 in BSW
🏆Winners: first 10 users
🏅Who answered all questions correctly & joined Biswap Chinese Chat
⏰When: 12 PM UTC, August 25
📍Where: https://t.me/BNBChainZH
🎙Speaker: @Tlove_Biswap
👤Moderator: @angelo8xx8
More AMAs to come!
First Education Hub Guide on Youtube! | How to connect a wallet?
Hurry to check out the new tutorial!
Learn how to create, install & connect a wallet to Biswap:
👉https://bit.ly/3dGLP2j
Why do you need a crypto wallet?
It allows you to:
🔗 Make transactions
🔗 Trade on crypto exchanges
🔗 Use DApps
More about the DeFi world here: https://bit.ly/3agbygL
Boost your knowledge with Biswap!
FINAL Workers Distribution! | The Last SALE!
Update regarding the Staff Game based on the recent voting.
The last 11 000 Workers distribution sale started at:
🗓 12:00 PM UTC, August 25
Conditions for purchase & participation in the Staff Game:
✔ 10 BSW staked in the BSW Holder Pool
✔ 25 BSW was the price to hire 1 Worker
✔ 2 active Workers per wallet
What a chance to join the Staff Game for the last time!
61st Sharing Season Report! | $520 in BSW for Lucky Users!
Another 8 174 participants tweeted their Biswap experience, and 100 of them shared the $520 in BSW Prize Pool!
💌 4 136 #biswap_earn tweets
💌 4 038 #biswap_exchange tweets
The winners 👉https://bit.ly/3wwQ734
Rush into another week with Biswap & continue your BSW journey!
Follow the Biswap Social Media:
🔥Website | Telegram Channel | Telegram Channel in Russian
Telegram Chat | Twitter | YouTube | Instagram | Medium | Zendesk
Local TG Communities:
🇲🇨 Indonesian-Speaking | 🇻🇳 Vietnamese-Speaking | 🇷🇺 Russian-Speaking
🇫🇷 French-Speaking | 🇵🇹 Portuguese-Speaking | 🇩🇪 German-Speaking
🇨🇳 Chinese-Speaking | 🇹🇷 Turkish-Speaking | 🇪🇸 Spanish-Speaking