The last Biswap summer month was super hot and bright! Well, see for yourself: radical changes and new opportunities, constant and confident stats growth, fresh collaborations and lucrative activities, but that's not all. Take a look at the spectacular events of August to ensure that Biswap is the TOP DEX!
Community Appreciation
First of all, we want to express gratitude to our potent community! Your support and activity are the mightiest motivation to move forward and achieve heights. Our team is confident in Biswap strategy and success because of you! There are no limits for Biswap, so let's get to the Moon together!
Check out the stats | Biswap Stellar Numbers!
Biswap DEX Statistics:
$49 771 896 532 Total Trading Volume
$358 509 219 Total Value Locked
472 722 Unique Traders
26 459 587 Total Trades
1 901 897 Total Users
482 012 Biswap Community
BSW Token Statistics:
36 938 270 BSW Total Burn
142 872 BSW Holders
12 297 426 BSW staked in BSW Holder Pool
21 777 294 BSW Transfers
📍The data as of August 25, 2022.
Biswap Updates & Releases | Experience New Benefits!
Biswap DEX provides a few novelties that have already brought a wave of positive feedback and will have a crucial impact on stable development in a long-term perspective.
Multi-Reward Pool Release | Profit for Traders & BSW Holders!
The glorious Biswap Product feature is on! Rush to experience all the benefits first: 👉https://biswap.org/multireward_pool
💸 BSW, WBNB & BUSD in return
💸 High APY & low entry barriers
💸 Extra income for tradings
Steps to take advantage:
1️⃣ Stake BSW into Multi-Reward Pool
2️⃣ Activate BSW via trading on biswap.org
3️⃣ Get multiple tokens in return
Sort out the details via the article:
📑 https://bit.ly/3c1iXRR
Stake — Trade — Earn at Biswap!
0.2% Trade Fee Implemented | Welcome New Opportunities!
Recent Community Voting has resulted in a Trade Fee increase to 0.2%. Remember that the Biswap DEX trade fee is the lowest on the BNB Chain!
Changes bring new possibilities:
⚡️ 3X Boost of LP Rewards
⚡️ Launch of Multi-Reward Pool
⚡️ Resources for Biswap DEX & BSW progress
⚡️ Low slippage exchange
⚡️ Higher ratings & statistics
New 0.2% Trade Fee distribution:
✔️ 0.15% — LP Rewards
✔️ 0.01% — BSW Token Burn
✔️ 0.02% — Biswap Earn
✔️ 0.02% — Biswap Team
Rush to trade & earn with benefits on Biswap!
​​New Biswap Checklist | Heading to the Moon!
Biswap team was happy to announce the newest Checklist! So many goals have already been achieved! Now it's time to share Biswap's plans for the future!
Want to open the curtains more? The full Checklist is here:
🙌 https://bit.ly/3Q6KMqo
Stay tuned for more exclusive features!
350 000 BSW Jackpot Drawingin Squid NFT World!
We're happy to announce the completed drawing! Thank you for being a part of the SNW Game! Now it's time to move forward!
💰 350 000 BSW
🏆 1 000 winners
View your winning NFTs: https://squid-nft.io/jackpot
​​Follow Biswap DEX Community on CMC!
Meet Biswap profile on CoinMarketCap and subscribe to our CMC Community! 👉 https://bit.ly/3Qjxes7
🔥 Track the Biswap and BSW progress
🔥 Stay updated on Biswap news & releases
🔥 Enjoy the live chat with the community
🔥 Read articles with a table of contents
⭐️ Add a token to your "Watchlist" to monitor the BSW stats easily!
Community Votings' Results!
Biswap is constantly developing and has already achieved high rates in the crypto industry. Indeed, progress would not be possible without you Biswappers! Only with your help can we make important decisions that will strengthen Biswap and take it to the TOP.
​​Workers Distribution Voting is Over
Recently, our community voted for Workers Distribution and here's the result:
📨https://bit.ly/3C722bf
🔥 86.73% voted for "Sell 11 000 Workers at once."
⏰ The sale will be held at 12:00 PM (UTC) on August 25
The conditions are as follows:
📍10 BSW staked in the BSW Holder Pool
📍25 BSW is the price to hire 1 Worker
📍2 active Workers per wallet
​​Biswap Community Voting | For Lottery Budget Reallocation
This voting was valuable to Biswap DEX's growth. Therefore, the decision was made based on the results:
📨https://biswap.org/votings/proposal/staffgame_voting
🔥 86.89% voted for more opportunities for BSW Holders:
By Lottery Budget Reallocation and Lottery Disabling
Please note:
✔ Users have 30 days to withdraw funds from the balance on the Lottery page.
✔ The Lottery will be disabled on September 7.
Let's make Biswap's future brighter & BSW more mighty!
Beyond the Biswap Borders | Extend your crypto horizons!
Biswap always welcomes you to discover the crypto world via our collaborative initiatives and partners' offers! Enjoy new possibilities!
Biswap x Moonpot Alliance | New Utility for BSW Token!
Biswap is integrated into Moonpot!
🌙 Moonpot is a win-win savings game powered by Beefy Finance.
Experience NEW BSW Pot:
https://play.moonpot.com/#/pot/bsw
💎 Earn interest with 113.15% APY
💎 Receive tickets for the prize draw
💎 Get a chance to win Moonpot prizes
Let's go on a BSW earning spree!
Refer Friends & Win BSW | Open Binance Mystery Boxes!
You had an opportunity, during July 28 — August 8, to enrich yourself & your friends with BSW via the $500 Mystery Box Binance event!
🌟 https://www.binance.com/en
Binance is one of the potent Biswap's partners! Explore other Binance initiatives connected to Biswap:
🔥 https://bit.ly/3wt4B45
BSW is on Binance Academy | Discover & Earn Crypto Easily!
🧐 What are BSW Token & Biswap? Educate yourself via Binance Academy!
Find the article about BSW HERE: https://bit.ly/3bkYC9P
The article includes all you need to know about biswap.org!
So, don't stay aside and rush to grow further with us!
Profitable Offers | Earn Effortlessly on Biswap DEX!
Biswap keeps on creating a favorable environment for users. You have a variety of earning options with lucrative conditions in one place! So, take a look at the latest offers.
NEW Double Launchpool has Arrived!
Do you like crypto rewards? Make them double on Biswap!
https://biswap.org/pools/stake_bsw
⏰30-day offer for BSW Holders:
Stake BSW ➡️Earn BSW + LINK
Stake BSW ➡️Earn BSW + ETC
Stake BSW ➡️Earn BSW + DOT
Stake BSW ➡️Earn BSW + FIL
Stake BSW ➡️Earn BSW + AVAX
🔹 Max stake per wallet: 1 500 BSW
🔹 Stake 500 BSW in Holder Pool to join
More crypto rewards are at the door! Open it to gain a lot!
👉 https://biswap.org/pools/stake_bsw
​​Stellar Multipliers on Biswap | Enjoy Farm Boost NOW!
It's a gold mine of crypto! Dazzling multipliers shine bright:
https://biswap.org/farms
💰 0.4X for FIL-USDT
💰 0.2X for ALPACA-BUSD
💰 0.1X for MBOX-BNB
💸 4.7X for BNB — BUSD
💸 0.45X for TWT — BNB
How to enable farms & get 75% of the trading fee❓
Just provide liquidity!
🌟 High APYs will raise your profit to the moon!
Education Hub on Youtube | The First Video Guide is Here!
Learn how to create, install & connect a wallet to Biswap:
👉 https://bit.ly/3wksBG8
More videos and educational content are coming soon!
​​August AMA with CEO Report | Find Answers & Satisfy Your Curiosity!
During the AMA with the CEO, we were talking about:
💠 BSW burning
💠 Biswap's unique features
💠 Upcoming changes
💠 And more
Here is a report ⤵️
https://bit.ly/3PplHGs
💡If you have already come up with a question, send it via the Form and stay tuned for the next AMA
Biswap x BNB Chain AMA Sessions!
You had a chance to become closer to Biswap & our team via a series of Biswap X BNB Chain AMA Sessions:
​​🇫🇷 $200 in BSW BNB French AMA Session
​​🇻🇳 $200 in BSW BNB Vietnam AMA Session
🇹🇷 $300 in BSW | BNB Turkish AMA Session
​​🇪🇸 $200 in BSW for BNB Spanish AMA Session
🇨🇳 $200 in BSW | BNB Chinese AMA Session
Stay tuned for more AMA sessions!
Take part in NEW Biswap Events & Activities | Earn with Fun!
What would you prefer: earnings or entertainment? You don't have to choose on Biswap! Play, compete and win cryptocurrency!
​​Join Multi-Reward Pool Party | $4 000 in BSW for Biswappers!
Let's celebrate the newly released feature! This party is on social media and the Biswap platform.
💰 Total Prize Pool: $4 000 in BSW for 150 winners
⏰ Duration: 18–25 August, 01:00 PM UTC
📩 Details: https://biswap.page/biswapevents
$1 500 in BSW Campaign 1 | Social Media
Take part and share rewards via Biswap Twitter Party and Biswap Instagram Party
$2 500 in BSW Campaign 2 | Stake-Trade-Earn
Get 25+ BSW, stake them to the pool & earn a bunch of crypto via Biswap Website Party
📍 Note: You can participate in both campaigns with the same BEP-20 wallet.
Hold, Trade and Gain via the Pool Party!
​​Join Interstellar Expedition | $150 in BSW for Exclusive Activity!
Explore Biswap via tasks from Siri!
💰 Pool: $150 in BSW per week for 5 winners
🗓 When: 12 PM UTC, each Tuesday
🪐 Where: https://t.me/biswap
💫 Siri will create a list of tasks.
💫 The list + Form will be published in Biswap Global Chat.
💫 You have to complete all the tasks from the list.
Find more important information in the article.
TopGoal x Biswap Swap Championship | $1 500 in TMT & BSW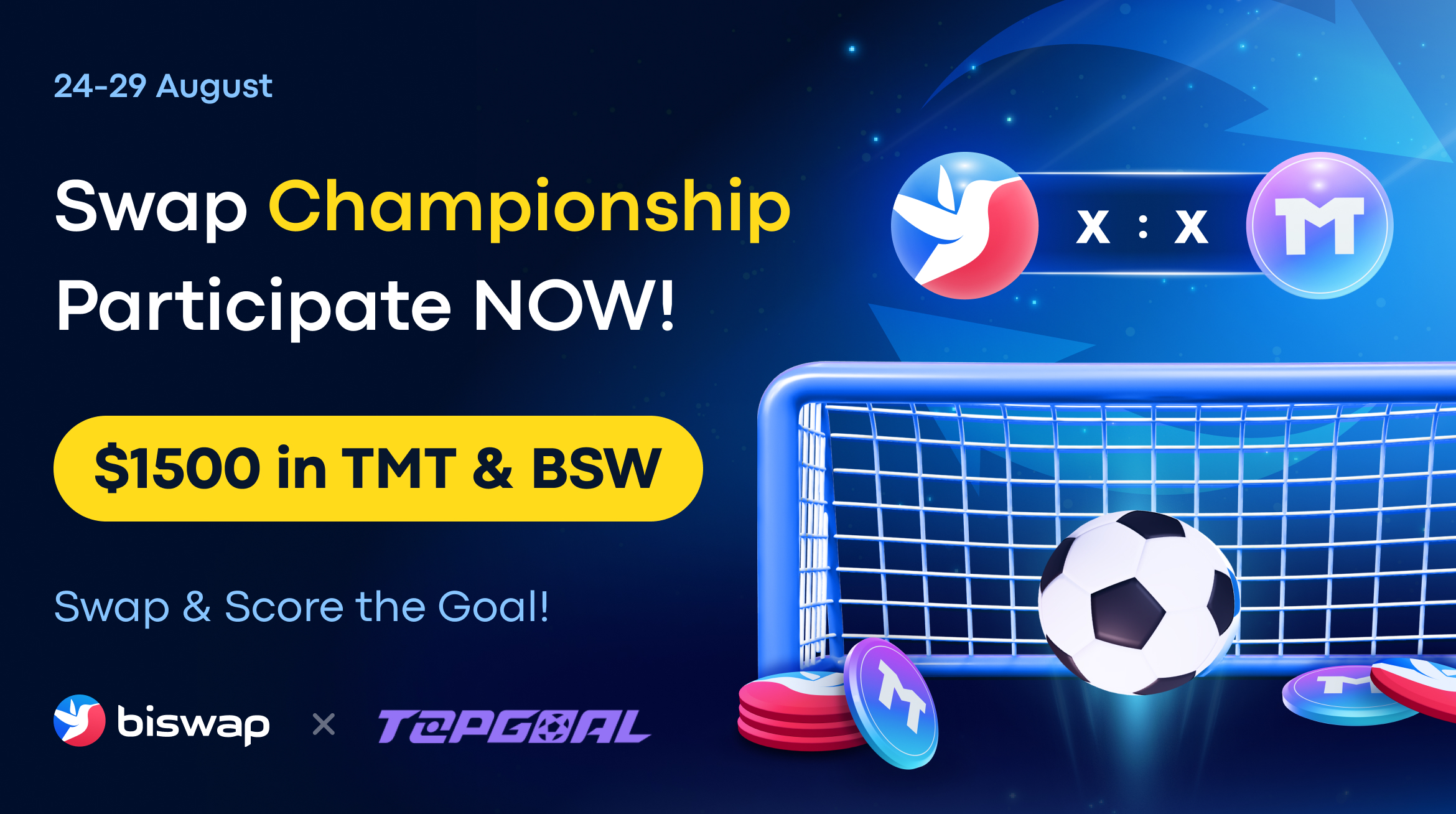 Take part in the Swap Championship with Biswap x TopGoal!
💰$1 500 in TMT & BSW
🏆20 first & 30 random winners
⏰ 24-29 August
1️⃣Buy $20+ in TMT at https://biswap.org/
2️⃣Follow @Biswap_Dex & @TopGoal_NFT on Twitter
3️⃣Quote RT with BEP-20 wallet
4️⃣Fill out the Form: https://bit.ly/3QMMhea
Make a Swap & Win a Cup!
​​$5K in BNB & BSW for Winners | Crypto Rush Report!
The BNB Coin Anniversary event has finished! Review the $4 100 in BSW & BNB pool distribution:
💰 $1 550 for 31 Twitter winners
💰 $1 550 for 31 Telegram winners
💰 $1 000 for 20 Instagram winners
See the lucky Twitter & Telegram participants:
📝 https://bit.ly/3PZHoxY
📸 Move to the Biswap Instagram Highlights to see the 3rd campaign's winners.
Stay tuned for other bright events!
Exobots x Biswap Tournament | $1 110 in EXOS Winners Report!
Biswap & Exobots competition was bright! Rewards are distributed among winners.
💰 Prize Pool: $1 110 in EXOS
🤴 Winners: 15 users
🏆 Winners' list: https://bit.ly/3d39olC
Tournament's outcomes:
🧑‍🎤 500+ Alpha players
🔸 130 000+ cards played in the Tournament
🎮 1 200+ games played in the Tournament mode
✨ Keep on playing in the Biswap-styled arena!
​​Biswap x BitKeep Discover2Earn! |BSW Rewards for Mighty Winners!
There are lucky users among us. They shared this huge prize! Standing ovation & congratulations from Biswap & BitKeep!
Winners ⬇️
https://bit.ly/3BnRlk7
👑 6 200 BSW for 190 Winners of the Swap&2Earn
👑 1 200 BSW for 30 Winners of the Stake2Earn
💎 Extra 600 BSW for 40 Gleam winners
Keep on swapping & staking BSW to make a profit!
Sharing Season Report | Take a Look at the Updates!
Due to the large number of users that don't follow the rules, certain changes were made:
💰 Weekly Pool: $1 060 in BSW ➡️ $520 in BSW
🏆 Weekly Winners: 202 users ➡️ 100 users
Follow these rules to win:
1️⃣ Make tweets with unique hashtags:
#biswap_exchange — share your Swaps
#biswap_earn — share other Biswap experiences
2️⃣ Put the transaction hash in your tweets!
Sharing Season Report for August
More than 100k Biswappers shared their Biswap experience via Twitter using #biswap_earn and #biswap_exchange hashtags during the month!
51 200 tweets — #biswap_earn
51 365 tweets — #biswap_exchange
Thanks to everyone for participation and interest in Biswap!
Closing Thoughts
We hope you enjoy this month and get as much profit as possible. Biswap team did its best to provide you with the best crypto experience with various earning options. Keep in mind that the future will bring more! So, stay tuned and support Biswap in all undertakings.

Follow the Biswap Social Media:
🔥Website | Telegram Channel | Telegram Channel in Russian
Telegram Chat | Twitter | YouTube | Instagram | Medium | Zendesk | Facebook

Local TG Communities:
🇲🇨 Indonesian-Speaking | 🇻🇳 Vietnamese-Speaking | 🇷🇺 Russian-Speaking
🇫🇷 French-Speaking | 🇵🇹 Portuguese-Speaking | 🇩🇪 German-Speaking
🇨🇳 Chinese-Speaking | 🇹🇷 Turkish-Speaking | 🇪🇸 Spanish-Speaking