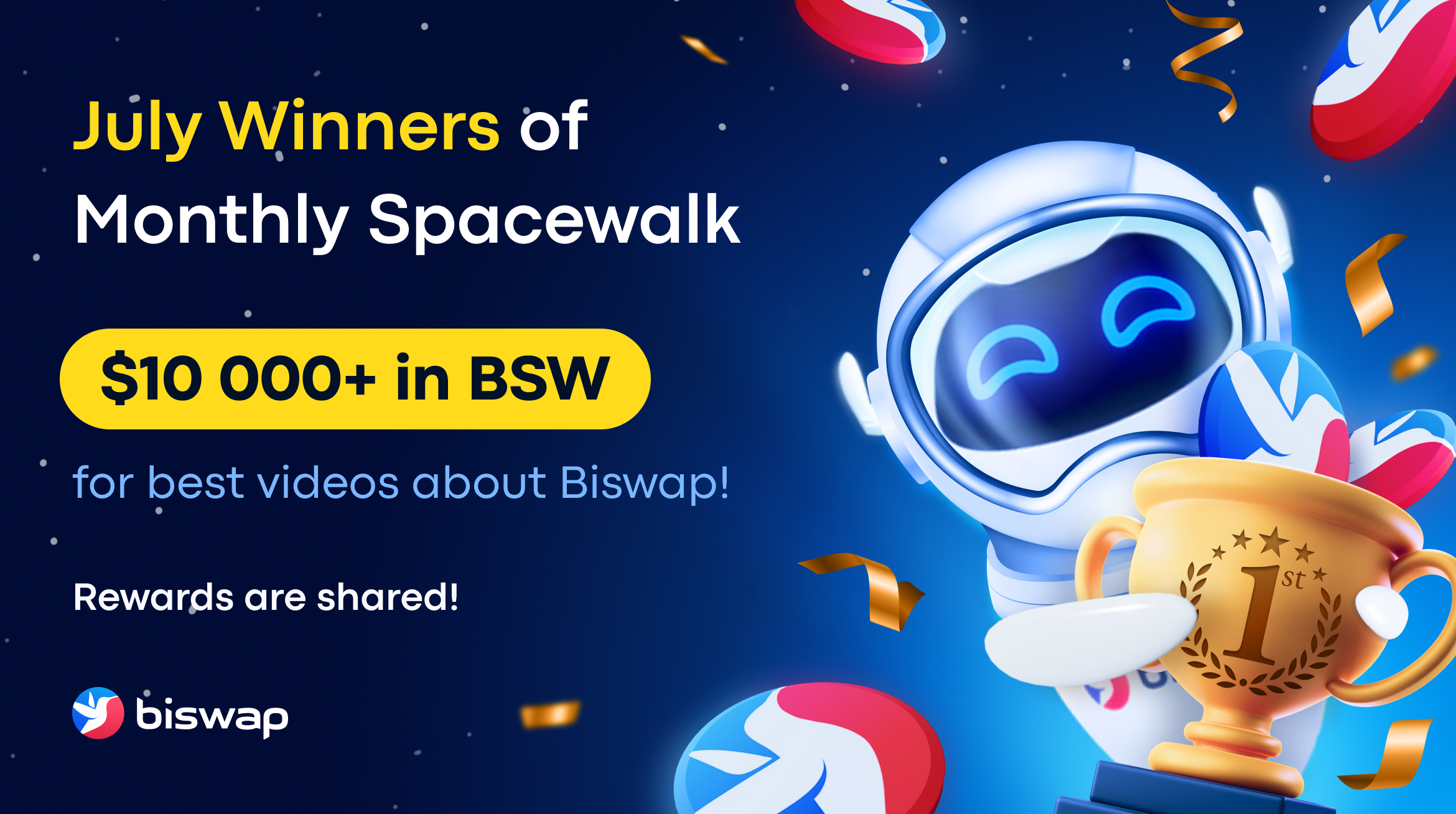 The Biswap team was so excited to review the content of our bloggers for July! We selected the winners based on the specific criteria. Do you want to be one of the winners next month? Make sure that you:
Motivated and communicative person
Ready to educate the community about Biswap and crypto
Have 5 000+ subscribers on social media
YouTube / Telegram / Twitter blogger with a strong community
Instagram / Reddit Blog / TikTok / any thematic crypto blog / forum
Create a video with English subtitles (built-in or auto-translate)
Review the list of July's winners:
👉https://bit.ly/3P3Gzmp
Now let's look at the content!
🥇 1st place  -  $1 500 in BSW
🏆$100 in ALPACA for Biswap & Alpaca Collaboration Review

🥈 2nd place  - $1 250 in BSW
🏆$500 in BSW for Referral Space King


🥉 3rd place  -  $1 000 in BSW
🏆$500 in BSW for Best Crypto Guru on the Solar System


🏅 4th place  -  $750 in BSW

https://bit.ly/3duTy3p

🏅 5th place - $500 in BSW


🏅 6th place - $500 in BSW
🏆$500 in BSW for Most Favorable by Biswap Space Crew
🏆$500 in BSW for Starlight Choice


🏅 7th place - $500 in BSW
🏆$500 in BSW for Intergalactic Audience Reward


🏅 8th place - $500 in BSW


🏅 9th place - $500 in BSW


🏅 10th place - $500 in BSW

https://bit.ly/3PtJDIQ

Your active participation is greatly appreciated! We have enjoyed your masterpieces!

View new topics for Monthly Spacewalk Program for August:
👉 https://bit.ly/35pdBfX

Embrace your talent and don't let it go to waste!

Follow the Biswap Social Media:
🔥Website | Telegram Channel | Telegram Channel in Russian
Telegram Chat | Twitter | YouTube | Instagram | Medium | Zendesk

Local TG Communities:
🇲🇨 Indonesian-Speaking | 🇻🇳 Vietnamese-Speaking | 🇷🇺 Russian-Speaking
🇫🇷 French-Speaking | 🇵🇹 Portuguese-Speaking | 🇩🇪 German-Speaking
🇨🇳 Chinese-Speaking | 🇹🇷 Turkish-Speaking | 🇪🇸 Spanish-Speaking