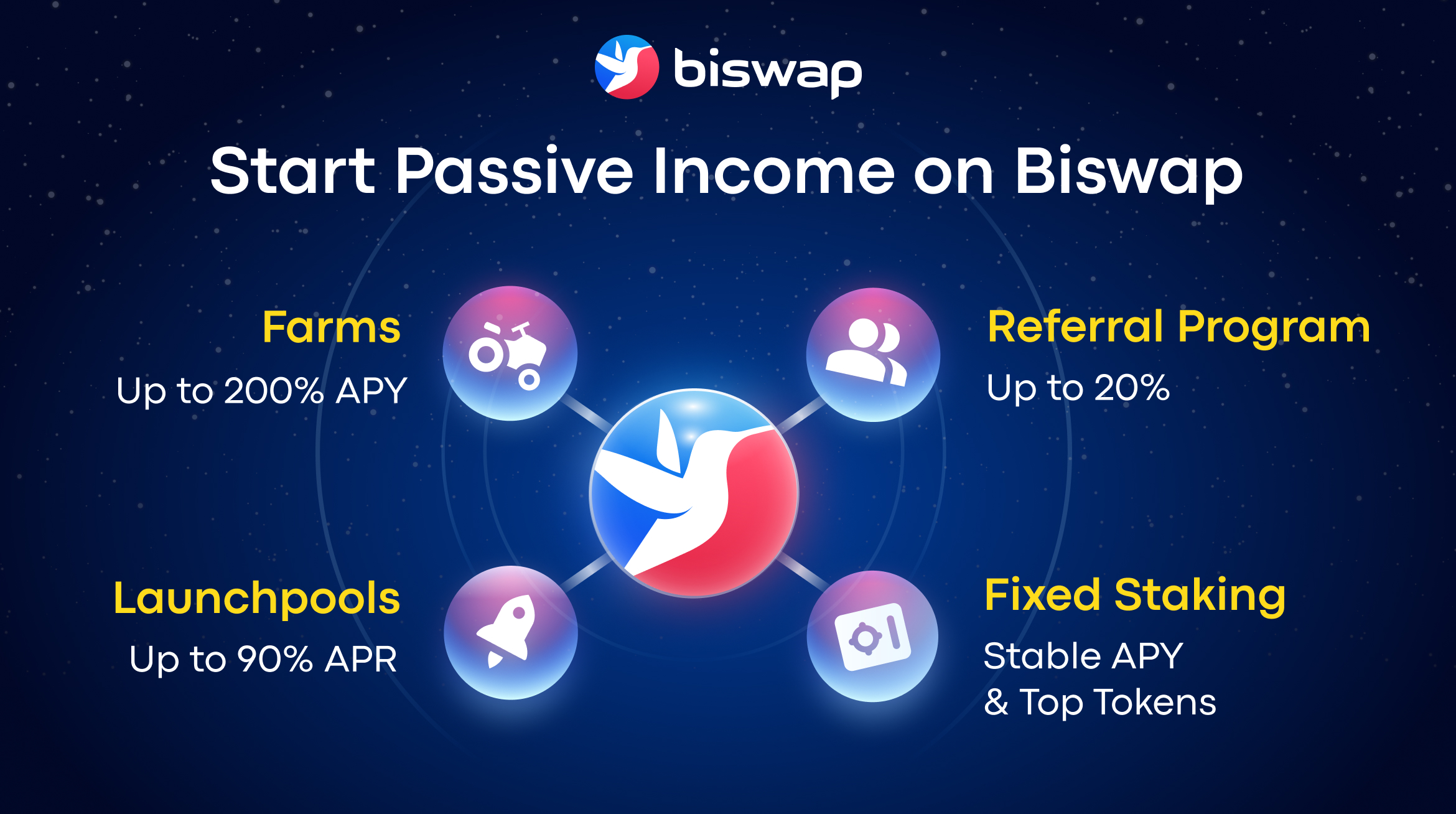 Global Crypto Market has various influences, trends and changes. This volatility leads to risks and unpredictable losses for its participants and, at the same time, brings new opportunities and quick profit even for newcomers. That is why it is so important to be flexible and adjust to different circumstances that appear. For these reasons, one of the options for traders is earning passive income. Biswap offers multiple options to earn passively, but let's start from the general definitions first.
What is Passive income in Crypto?
The concept of passive income in the Crypto Space is earning crypto assets effortlessly on a regular basis. It means that you can increase the funds without active involvement on your part but with minimal effort, often automatically. You don't need to buy and sell crypto regularly to receive profit.
Returns will depend on the method chosen and the amount of crypto you start with. Considering the crypto market volatility, you can calculate your potential profit, but there's no guarantee that a specific service will deliver any returns.
There are many ways to earn passive income!
Let's review a few of them:
Staking
Crypto staking means "locking up" some part of your crypto assets for a period of time as an option of contributing to a blockchain network. In return, stakers receive rewards, usually in the form of additional coins or various tokens.
Referral programs
You could earn bonuses for a lifetime from different crypto platforms just by referring your friends! Users will get a specific commission reward whenever their referrals make actions on the platform (swap, farm, etc.)!
Yield Farming
Yield Farming, also known as Liquidity mining, is a way to earn passive income by investing their cryptocurrencies or crypto assets in a decentralized platform. The platform will use these currencies to maintain liquidity, trading, lending, and borrowing, and as a result, will earn fees for these transactions. These fees will be distributed among farmers as a reward, according to their investment in the liquidity pool.
Passive Income on Biswap | Earn Passively but Massively!
Biswap Dex has the best conditions and offers to launch a passive income with high APY and APR! Let's make a short overview of profitable products you can invest in!
Farms with High APY | Grand Crypto Harvest is Waiting for You!
Biswap Farms is a great chance to earn robust BSW! Become a liquidity provider to enable farms via staking LP tokens and expect a grand harvest. You are welcome to enjoy profitable yields and sky-high APY for over 60 Farm pairs, such as:
39.03% APY for USDT — BSW
45.41% APY for BNB — BSW
11.40% APY for BNB-BUSD
🚜 Farm here: https://biswap.org/farms
Follow these easy steps to begin:
1️⃣Provide liquidity get LP tokens and 75% of the trading fee
2️⃣Stake LP tokens
3️⃣Earn TOP BSW
Profitable Biswap Launchpools | Send Your Assets to the Moon!
You can launch a passive income via Biswap Launchpools! Increase your assets by staking BSW and potent tokens with high yields.
💸Stake BSW here:
https://biswap.org/pools/stake_bsw
💸Stake TOP tokens here:
https://biswap.org/pools/stake_tokens
Enjoy Exclusive features to access via BSW Holder Pool! Stake for a long-term perspective and earn passively with a bunch of privileges!
💸Stake in BSW Holder Pool:
https://biswap.org/pools/stake_bsw
Multi-type Referral Program | Earn With Your Friends on Biswap!
Biswap Multi-type Referral program allows users to make extra profit by inviting their friends to register via the referral link and earn more crypto rewards through:
🌟Up to 20% from your friends' Swaps' commission
🌟Gain 5% from your friend's earnings on Farms
🌟Gain 5% from your friend's earnings on Launchpools
Guide: https://bit.ly/3vpdIRY
Up to 20% APYs for Fixed Staking | Stable Rewards!
Biswap provides you with a unique opportunity! For the first time on the BNB Chain, users can stake with such benefits on DEX:
🌟 Fixed APR
🌟 No impermanent loss
🌟 Lucrative rewards daily
Hurry to experience the limited offer!
💎https://biswap.org/fixed_staking
Robust NFT Staking | Rewards in Multiple Tokens!
NFT Staking is another option to earn crypto rewards in multiple tokens passively. This service allows you to get BSW, WBNB, USDT and BFG with high APY by staking Robbies NFTs that you can purchase via NFT Launchpad.
An informative guide:
📘https://bit.ly/3rbnHsw
Stake NFT here:
💸https://biswap.org/nft
Closing Words
Biswap DEX created a favorable environment for investors! You can easily raise a passive income with high APY, low fees and additional benefits for Liquidity providers and BSW holders. We highly recommend you follow our announcement so you don't miss new opportunities that might be a perfect option for your investments!
📍All figures in the article are relevant at the time of the release of the material: 06/26/22
Follow the Biswap Social Media:
🔥Website | Telegram Channel | Telegram Channel for CIS Users
Telegram Chat | Twitter | YouTube | Instagram | Medium | Zendesk
CoinMarketCap | Facebook | TikTok | Quora

Local TG Communities:
🇲🇨Indonesian-Speaking | 🇻🇳Vietnamese-Speaking | 🇷🇺Russian-Speaking
🇫🇷French-Speaking | 🇵🇹Portuguese-Speaking | 🇩🇪German-Speaking
🇨🇳Chinese-Speaking | 🇹🇷Turkish-Speaking | 🇪🇸Spanish-Speaking
🇮🇳Indian-Speaking