Let's take a moment to review our May achievements! Our users have enjoyed our advantageous conditions and profitable offers for the past 12 months! This month was filled with events and significant accomplishments. Nevertheless, there are still many things to accomplish!
Before we start, the Biswap team would like to express gratitude to our users.
Community Appreciation!
We would like to thank the amazing Biswap community for being with us along the way. You've been incredibly helpful to us, and we couldn't have done so much without your dedication, understanding, and support. Let's keep on working on making Biswap the top DEX!
Astonishing Biswap Accomplishments!
Biswap has progressed far and reached many goals! Have a look at all the great things we've achieved this month!
Voting for BSW Emission Reduction | Changes to Strengthen Biswap DEX!
Aiming for continuous enhancement is critical to Biswap. Our goal is to make users' experiences better and improve our products. Hence, we value our community's feedback and involve it in our decision-making process.
🔥 83.07% voted to Enhance BSW:
By BSW Emission Reduction from 20 to 16 tokens per block.
More details about the benefits are here:
👉https://bit.ly/3v0Fkhh
As a result of the voting, the changes to decrease BSW tokens' emission were implemented.
More info:
🖋https://t.me/biswap_news/1488
We thank our users for their contribution to the progress of Biswap!
Staff Game Grand Release | Enjoy up to 10 000 APR!
This month, the Biswap GameFi brought new fantastic opportunities. Many users have patiently waited for this moment.
🎮https://squid-nft.io/staff_game
Discover the advantages:
🔥 Win-win game
🔥 Low entry cost
🔥 Up to 10 000% APR
🔥 Up to 270% ROI within 30 days
🔥 Incredible BSW rewards
🔥 Gamification of Staking
To learn more, click the link below:
📑 https://bit.ly/3KuIQVj
Have fun and earn epic BSW rewards via the Staff Game!
Exobots IDO | EXOS Debut on Biswap IDO Launchpad!
Biswap x Exobots collaborative IDO got striking results:
$2 584 074 Total Raised for EXOS IDO
10 000 000 EXOS tokens were gained by users on Biswap Launchpad
119 400 BSW goes to BSW token Burn
2 707 Unique Wallets participated
Find out more about Biswap IDO Launchpad:
👉 https://bit.ly/3lOCLKa
Be the first of the first with Biswap IDO!
Biswap Referral Program | Watch the New Video on YouTube!
Are you aware of all the earning potential on Biswap? Discover more about the Multi-type Referral Program via the new video on YouTube!
Invite your friends & earn together:
💰 Up to 20% via Swaps Commission
💰 5% via Farms
💰 5% via Launchpools
💰 2% via Lottery Tickets Purchase
💰 3% via Squid NFT World Winnings
On Biswap, you can multiply your crypto together with your friends!
Explore the Past and Current Events on Biswap DEX!
Many profitable events and competitions happened in May. Some have just recently started! Let's review together!
Biswap Anniversary Space Party | 300 000 BSW Prize Pool to Share!
Biswap prepared the biggest celebration of the year! Our team worked hard to prepare exceptional and lucrative events!
Check out the current & upcoming events:
🎉 $14 000 B-day Gifts Event with Biswap Friends
🎉 100 000 BSW Biswap B-day BSW Presents
🎉 50 000 BSW B-day Intergalactic Trading Competition
🎉 5 000 BSW Sticker Competition
🎉 1 000 BSW Biswap Anniversary BSW Starfall in TG Chat
🎉 600 BSW New Topic for Space Agents
🎉 Biswap Robi Avatars
🎉 Biswap Robi Stickers in TG Chat
Discover more:
👉https://bit.ly/39WHMNv
Let's celebrate 1 grand year of Biswap together!
BSW Season on Binance | $100 000 in BSW Giveaway!
The BSW Trading Competition launched on Binance was a blast!
⏰Trading Period: 7 days
Start: April 26, (00:00 AM UTC)
End: May 02, (11:59 PM UTC)
Read the Binance article & figure out all the details:
👉 https://bit.ly/3OznlWP
BSW is on Binance Liquid Swap | 178 600 BSW Reward Pool!
The new way to expand your income on Binance! We are thrilled that Binance opened two high-yield liquidity pools with BSW tokens!
Pools launched:
https://www.binance.com/en/swap/pool
Discover more details:
👉 https://bit.ly/38a58Po
Don't miss the opportunity to make a profit with BSW on Binance!
BSW Journey on KuCoin | $50 000 in BSW to Learn & Trade!
Users had an excellent possibility to earn epic rewards by participating in various activities.
📅 Duration: 9–16 May (10:00 UTC)
🏆 Total Pool: $50 000 in BSW
More information:
👉 https://bit.ly/3M07ted
We hope you took part in the activities and were able to claim rewards!
​​Biswap x Huobi Learn2Earn | $1 200 in BSW for Lucky Champions!
During the event, users had an incredible opportunity to become one of the 30 winners every 3 days.
📅 Duration: April 18 — May 12
🏆 Total Prize Pool: $1 200 in BSW
👑 Total winners: 210
Details:
https://t.me/biswap_news/1423
Biswap x Huobi were thrilled to provide users with such possibilities and see your active participation!
OLE & BSW Trading Competition | 2 150 000 OLE & 5 000 in BSW for Biswap Traders!
Biswap x OpenLeverage combined efforts to bring forward new profitable opportunities.
🏆 Total Prize Pool: 2 150 000 OLE & 5 000 in BSW
More details here:
👉 https://bit.ly/3yf7Eyi
Top Biswap Traders claimed epic rewards in 2 tokens!
$1 000 in BSW Instagram Event | Rewards for Followers on the new Biswap Social Media!
In honor of launching a new social media platform, Biswap held an event.
💰 Pool: $1 000 in BSW
👤 Winners: 50 users ($20 in BSW for each)
📆 Duration: 13–17 May (11:00 AM UTC)
More info:
https://t.me/biswap_news/1540
Follow us on Instagram if you haven't done so yet!
Biswap Ecosystem Update | More Fruitful Collaborations!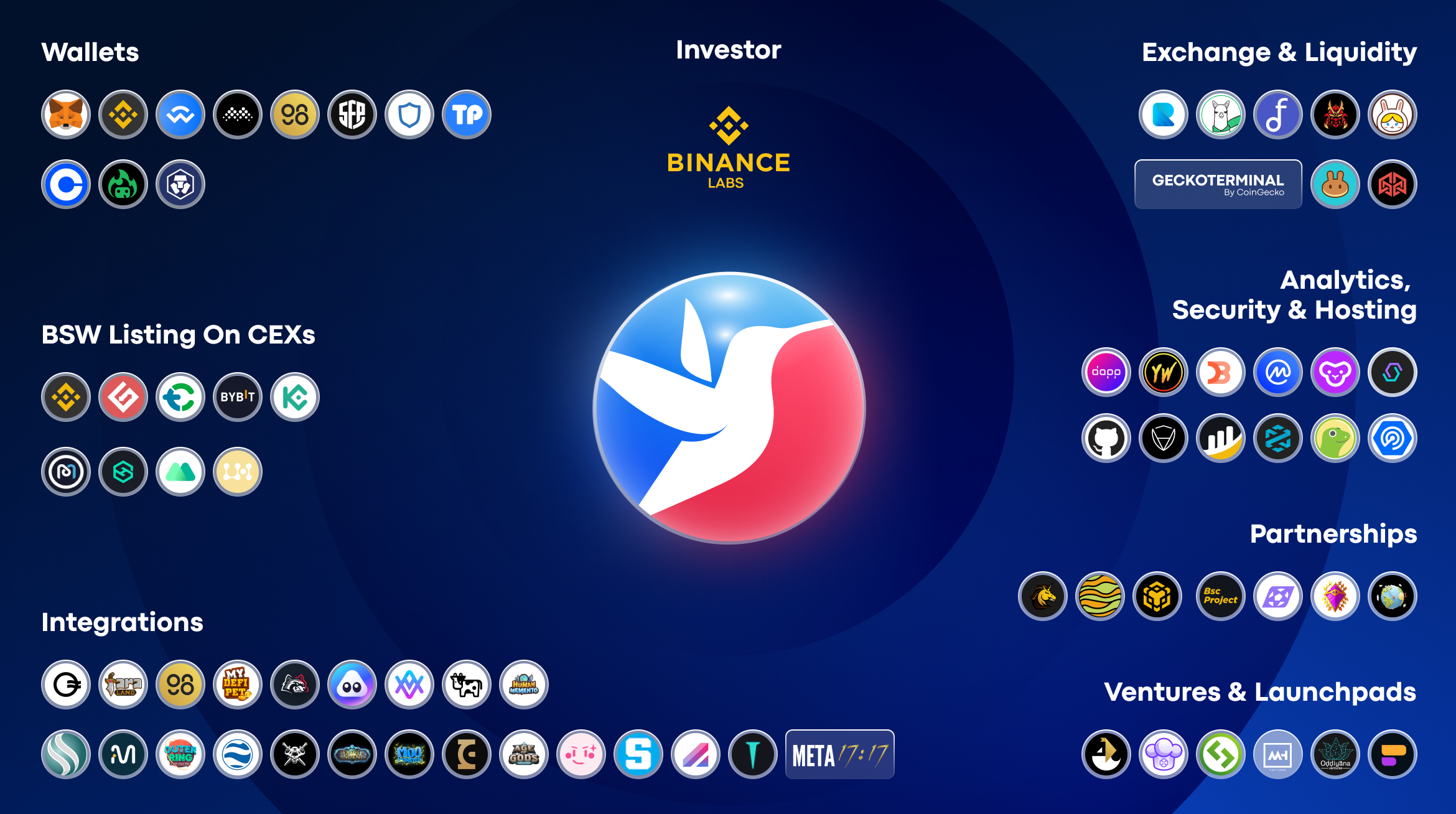 This month, Biswap has established potent collaborations, partnerships and integrations. Let's take a closer look!
Strategic Biswap x Alpaca Finance Collaboration!
Alpaca Finance is the leading and largest lending protocol allowing leveraged yield farming on BNB Chain and Fantom.
Find Biswap pools for Automated Vaults on Alpaca:
BNB-BSW
BNB-USDT
USDT-BSW
BNB-BUSD
ETH-USDT
BTCB-USDT
ETH-BNB
BNB-BTCB
Leveraged Farming Pairs
💰https://app.alpacafinance.org/farm
Explore more pairs & earning details:
👉https://bit.ly/3KiMG3U
Prestigious Biswap x Ripae Finance Collaboration!
Ripae Finance is a cross-chain algorithmic stable coin pegged to each native chain the project is deployed on.
💸PAE & pBNB tokens are listed on Biswap DEX!
Available trading pairs:
💰PAE-WBNB
💰pBNB-WBNB
https://exchange.biswap.org/#/swap
​​Incredible PAE Launchpool
https://biswap.org/pools/stake_bsw
Profit with Biswap Liquidity on Ripae Finance:
https://bnb.ripae.finance/farms
Biswap x Exobots Collaboration!
🤖 Exobots: Omens of Steel is a turn-based battle NFT game with a sustainable 'Play to Earn' model, featuring different game modes such as Adventure, Battle or Dungeon.
Trade EXOS for just a 0.1% fee on the BNB Chain:
💰https://exchange.biswap.org/#/swap
Earn big via EXOS-BUSD Farm:
👉https://biswap.org/farms
Supernal Biswap x AgeOfGods Collaboration!
AgeOfGods — is a new type of video game that implements a "Play-to-Earn" model. This means you can earn tokens by playing and that players have full ownership rights over in-game items and get incentivized to play and progress through the game.
Lucrative AOG-BUSD Farm
💰https://biswap.org/farms
Divine AOG Launchpool
💰https://biswap.org/pools/stake_bsw
Be the first to know about new Biswap offers!
TEN Finance X Biswap Collaboration Boost & New Vaults!
Add Liquidity on Biswap and catch high APYs on TEN Finance:
More info:
👉https://t.me/biswap_news/1467
Biswap x TopGoal Collab Boost!
Check out what's new here:
👉https://t.me/biswap_news/1472
Biswap x Beefy Vaults!
Find Auto-Compounding vaults here:
Details:
👉https://t.me/biswap_news/1503
BSW is Listed on KuCoin!
🌟KuCoin is a global cryptocurrency exchange for numerous digital assets and cryptocurrencies.
Trade BSW under BSW/USDT:
💰 https://www.kucoin.com/trade/BSW-USDT
Here is the article from KuCoin:
https://bit.ly/3wcATiO
BSW is Verified by BscScan!
Find the Blue Check Mark near token here:
✔️https://bit.ly/3IF9Kuf
Follow There is only one OFFICIAL Biswap website, and watch out for fakes!❗https://biswap.org/
Remarkable Biswap Growth | Mighty Boost in Numbers!
Take a look at these stats:
11 000 000+ BSW staked in BSW Holder Pool
$45 000 000 000+ Total Trading Volume
424 000 000+ High Daily Volume
1 800 000+ Total Users
463 000+ Active Users
425 000+ Unique Traders
22 000 000+ Total Trades
139 000+ BSW Holders
19 000 000+ Transfers
470 000+ Biswap Community
BSW Token Statistics:
30 369 635 BSW Total Burn
$20.20M — BSW Liquidity
$18.39M — BSW Volume 24H
$114.12M — BSW Volume 7D
9.83K — BSW Transactions in 24H
$57+M — BSW Volume in 24H on CMC
A brief guide to tracking BSW progress:
👉 https://bit.ly/3i7dAjJ
We can do even better together!
Biswap is in TOP Charts | Epic Progress of the Global Project!
On the BNB Chain, Biswap is one of the most popular projects! There is no doubt it is taking the leading positions in the DeFi industry.
Review some of the accomplishments reached this month:
BSW is TOP 1 on BNB Chain | Most Traded Highlight Projects!
Biswap is TOP 1 on Certik | The Most Trending Project!
BSW is TOP 3 on BNB Chain | Most Traded Projects!
4 Biswap Sharing Seasons Were Held this Month!
More than 69 000 Biswappers shared their Biswap experience via Twitter using #biswap_earn and #biswap_exchange hashtags.
Superb 69 301 tweets were sent during the 12th month of the platform!
📨 34 996 tweets — #biswap_earn
📨 34 305 tweets — #biswap_exchange
👥 69 000+ participants
Claim your BSW via the Biswap Sharing Season!
May AMA with CEO Report | Explore Answers by Firsthand!
Those who missed the AMA can check out the questions we have collected.
Find answers to:
Biswap Liquidity
Biswap Development
CEX listings
Lending & Borrowing
Token burning and more
Discover the details here:
📄https://bit.ly/3waaGCl
Ask your questions at the next Monthly AMA Session with the CEO!
Closing Thoughts
This month was filled with exciting events. Due to Biswap DEX's constant growth, it is nearly impossible to cover all the outstanding accomplishments in one report! There have been many achievements, many releases, and powerful collaborations. Our dynamic community has supported us since the beginning, and we are grateful for that.
Follow Biswap's progress and keep an eye on future possibilities!
Follow the Growing 470K+ Biswap Community:
🔥Website
📢 48K+Telegram Channel
💬 79K+ Telegram Chat
🕊 299K+ Twitter
💻 18K+ YouTube
📸 1K+ Instagram
📃 5K+ Medium
💡Zendesk
🎮 3K+ Squid NFT World Chat
Join Local Biswap Communities:
🌐 2K+ Indonesian-Speaking TG Chat
🌐 2K+ Vietnamese Speaking TG Chat
🌐 6K+ Russian-Speaking TG Chat
🌐 800+ French-Speaking TG Chat
🌐 1.7K+ Portuguese-Speaking TG Chat
🌐 900+ German-Speaking TG Chat
🌐 7K+ Chinese-Speaking TG Chat
🌐 2K Turkish-Speaking TG Chat