Biswap DEX is one of the most prominent projects in the DeFi space. The company has released many excellent products since its launch. There are multiple profitable ways for users to earn crypto on the Biswap DEX.
Providing Liquidity is one of the lucrative ways to make a crypto profit on Biswap. Let's take a look at the Liquidity definition and its benefits.
What is Liquidity?
In crypto, Liquidity means how easy and fast it is to swap one token for another and if it can be completed without causing significant impacts on the market price.
The more liquidity the project has, the easier it is to implement new products. Liquidity helps DApps invest and release new features for users to profit, expand the project's ecosystem, and strive ahead to new developments.
What are the Benefits of Providing Liquidity on Biswap?
Providing Liquidity on Biswap opens more possibilities for users to earn crypto. LP tokens are used to enable Farms to stake and make a profit. Check out the lucrative benefits of becoming a Liquidity Provider on Biswap:
Get a 75% Fee Reward
Earn robust BSW tokens
Enjoy high APRs on Farms
Sounds intriguing, right?
Provide Liquidity and Claim your rewards:
👉https://bit.ly/3JGQZ8X
Impact of Greater Liquidity on Biswap
Liquidity is an essential part of the Biswap DEX development and progress. It affects products that provide users with various crypto-earning opportunities. When Liquidity increases, it has a positive impact on the project's ecosystem:
🌟Resource for new implementations
🌟Bigger Total Value Locked & Trading Volume
🌟New TOP positions in popular crypto ranks
🌟More lucrative possibilities for users
🌟Cheaper exchange for users who swap big amount
As you can see, Liquidity Providers are crucial to the project's overall functionality. The more Liquidity users provide — the more convenient it is for them to enjoy the profitable environment on the platform.
Provide Liquidity and become the power that moves Biswap DEX forward to new accomplishments!
How to Provide Liquidity on Biswap?
Before you can enable farming on Biswap, you need to provide Liquidity to get LP tokens. Just a few steps and you can benefit from Biswap Farms:
1️⃣Provide Liquidity to get LP tokens
2️⃣Stake LP tokens and enable Farm
3️⃣Gain crypto rewards
It is quite a straightforward procedure. However, let's review the whole process in detail!
1. Go to the Liquidity page on Biswap and choose the farming pair you would like to provide Liquidity for
You can also head to the Farms page and choose the desired farming pair (ex. BNB-BSW) and click the Get LP button
You will get transferred to the Liquidity page
2. Enter the equivalent amount of each token from the farming pair and click the Approve WBNB button
❗️We use WBNB on the BEP-20 network, BNB Chain. So BNB (BEP-2) tokens need to be wrapped (become WBNB) to provide liquidity. You may wrap BNB to WBNB by making a swap on the Exchange tab.
Note that you need to have BNB to pay the network gas fee.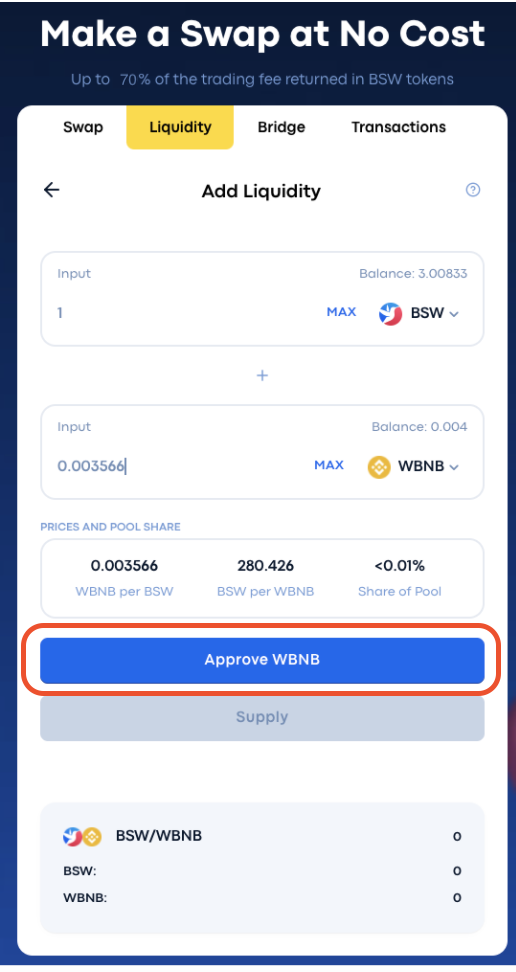 3. Once you have Approved WBNB, click the Supply button
4. Next, you need to press the Confirm Supply button
Congratulations! 🎉
The transaction has been successfully submitted, and you can now stake your LP tokens in the BNB-BSW Farming Pair to earn BSW for free.
5. Click Stake LP tokens under BNB-BSW Farming pair to Enable BNB-BSW Farming Pair and start earning BSW tokens in return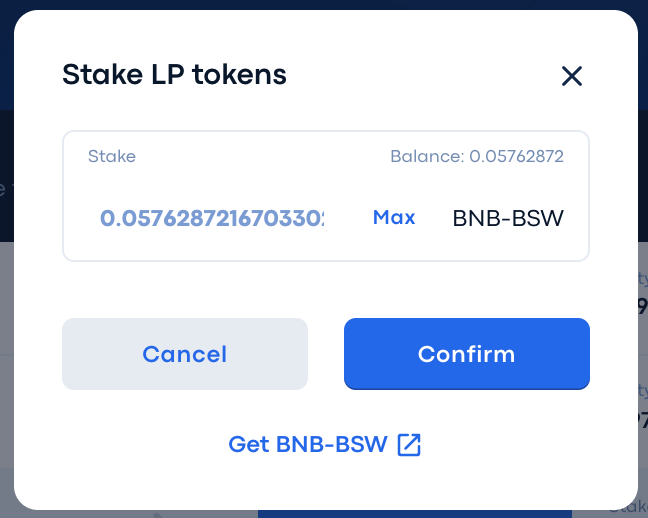 Explore more about Biswap Farms here:
📙https://bit.ly/3rM6sPe
Do not hesitate and become a Liquidity Provider now!
❗️ Keep in mind that providing liquidity is subject to impermanent loss and may carry certain risks. Make sure you are aware of all the pros and cons of providing liquidity before taking any actions.
More information here:
📘 https://bit.ly/3rM6sPe
Earn with Biswap Liquidity on Partners' Platforms!
Biswap always strives to give users many different options to make a passive crypto income. Partnering with potent projects ensures new possibilities for our users and Liquidity Providers in particular.
Discover where to earn with Biswap Liquidity outside of our platform:
💎Hot Cross
Earn with Biswap LPs on Hot Cross Yields with Auto-Compounding:
Cross Yields automatically invest your yields
Rewarding high APY%
Assured safety of your funds
💎Autofarm
Enjoy gainful Vaults with Biswap Liquidity on Autofarm:
Vaults automatically invest your yields
Guaranteed safety of your funds
Remunerative high APY%
💎SafaPal Wallet
Try out SafePal Pool: Stake SFP — Mint (Earn) BSW
Max stake — 1000 SFP
Earn BSW tokens in return
Limited offer — 30 days
💎Unus DAO
Benefits from Farming with Biswap LPs:
Stake sUDO & Unus DAO NFT
Get BSW rewards
Exchange sUDO on UDO in one-click action
Explore Bonstaking & Farming:
https://t.me/biswap_news/1011
💎FaraStarter
Discover the benefits:
Multi-chain Support
Tier Determination and Exclusive Benefits
Organized process and 24/7 Support by Admins
💎LaCucina
Use Biswap LPs to gain LAC rewards via LaCucina Ovens!
Check out these advantages:
No need to Stake
Biswap Liquidity Increase
Gain prominent LAC tokens
Higher APRs on Biswap Farms
💎Gate.io
Gate.Io presents Liquidity Mining Pool for Biswap.
Catch Extra BSW Rewards:
💰29 200 BSW Rewards
⏰60-Day Time Limited Offer
💎EpiK Protocol
Profit via EPK-BNB-LP Farm with Biswap Liquidity:
Provide Liquidity on Biswap Dex
Visit EpiK Protocol and stake your EPK-BNB-LPs
Get precious EPK tokens
💎PinkSale
Create tokens with Biswap Liquidity on PinkSale!
While creating tokens, you can:
Choose Biswap as Liquidity Router
Create tokens with no code
Provide Liquidity on Biswap and open new profitable earning possibilities!

Follow the Biswap Social Media:
🔥Website | Telegram Channel | Telegram Channel for CIS Users
Telegram Chat | Twitter | YouTube | Instagram | Medium | Zendesk
CoinMarketCap | Facebook | TikTok | Quora

Local TG Communities:
🇲🇨Indonesian-Speaking | 🇻🇳Vietnamese-Speaking | 🇷🇺Russian-Speaking
🇫🇷French-Speaking | 🇵🇹Portuguese-Speaking | 🇩🇪German-Speaking
🇨🇳Chinese-Speaking | 🇹🇷Turkish-Speaking | 🇪🇸Spanish-Speaking
🇮🇳Indian-Speaking