Our team continues to establish more dynamic partnerships as Biswap evolves. Our users now have new ways to increase profits with our prominent collaborations. Are you eager to earn more crypto via the new collaboration?
Biswap has recently partnered with Outer Ring, an exciting project with robust opportunities. MH Ventures made it possible to establish this strong partnership. It will bring lucrative offers for users of both platforms!
Why Outer Ring?
Outer Ring is an MMORPG video game in a science fiction and fantasy universe based on the economic Play to Earn concept. It represents a unique investment opportunity in a growing industry with an experienced company developing the project.

Outer Ring develops challenges for players: the so-called Arenas, Dungeons, or new spaces to explore. By successfully completing the challenges, players receive rewards.
The players will experience real economy interactions:
💥 Direct in-game purchases
💥 A Marketplace
💥 In-game shops
💥 Diverse in-game DEX
💥 Player-created shops

Review the project:
👉 https://outerringmmo.com/#history
Cosmic GQ Token is Officially Listed on Biswap | Trade with Just 0.2% Fee!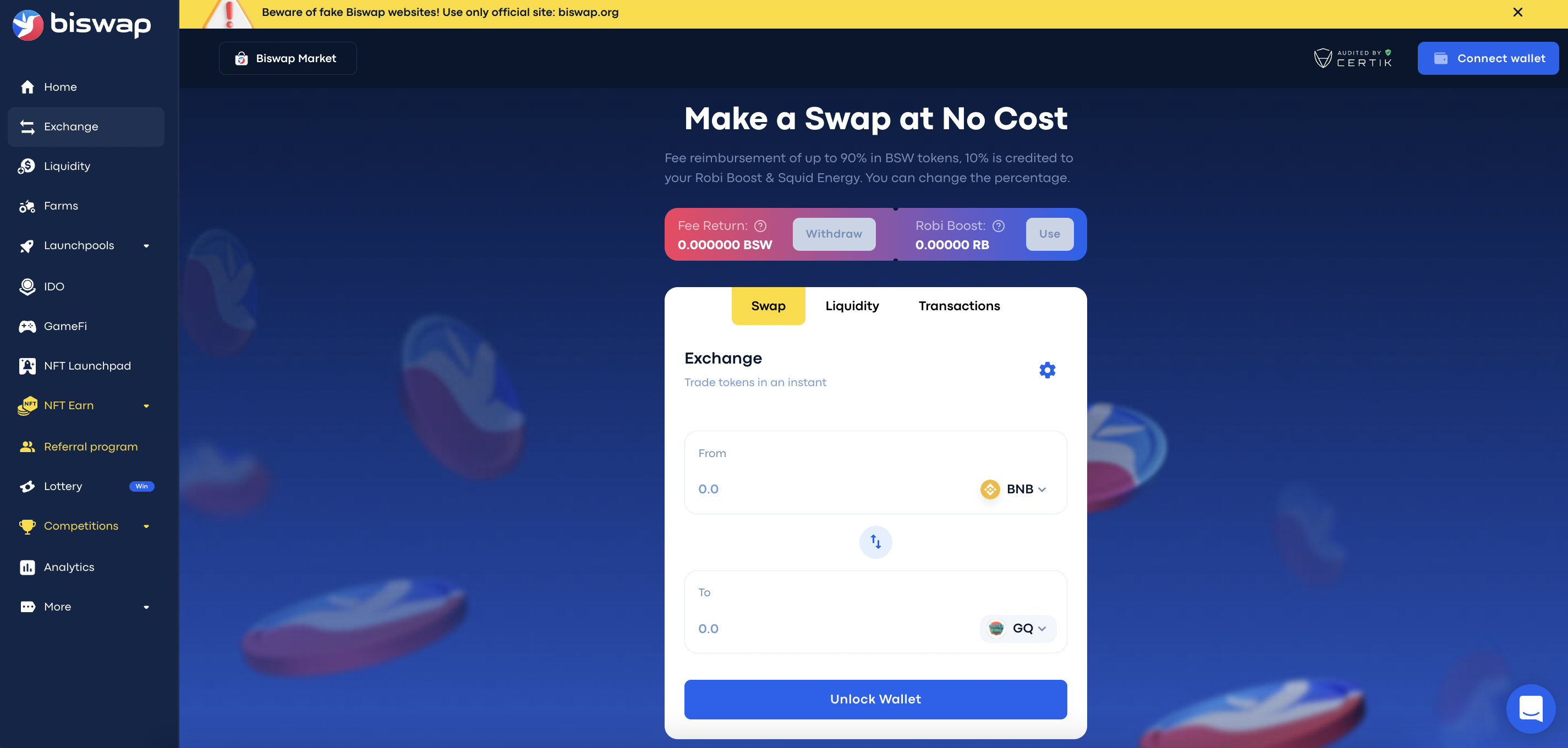 GQ token is listed on Biswap DEX! Use this chance to trade GQ with the lowest fee of 0.2% among trusted DEXs on the BNB Chain:
👉 https://exchange.biswap.org/#/swap
Experience convenient and fast exchange on Biswap!
Boost Your Crypto via GQ-BUSD Farm! | Use 0.2X Multiplier to Earn More Crypto!
Biswap x Outer Ring team up to offer you new opportunities to grow crypto profitably!
Provide Liquidity to GQ-BUSD Farming Pair and benefit from 0.2X Multiplier:
💎Earn BSW tokens
💎Receive 75% of the trading fee
💎Gain from high APY on Biswap Farms
Enjoy farming on Biswap by staking your LPs!

Get the Most Out of Biswap DEX via GQ Launchpool!
https://biswap.org/pools/stake_bsw
New profitable Launchpool as a part of Biswap x Outer Ring Collaboration!


Your time is too valuable to waste!
Use this cosmic opportunity to earn crypto via GQ Launchpool:
🌟Stake robust BSW
🌟Earn stellar GQ
Discover the possibilities in store for you:
💵Unlimited max stake
💵High APRs
💵Gainful offer for BSW Holders
💵Earn prominent tokens in return
📍GQ Launchpool will be active for 45 days.
Rush to start your passive GQ income now:
👉 https://biswap.org/pools/stake_bsw

Make an astronomical profit by staking in Biswap Launchpools!
Stake Biswap LPs & Earn from It on Outer Ring!


Provide Liquidity on Biswap, stake your LP tokens on Outer Ring Galactic Pools and claim SCK! The Space Corsaire Keys (SCK) are the tokens needed to open lootboxes containing the guns, vehicles, materials, and other NFT items playable in the game.

Experience the Galactic Pool with Biswap LPs:
👉 https://dapp.outerringmmo.com/pages


Biswap Buttons on Outer Ring Website!


Moreover, there are
buttons
that lead to
Biswap
DEX
! Just click and appear on Biswap where you can easily uplift your crypto earn via:
Trade of GQ with the lowest fee of 0.2%
💰
https://exchange.biswap.org/#/swap

Enable GQ-BUSD Farm with 0.2X:
💰 https://biswap.org/farms
Join GQ Launchpool with no stake limits:
💰 https://biswap.org/pools/stake_bsw
Rush to experience GQ product on Biswap DEX and earn!
We will keep you posted about new promising collaborations!
Follow the Biswap Social Media:
🔥Website | Telegram Channel | Telegram Channel for CIS Users
Telegram Chat | Twitter | YouTube | Instagram | Medium | Zendesk
CoinMarketCap | Facebook
Local TG Communities:
🇲🇨 Indonesian-Speaking | 🇻🇳 Vietnamese-Speaking | 🇷🇺 Russian-Speaking
🇫🇷 French-Speaking | 🇵🇹 Portuguese-Speaking | 🇩🇪 German-Speaking
🇨🇳 Chinese-Speaking | 🇹🇷 Turkish-Speaking | 🇪🇸 Spanish-Speaking
🇮🇳 Indian-Speaking
Follow the Outer Ring Social Media:
💬 Telegram Chat: https://t.me/outerringofficialeng
🕊 Twitter: https://twitter.com/OuterRingMMO
💻 YouTube: https://www.youtube.com/c/OuterRingMMO
🤖 Discord: https://discord.com/invite/outerringmmo
📃 Facebook: https://www.facebook.com/OuterRingMMO/