Even though Biswap is only 8 months old, together with you we have already achieved magnificent results. Undoubtedly, it has been an amazing journey and experience so far. We're extremely grateful for the tremendous support, loyalty and resiliency shown by each and every member of our community. Despite being a top 2 DEX on the Binance Smart Chain network, it is time for Biswap to move forward and expand its operations to new blockchains. It is time for Biswap to start a new chapter.
As we operate in an extremely crowded and competitive market, Biswap has to keep up with evolving demand, adapt to the changing market conditions and always find new ways to grow. Every blockchain is limited to a certain number of users, TVL and trading volume and BSC is not an exclusion to that. Hence, after extensive research the team has come to a conclusion that making Biswap a multi-chain DEX is the way to boost the project with new users, liquidity and TVL.
A Few Things To Consider
The market capitalization of the cryptocurrency market as a whole already reaches over $1.9 trillion. An ecosystem that was once defined by its tight-knit community now attracts and reaches businesses, governments, individuals and institutional investors who are all becoming more positive about the evolving space.
For this reason, the industry has reached the stage of adoption where the amount of users utilizing decentralized technology has exceeded the functionality of the technology itself. This has resulted in congested networks and a demand for solutions. That is why we see so many new networks being developed.

These new networks attract millions of crypto users that migrate from already existing networks in an effort to save on transaction costs and speed up their operations. New networks offer new opportunities not only for the end-user but also for projects like Biswap as they can be used as a way to expand its user-base, and attract more liquidity.
When operating within one network a project is limited to the number of users using this network as well as the financial resources being in circulation within this network. Scalability is extremely important because expansion brings more users, hence greater financial inflows. One of the ways to scale Biswap is expanding its operations to new networks that have a wide user-base and high TVL. We cannot avoid the opportunities new blockchains offer, we have to embrace them.
New Chapter for Biswap
We're delighted to let you know that for the last couple of weeks, Biswap's development team has been working hard to prepare the system for multi-chain integration. Currently, we're at the stage of code refactoring whereby the internal system is getting prepared for multi-chain integration.
Refactoring is a disciplined technique for restructuring an existing body of the code, altering its internal structure without changing its external behavior. This is an extremely important step that will help us in more seamless integration of the new features.
While our internal systems are being prepared for multi-chain integration, we would like to hear your opinion on the network that you think Biswap should go for. To help you make up your choice, we have prepared a comparison analysis of the two networks that currently have the one of the largest user-base and total value locked: Fantom and Avalanche. These are the networks Biswap is currently considering.
Comparison Analysis
Due to the technical peculiarities of the Terra chain, Biswap is not taking it into account. As can be seen from an illustration below, Avalanche and Fantom take the leading positions by TVL after Ethereum and BSC. Hence, the decision on the next chain will be centered around these two networks.
Illustration 1: TVL breakdown
Source: https://defillama.com/chains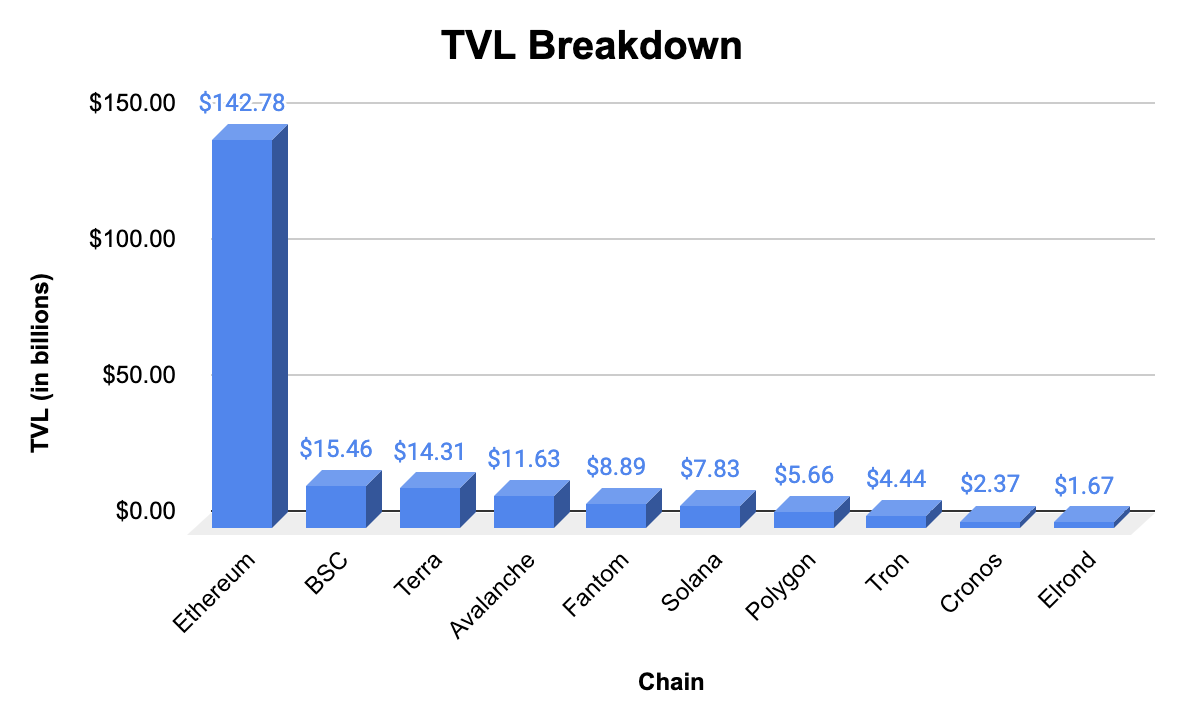 Apart from looking at the TVL, it is also worth considering the statistics of other DEXs operating on the aforementioned chains. When it comes to assessing the success of a DEX platform, the number of daily active users along with the daily trading volume are the key factors. Hence, in order to have an objective comparison, we should benchmark against the top DEXs operating
on Avalanche and Fantom chains.
Daily Active Users & Trading Volume
Illustration 2: DAU
Source: https://debank.com/projects?chain=&order_by=users%20desc&tag=amm
Illustration 3: Trading volume among DEXs
Source: https://coinmarketcap.com/rankings/exchanges/dex/
According to the data provided by DeBank, an average number of DAU of our competitors operating on Fantom and Avalanche is close to 30,000. This is almost 5 times higher than ours. When we take a look at the trading volume of those DEXs, the number is 3 times higher than ours.
New active users will trigger higher demand for the token, thereby potentially increasing its price. In addition to that, higher trading volume will have a positive impact on the number of tokens available for BSW burn, which in turn will stimulate its growth.
The data provided above explicitly indicates that there is a clear room for growth whereby Biswap can conquer a big portion of the market share. There is no reason for Biswap to avoid such explicit opportunities, we have to embrace them. New network will bring new activer users, together with TVL, and higher trading volumes. This should in turn positively impact all the BSW holders.
Binance Smart Chain as a Priority Network for Biswap
Another important statement to be made is that Binance Smart Chain will always remain a priority network for Biswap. All the new products, features, and services will be developed and launched on BSC first and only then deployed to other networks.
Binance Smart Chain is not only a blockchain for Biswap, it is also a partner of ours. Since the very beginning of Biswap, the BSC team has been expressing its support, especially in times when we needed them most. Thereby, Biswap will continue using BSC as its main network and Binance Smart Chain will remain Biswap's key strategic partner.
Voting
Biswap has always been a project that totally focuses on the behavior of its users as they are the reason we're here. We have always been committed to those we serve. For that reason, Biswap would like to hear the opinion of its community. Therefore, we invite you to participate in the community voting and voice your thoughts on the first new chain that will be added to Biswap.
Here are the proposals:
🔥Option 1: Add Fantom network
$8.89 billions Total Value Locked
30 809 Top Fantom DEX Daily Users
$178 718 736 Daily Trading Volume on Top Fantom DEX
🔥Option 2: Add Avalanche network
$11.3 billions Total Value Locked
28 864 Top Avalanche DEX Daily Users
$135 319 246 Daily Trading Volume on Top Avalanche DEX
❌Option 3: No changes
This option will open no new ways of development to Biswap and its users.
📩Vote here:
📩
https://biswap.org/network_voting
Voice your opinion and dedicate it to the Biswap growth!
Terms & Conditions
The voting period is from 14-19 February, 04:30 PM UTC

The voting counts BSW tokens in BSW Holder Pool, BSW Auto-compounding Launchpool, Manual BSW Launchpool, and BNB - BSW, USDT - BSW Farming Pairs.

If less than 51% of users vote for "No Changes", one of the remaining Network will be chosen based on the higher number of votes.

Once voted, you will not be able to vote again.

There is no need to unstake your BSW tokens from Farms and/or Launchpools to vote. The system will automatically sum up all your tokens locked in Farms & Launchpools. Your BSW tokens will stay with you.

If you are unable to vote on the Biswap Voting page, please vote on the snapshot

.
Disclaimer
As we operate in the DeFi space, the Biswap team assumes no responsibility or liability for the wallets participating in this community voting as this is out of our control. Biswap has never made use of the team's tokens to manipulate the results of the community voting nor is planning to do so in the future.
Any reliance you place on the information provided by unofficial Biswap's channels is therefore strictly at your own risk. Under no circumstance shall Biswap be held liable for the wallets participating in the current community voting. The results of this voting shall be considered accurate and fair, therefore representing public opinion. Everyone has the right to voice an opinion.
Closing Thoughts
Our mission, vision and values remain unchanged and unwavering. For this reason, it is our responsibility to make the decisions that will guarantee our token holders long-term growth and attractive returns on their investments. The financial security we seek to help our users achieve is not created overnight. It is a long-term endeavor, and we take a long-term approach.
We, the Biswap team, remain committed to being your partner in all aspects, to be here when you need us, provide you with the leading technology, offer innovative solutions, unrivaled flexibility and everything else needed to ensure success now and in the future.


Follow the Biswap Social Media:
🔥Website | Telegram Channel | Telegram Channel for CIS Users
Telegram Chat | Twitter | YouTube | Instagram | Medium | Zendesk
CoinMarketCap | Facebook
Local TG Communities:
🇲🇨 Indonesian-Speaking | 🇻🇳 Vietnamese-Speaking | 🇷🇺 Russian-Speaking
🇫🇷 French-Speaking | 🇵🇹 Portuguese-Speaking | 🇩🇪 German-Speaking
🇨🇳 Chinese-Speaking | 🇹🇷 Turkish-Speaking | 🇪🇸 Spanish-Speaking
🇮🇳 Indian-Speaking