Our partnership with TokenPocket is flourishing! Therefore, a new way of easy connection is implemented on Biswap — meet the new TokenPocket Wallet.
Many crypto wallets are supported by the Biswap global platform for our users' convenience. We want our community to have opportunities that are safe and profitable.
Biswap Metaverse can now be accessed with a new wallet:
💥 Biswap DEX
💥 Biswap Marketplace
TokenPocket is a multi-chain self-custodial wallet. The wallet supports different public chains: BNB Chain, BTC, ETH, Polygon, Solana, etc. TokenPocket Wallet is available for iOS and Android. It also provides users with the browser extension dfox.
How to Install a TokenPocket Wallet?
Start by downloading the app from your mobile device's App Store or Google Play. Next, follow the directions to set up the wallet. Make sure you download the original application!
Please refer here to ensure the validity:
Follow the guides provided below to:
Observe all directions carefully! Your recovery phrase needs to be written down somewhere safe, preferably not on your Internet-connected device.
❗️If you do not have the recovery phrase, you cannot retrieve funds from a lost or damaged device. You are responsible for keeping your wallet secure. This guide is for educational purposes only and does not provide you with any guarantees.❗️
Just follow the simple steps in the guides above, and you are ready to go!
How to connect a TokenPocket Wallet to Biswap?
The directions below will help you connect your wallet to Biswap:
Step 1: Click on the Discover tab in your wallet.

Step 2: Press on the Biswap icon.

❗Make sure you are connecting your wallet to the original Biswap platform.❗
Step 3: Click on the Connect Wallet and press Confirm.

Step 4: Type in your Password and click on Confirm.

You are now successfully connected!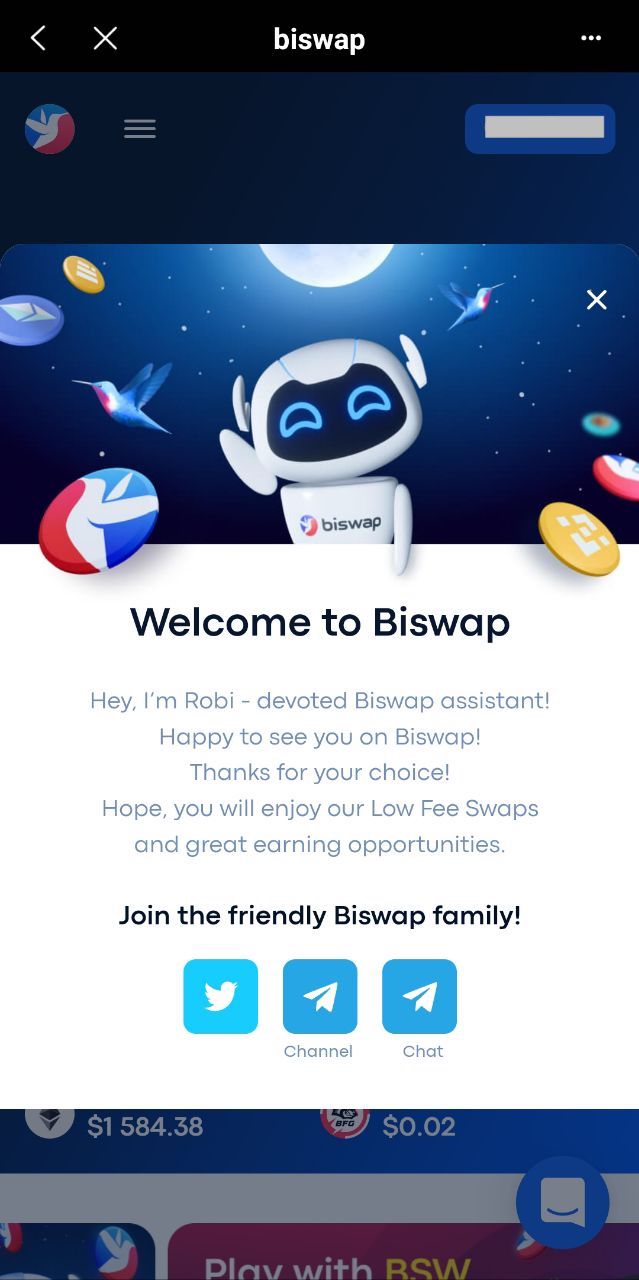 Get ready to exchange with a low trading fee of 0.2% (0.1% for stablecoin pairs)!
How to Export your Wallet Address from the TokenPocket Wallet?
To export your TokenPocket Wallet Address to another wallet, you will need one of the following:
Recovery Phrase
Private Key
Keystore
1. Open your main wallet screen and click on Details.

2. Here, you will find your Wallet Address, Secret Recovery Phrase, Private Key and Keystore.


3. To import to Trust Wallet via the Recovery Phrase click on the Export Recovery Phrase and copy.

❗️You should proceed with caution. Transfer your funds to another wallet at your own risk. We cannot guarantee the safety of your assets. When transferring, make sure you select the right network.❗️
How to import to Trust Wallet via the Recovery Phrase?
1. Open your Trust Wallet and go to Settings.

2. Press on Wallets.

3. Click on the "+" sign in the upper right corner and select the "I already have a wallet" option.

4. Select the correct Network from the list.

5. Put in the Recovery Phrase on the Phrase Tab. Make sure to type in your phrase correctly with one space in between. Type in a Name to identify a wallet easily. Next, tap on Import.

Now, you can find your TokenPocket Wallet in your Wallets list!
❗️Please note that this may not be true when transferring to other wallets! Do your own research and transfer at your risk.❗️
Thanks for taking the time to read this guide! Join our vast community to keep up to date with Biswap news!

Follow the Biswap Social Media:
🔥Website | Telegram Channel | Telegram Channel for CIS Users
Telegram Chat | Twitter | YouTube | Instagram | Medium | Zendesk
CoinMarketCap | Facebook | TikTok | Quora

Local TG Communities:
🇲🇨Indonesian-Speaking | 🇻🇳Vietnamese-Speaking | 🇷🇺Russian-Speaking
🇫🇷French-Speaking | 🇵🇹Portuguese-Speaking | 🇩🇪German-Speaking
🇨🇳Chinese-Speaking | 🇹🇷Turkish-Speaking | 🇪🇸Spanish-Speaking
🇮🇳Indian-Speaking