It is important for Biswap to provide users with an easy and profitable experience. That's why we put a lot of effort into creating new partnerships! TopGoal is our latest collaboration that will bring you a lot of possibilities.
Why TopGoal?
TopGoal is a blockchain-based platform that allows football fans to collect officially licensed NFT collectibles of their favourite players, clubs, and moments. It partners with Binance and football institutions to bring world-famous players into the football metaverse and create one-of-a-kind NFTs for fans.
Join to play the game and:
🚩 Own unique player cards
🚩 Build your dream team
🚩 Collect the greatest moments of the players you admire
Review the specifics of our collaboration!
Prominent TMT is Listed on Biswap!
TMT token was officially listed on Biswap DEX! Trade with the lowest trade fee of 0.2% among trusted DEXs on the BNB Chain!
👉https://exchange.biswap.org/#/swap
Make the most of your time by using Biswap DEX to trade the top tokens!
Increase Your Profits with Exciting TMT-BUSD Farm!
Biswap x TopGoal collaboration provides users from both platforms with the best lucrative opportunities!
Provide liquidity to profit from TMT-BUSD Farming Pair with 0.2X Multiplier:
Gain Robust BSW tokens
Earn 75% of the exchange fee for TMT-BUSD staking
High APR on Farms for TMT-holders
📍0.2X Multiplier is a great offer which you can't miss!
Increase your profit by staking LPs on Biswap Farms!
Make a Profit via Thrilling TMT Launchpool!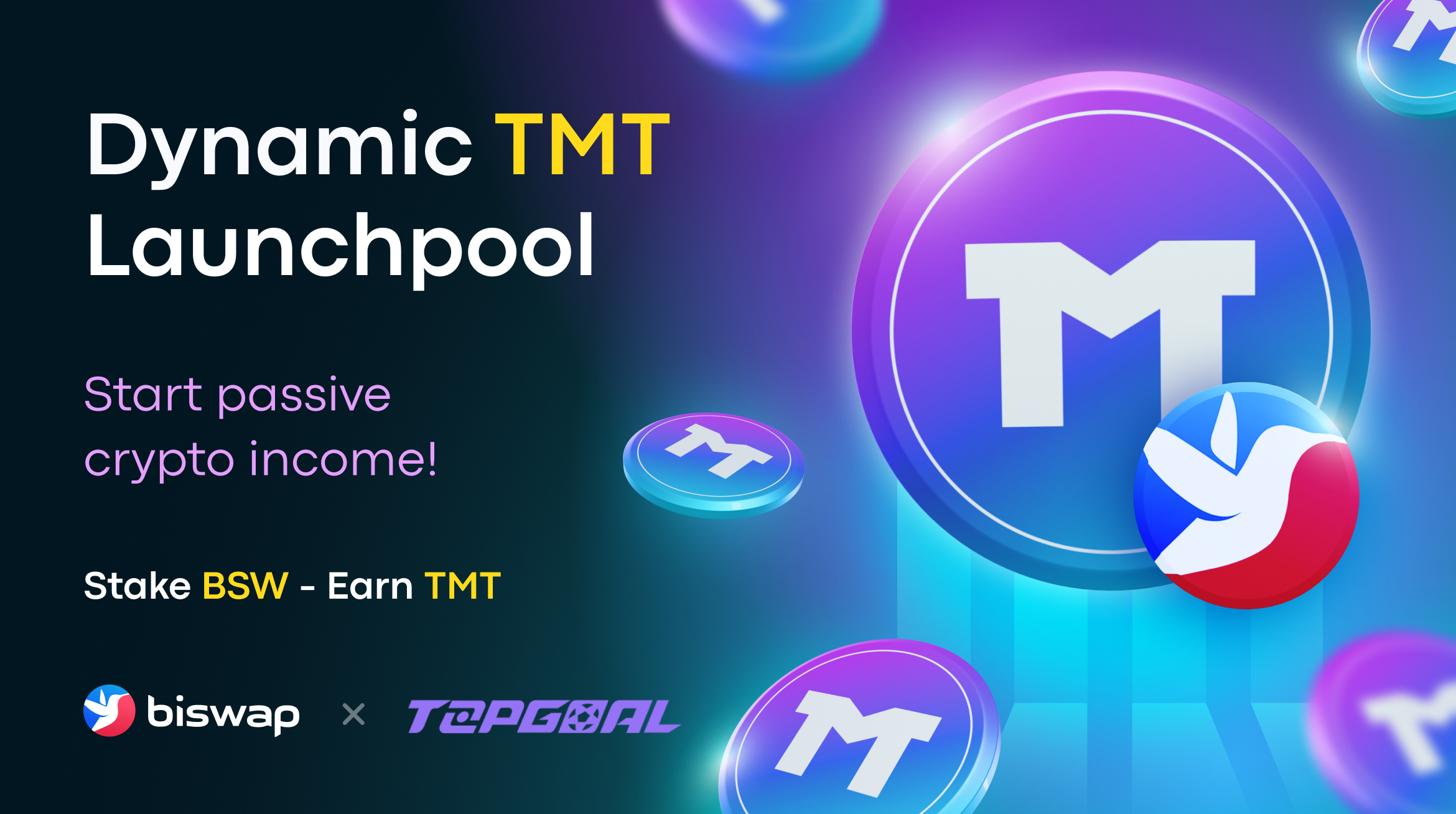 https://biswap.org/pools/stake_bsw
TMT Launchpool is an essential part of the Biswap x TopGoal partnership!
Stop sitting on the sidelines and get into the game!
Use this possibility to earn via TMT Launchpool:
Stake vigorous BSW
Earn robust TMT
It's time to act!
Lucrative opportunities are waiting for you:
Unlimited max stake
High APR
Vivid offer for BSW Holders
Potent tokens in return
📍TMT Launchpool will be active for 1 month.
More prominent collaborations are coming your way!


Follow the Biswap Social Media:
🔥Website | Telegram Channel | Telegram Channel for CIS Users
Telegram Chat | Twitter | YouTube | Instagram | Medium | Zendesk
CoinMarketCap | Facebook
Local TG Communities:
🇲🇨 Indonesian-Speaking | 🇻🇳 Vietnamese-Speaking | 🇷🇺 Russian-Speaking
🇫🇷 French-Speaking | 🇵🇹 Portuguese-Speaking | 🇩🇪 German-Speaking
🇨🇳 Chinese-Speaking | 🇹🇷 Turkish-Speaking | 🇪🇸 Spanish-Speaking
🇮🇳 Indian-Speaking
Follow the TopGoal Social Media:
💬 Telegram Chat: https://t.me/topgoalnft
🕊 Twitter: https://twitter.com/TopGoal_NFT
💻 YouTube: https://bit.ly/3GfRi8T
🤖 Discord: https://discord.com/invite/W7SbKEmXJ9
📃 Medium: https://medium.com/@TopGoal_NFT