Math Wallet is one of many wallets you can connect to Biswap. It supports multichain tokens and DApps on mobile or browser extension/web/hardware wallets. Math Wallet also enables storage of more than 3000 tokens, with the most important being BTC, ETH, Polkadot, Filecoin, EOS, Solana, Avalanche, Polygon, etc.
Besides, there you will find guides on how to:
Import your crypto wallet into the Math Wallet without creating a new one;
Export created wallet from Math Wallet
Key benefits of Math Wallet:
One-click access to the DApp Store
Many top blockchains supported
Huge amount of tutorials for all purposes
Setup of Math Wallet and connecting it to Biswap
1. Open the Math Wallet website and choose the device you want to use (we chose Extension as an example for this guide).
2. Once you have done it, a pop-up window will appear. Enter the password and click on "Create."
3. After that, select a BNB Chain network. Press "Switch Network."
4. To connect to Biswap, pick "BNB Chain."

5. Now, you need to create (or import the existing) wallet. Click the "+" button.

6. Create a name for your wallet and type it in the appropriate field.

7. Next, a seed phrase will appear. Please write it down on a piece of paper and keep it safe. Once you have done it, select "Completed."
📍If you lose the seed phrase, there will be no possibility of restoring your assets!

8. When everything is done, move to the home page of Biswap and click on "Connect Wallet."

9. Pick the Math Wallet and connect it to Biswap.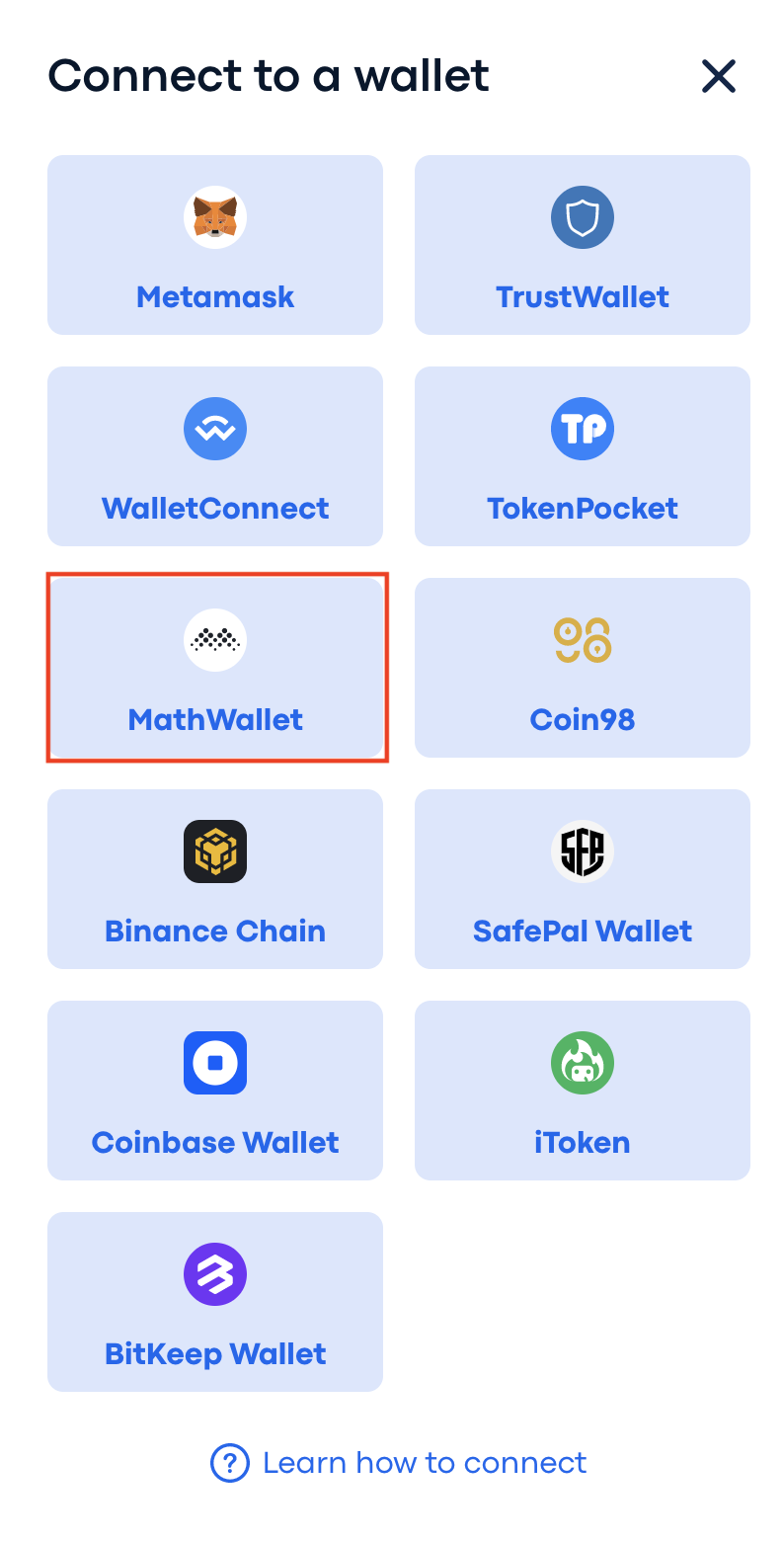 How to Import Your Existing Wallet Address to Math Wallet
1. Press the "+" button.

2. Select "Import Wallet."

3. Choose "Import by Private Key."

4. Enter your Private Key.

5. Now, create a name for your wallet and press "Confirm."

6. As a result, you will see your wallets in the main menu.

How to Export Your Wallet Address from Math Wallet
1. Open the main menu of Math Wallet and click on the "…" button near the name of your wallet.

2. Once you have opened it, select "Export Private Key."

3. Enter your password.

4. Now, you can see your private key. Copy it.

As you can see, it is not that hard to connect MathWallet to Biswap.
Stay tuned for more upcoming events and gain more knowledge with our DEX!

Follow the Biswap Social Media:
🔥Website | Telegram Channel | Telegram Channel for CIS Users
Telegram Chat | Twitter | YouTube | Instagram | Medium | Zendesk
CoinMarketCap | Facebook | TikTok | Quora

Local TG Communities:
🇲🇨Indonesian-Speaking | 🇻🇳Vietnamese-Speaking | 🇷🇺Russian-Speaking
🇫🇷French-Speaking | 🇵🇹Portuguese-Speaking | 🇩🇪German-Speaking
🇨🇳Chinese-Speaking | 🇹🇷Turkish-Speaking | 🇪🇸Spanish-Speaking
🇮🇳Indian-Speaking