Biswap supports many wallets, and Binance Chain Wallet is one of them! Binance Chain Wallet is an official cryptocurrency wallet with access to BNB Chain, BNB Beacon Chain, and Etherium. You can use it to store your crypto safely and connect to different projects worldwide. But that's not all. You can connect the existing wallet to the Binance Chain Wallet system and use it easily.
What are the Benefits of the Binance Chain Wallet?
Binance Wallet has a variety of benefits, including:
Safety
A good choice for beginners
Wallet Direct — a function that allows users to avoid copying and pasting the address to transfer assets
How to Set a Binance Chain Wallet Step-by-Step?
1. Visit the "Wallet" page on BNB Chain and pick a browser you want to install the wallet.

2. Add the Binance Chain Wallet App in the selected browser. After installing the App, the register pop-up will appear.
📍If you already have a wallet, you may enter your seed phrase and use it.
3. Press "Create Wallet" on the pop-up.
📍If the wallet was created before, you can connect it to Binance Chain Wallet by clicking the "Use Existing Wallet" button. It allows you to add the wallets created on other systems.

4. Click on the "Generate Seed Phrase."

5. Next, type the password that meets all the conditions, write it down, and put it in a safe place.
Once you have finished, push "Continue."

6. Next, the seed phrase will appear. A seed phrase is a set of random words. It will be used to restore your account. Please save it in a safe place and never share it with anyone.

7. After ensuring that the seed phrase is safe, click the "Continue" button.
Now you have your Binance Chain Wallet, which can transfer tokens to different networks and interact with DApps and smart contracts!
How to Connect Binance Chain Wallet to Biswap?
1. Visit Biswap's main page and click on "Connect wallet."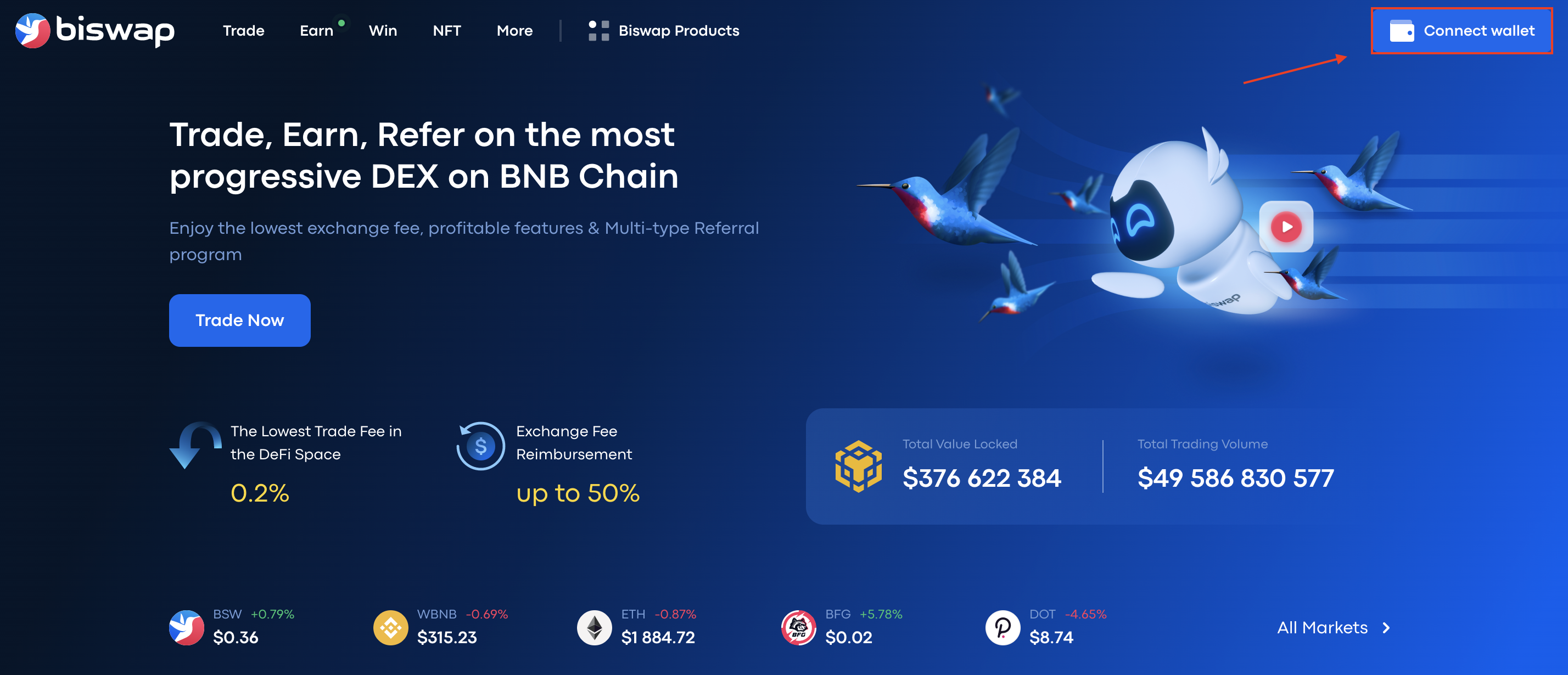 2. A pop-up menu will appear with the list of wallets. Pick Binance Chain Wallet.

3. A new window will appear with the request to connect the wallet to Biswap. Press "Connect."

4. In a couple of seconds, you will get a sign-in request. Press "Confirm."

If everything is done correctly, the wallet will be connected, and you are ready to use Biswap DEX and trade with the lowest commission fee of 0.2% among DEXes on the BNB Chain!
How to Export Your Wallet Address from Binance Chain Wallet?
To export your wallet address that was created in Binance Chain Wallet, you need to get a Private Key. It is pretty easy to do.
To export Private Key:
1. On the main screen, press the "…" button.

2. Select "Export Private Key."

3. Type your password

4. If it is correct, the Private Key will appear. Now you can copy it and import it to other wallet apps!

How to Import Your Existing Wallet Address to Binance Chain Wallet?
To import the wallet into Binance Chain Wallet, follow these steps:
1. On the main screen, open the Account page

2. Select the "Import Account."

3. After that, enter your Private Key and press "Import."

4. If everything is good, the imported wallet will appear in the list

Biswap is always glad to share proper knowledge with its users. Stay with us to always be informed about the crypto industry!

Follow the Biswap Social Media:
🔥Website | Telegram Channel | Telegram Channel in Russian
Telegram Chat | Twitter | YouTube | Instagram | Medium | Zendesk

Local TG Communities:
🇲🇨 Indonesian-Speaking | 🇻🇳 Vietnamese-Speaking | 🇷🇺 Russian-Speaking
🇫🇷 French-Speaking | 🇵🇹 Portuguese-Speaking | 🇩🇪 German-Speaking
🇨🇳 Chinese-Speaking | 🇹🇷 Turkish-Speaking | 🇪🇸 Spanish-Speaking