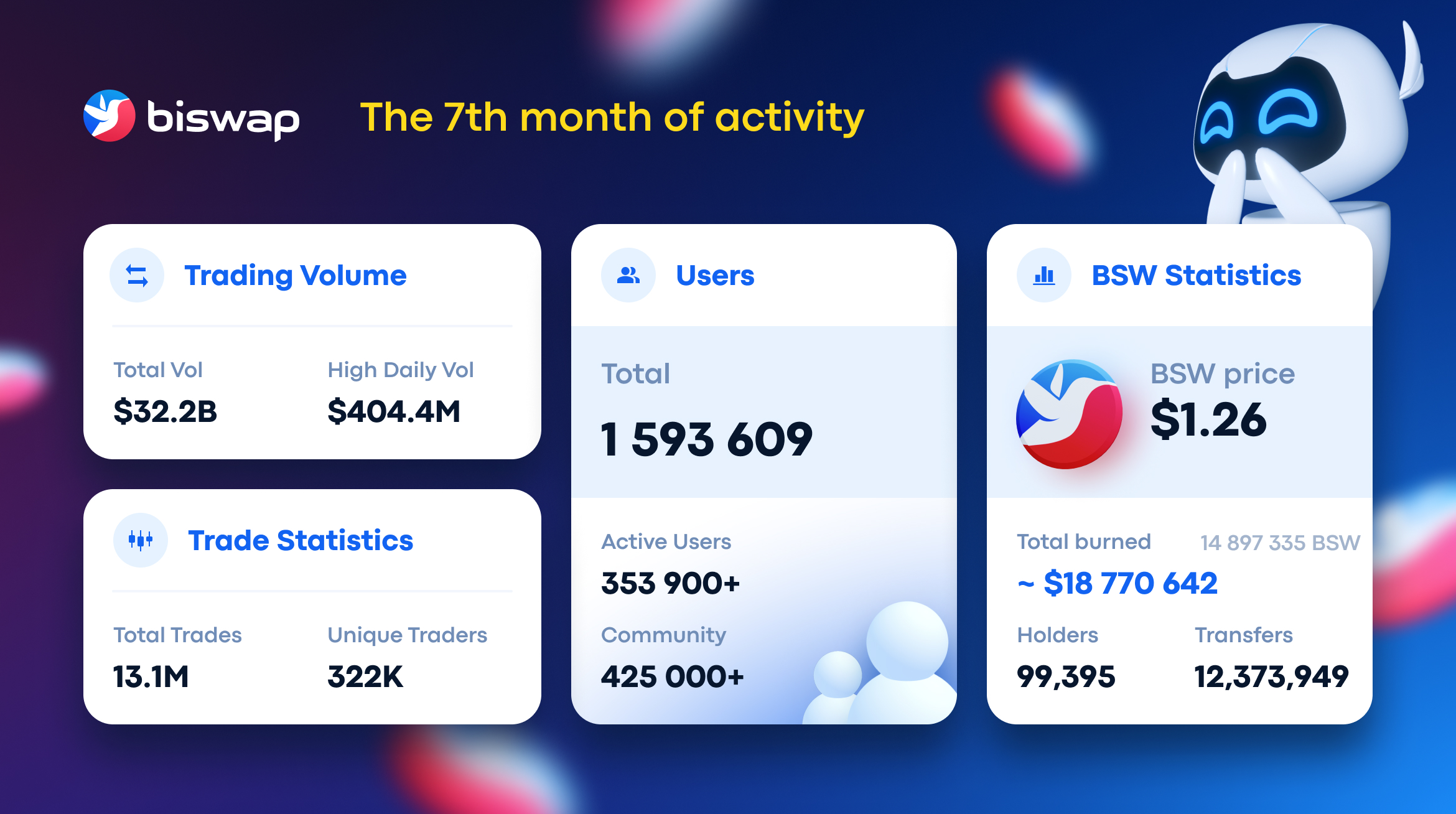 Biswap keeps its credible movement to the highest peak of the DeFi world! In the 7th month of its wild progress the project brought us overwhelming accomplishments: striking GameFi Release, flourishing NFT Direction, prosperous IDO Launchpad, progressive updates, effective partnerships, and as a result — TOP DeFi charts!
The last month of the year was a month of triumph, important decisions, and topflight innovations! We are delighted to share these significant achievements with our Biswappers!
But before the seventh month report, we'd like to appreciate our dearest users!
Great Thank You From the Biswap Team!
Biswap team is grateful for your huge support and trust in the project! We highly appreciate your belief in the platform and being active participants!
Your thoughts and wishes have a great impact on the Biswap growth in the crypto industry. Each of you is a significant part of Biswap that motivates us to gain even more crucial summits!
Let's continue creating DeFi history together!
Crucial Accomplishments — Biswap Reached Incredible Milestones!
Biswap moves forward with giant steps! It's time to look back at the major events and updates of Biswap DEX 7th month before we step into the next auspicious year!
Squid NFT World Grand Release! Marvelous Biswap Play-to-Earn!
This month was marked by an exceptional event. Launching the GameFi was the final step of Biswap DEX towards the Metaverse!
The GameFi direction is gaining more and more popularity in the DeFi world, but the Biswap team, as always, tried their best and released an excellent product! We have implemented an exclusive NFT game where you can play and earn at the same time! Squid NFT World had an immensely positive impact on the whole Biswap Metaverse and increased the profits of active Biswap users:
Multi-Crypto Reward Pool: users earn rewards in multiple tokens: BSW, BNB, and other tokens in the future.
High APRs: up to 10 000% APR in the upcoming Staff game
Jackpot Pool (starting from $100 000): all the details regarding the Jackpot will be disclosed later.
Referral Program: earn 3% from invited friends' winnings
Staff Game: get a chance to play various games with low entry barriers and high returns.
Each member of the Biswap team has put all the effort into making Squid NFT World the best GameFi project on BSC! We want to make your experience of using the Biswap Play-to-Earn as seamless and comfortable as possible. A revolutionary new way for users to earn rewards has been designed that distributes winnings in BSW and BNB.
In the run-up to GameFi release, Biswap launched the sale of wonderful and super-profitable NFT Mystery Boxes as a prelude to the glorious appearance of the Squid NFT World on the DeFi arena. The Boxes allowed users to be the complete package for epic Biswap Play-to-Earn. After all, Biswap never forgets to please its dear users with some advantageous offer!
Mystery Box contained random Squid NFTs, which are required to start the game. It was a highly lucrative offer because you will get an extraordinary benefit when you buy a box with several NFTs of random levels at the most profitable price!
30 000 of GameFi Mystery Boxes were sold out for striking 1 800 000 BSW!
60 000 BSW went to the BSW Token Burn!
1 620 000 BSW went to the GameFi Pool!
That is to say, the Squid NFT World became a vital part of the rapidly evolving Biswap Global Project. A variety of new opportunities to earn crypto easily appeared just by playing captivating games. Biswap team sought to see each of you getting huge profit in multiple gaming activities and sharing your excitement with friends and the community!
Are you ready to experience the best GameFi on BSC? Let's go!
https://squid-nft.io/
Squid NFT World will show you a marvelous outcome that will make every Biswapper be over the moon!
Striking Biswap IDO Launchpad | Buy Potent Tokens First for BSW!
Biswap Metaverse acquired a new massive utility this month! Initial DEX Offerings can now be held on Biswap Launchpad. It is a powerful and important tool both for Biswap DEX and potent projects who want to launch their tokens. Biswap provides the most effective utilities to these tokens: such as Trading, Farming, Launchpools, and other lucrative events.
The first-ever Biswap x Xpansion collaborative IDO has superb results:
🔥 $1 200 000 for XPS IDO was raised in 1 MIN!
So, IDO on Biswap Launchpad is a super intense and astonishing offer!
👉https://biswap.org/ido
Do you want to give your token a mighty push while starting on the BSC network?
Introduce your token to 425 000+ active users and the most active community on BSC:
👉https://biswap.zendesk.com/hc/en-us/articles/4413168196241-Biswap-IDO-Launchpad-Buy-Potent-Tokens-First-for-BSW-
Enhancement BSW Tokenomics! Implementation of Token Emission Reduction
December brought us one more distinguished change! The BSW tokenomics was changed to make BSW even more strong and eminent. All the changes were aligned with the solid Biswap Community.
The significant Community Voting made its impact on Biswap tokenomics:
🔥BSW Emission is reduced by 23%, which implies the strengthening of BSW.
This changes will positively affect the strengthening of BSW token price:
More benefits for BSW Holders
Increase BSW value in DeFi
Greater demand for BSW
Positive impact on BSW price in a long-term perspective
Up in statistics and new records for BSW
Higher position of BSW token in top crypto rankings
The Biswap team values its BSW tokenomics and continuously strengthens it.
Biswap aims to advance BSW token in the industry and bring new opportunities for BSW holders!
The Biggest BSW Burns on Biswap! | Record-breaking 2 774 116 BSW Burn
In the last month, the two biggest burns in Biswap history were held in December:
1 654 036 BSW and 2 774 116 BSW were burned via 22nd and 23rd BSW Burns.
Biswap made a total 23 scintillating Burns of 14 897 333 BSW tokens! BSW Burns powerfully enhance the tokenomics!
Check all the Burns stats on the Biswap page:
https://biswap.org/bsw_token
Fantastic Biswap Growth! Showy Numbers of Progress!
1 200 000 000+ Total Value Locked!
Biswap has reached a new stunning height! Watching our Metaverse flourish is so exciting!
$1 200 000 000+ Total Value Locked on Biswap DEX!
As we celebrate this ATH record, it demonstrates the level of trust we have earned over time.
Numbers talk for themselves:
$32 183 786 824 Total Trading Volume
$379 769 000+ Trading Volume in 24 hours
353 900+ Active Users on Biswap
27 930+ Active Users in 24 hours
425 000+ ATH of Biswap Social Media Members
Biswap DEX is grateful to active users for their support. Together we keep vastly evolving in the DeFi universe!
​​100 000+ BSW Holders| Vivid ATH for Biswap DEX!
There is a rapid increase in BSW popularity! It is no wonder that BSW is so beloved by lots of users — multiple profitable utilities make it a great tool for passive income!
Let's together enjoy this great ATH record:
100 000+ BSW Holders on Binance Smart Chain!
Check this immense number of addresses on BSCScan:
https://bit.ly/3flWz4t
Thank you for developing the BSW token and Biswap platform in innovative ways. The BSW token will continue to grow in value and attain greater success!
$2 397 000 000+ Weekly TTV | New ATH Record on Biswap Dex!
One more milestone has been reached by Biswap. We conquer new DeFi heights together with our powerful community! Thanks for your great contribution!
Check out this great number:
$2 397 000 000+ TTV in the last 7 days
Biswap DEX is ready to break new records!
Biswap TOP Charts! Prominent positions of Global Project!
Biswap is a reputable DEX on BSC which implements only the high quality service. The global project is remarked by authoritative crypto sources with great regularity.
Take a look at the variety of Biswap TOP Ranking:
Coin98 marked Biswap DEX TOP 2 Rising DApp!
BSCDaily mentioned Biswap as a TOP 3 BSC Dapp by Transaction Volume in the 7 days
Biswap is TOP 2 DEX by Total Value Locked on CryptoRank!
BSW is TOP 7 on BSC by Txn Count in 24 Hours!
BSCDaily remarked BSW token as a TOP Gainer on BSC in the 7 days!
BSCDaily noted Biswap as a TOP 2 Project with TVL & MC
Biswap was TOP 10 DEX and TOP 5 by Volume on CoinMarketCap!
Check the eminent current positions of potent project:
https://coinmarketcap.com/rankings/exchanges/dex/
Epic Growth of Biswap Community in Twitter & Telegram!
Biswap DEX develops with lightning speed! We are happy to create more profitable opportunities for our users and vastly expand our Metaverse. The focus on continuous progress and user satisfaction are our priorities. This is why our community is growing so fast:
200 000+ subscribers on Biswap Twitter where the latest announcements appear first!
What about the official Telegram Chat of Biswap?
100 000+ Biswappers communicate & share their thoughts and ideas with others!
👉https://twitter.com/Biswap_Dex
Biswappers, it's so pleasant to see your active participation and feedback in our social media. Without any doubts, we can say that you are truly reliable and great users and our expansion is that great thanks to your activity, creativity, and wisdom.
Our friendly team works hard to reach new DeFi milestones, and develop new profitable opportunities for you!
Biswap DEX is Officially Listed on CoinGecko!
CoinGecko — provides the world's largest fundamental analysis of the crypto market
This listing means that we reached one more important goal in our Checklist. From now on Biswap is listed on the TOP crypto tracking platform!
200M+ monthly CoinGecko users can now track:
Biswap DEX volume, market capitalization, major events
BSW price, on-chain metrics, popularity growth, and more
Find both the Biswap DEX and native BSW token on CoinGecko:
https://www.coingecko.com/en/exchanges/biswap
Stellar Biswap NFT Records! View Robbies NFTs Advancement!
December was the fruitful month for Biswap NFT Dairection. Since the launch Robbies NFTs keep selling like hotcakes! Everytime thousands of NFTs are sold out up to 30 minutes on Launchpad. Such popularity stemmed from the fact that they are gaining wide popularity and their value is growing steadily!
The last Sale was dedicated to the coming Christmas! 30 000 Xmas Robbies sold out in just a meteoric 30 minutes!
Take a look at the summary of astonishing results:
10 977+ NFT Holders
3 962 417+ Total Staked Robi Boosts
3 400 000+ Robi Boosts users got for swaps
342 369+ NFT Transactions
76 315+ NFTs got burned while upgrading
Daily Distribution of potent tokens in the pool is doubled!
Catch the 2Xmas reward increase for WBNB, USDT:
4 000 USDT per day
6.80 WBNB per day
35 000 BSW per day
55 555 BFG per day
Gain up to 400% APR in the pool:
https://biswap.org/nft
Experience Upgrades on the Popular Biswap NFT Marketplace!
Biswap extends the Metaverse frequently, and often adds important features and improvements. Nifty novelties enhance the user experience and make the earning process on Biswap better!
This month we majorly updated the NFT Marketplace and added some new functionality perks. Check them out:
New NFT Sorting Options are Added
Robi Boosts are Displayed Correctly on Marketplace
Join Biswap Marketplace via WalletConnect
New NFT Collections Added
Avail yourself of the Biswap NFT Marketplace upgrades:
https://marketplace.biswap.org/
Robust BSW token is Listed on CEXes!
BSW token is widely known among the forward-looking crypto community. It's not unreasonable to assume it is a strong token with grand ambitions. Thus BSW has already been listed on centralized exchanges such as:
Biswap aims to empower BSW token further and it has a great perspective! Let's enhance the token together!
Biswap Ecosystem Expansion! | New December Collaborations
💎 BetFury Strategic Collaboration continued with lush 2 000 000 BFG Launchpool
💎 Magic Beasties Collab's Continuation gave us a magic BSTS Launchpool
💎Yieldwatch Collaboration Boost. Yielwatch is a smart DeFi dashboard that lets you track your yield farming, lending, and liquidity pool performance on BSC.
Our partnership established new opportunities for Biswappers on Biswap DEX:
WATCH token is officially listed
Vigorous WATCH-BNB Farming Pair
👉https://biswap.org/farms
💎 ACryptoS Collaboration Boost. ACryptoS is a yield farming optimizer designed for long-term investors. And our collaboration is enhanced! There was the skyrocketing APY Boost up to 10 times on 5 LP pairs with Biswap Liquidity!
💎 RPS League is an NFT game, based on the widely-popular Rock Paper Scissors game.
The premier benefits of Biswap x RPS League Collab on platform:
RPS token is officially listed
Blooming RPS-BNB Farming Pair
Efficient RPS Launchpool
💎 Binemon is a virtual pet NFT game unified with dazzling RPG elements. The galactic collaboration led to the:
Listing of plucky BIN token
💎 Xpansion is Play-to-Earn decentralized 4x strategy game that will be set in the nearest future. Also it was a first-ever project that experienced gainful IDO on Biswap Launchpad. There are many XPS opportunities on Biswap that include:
XPS-BUSD Farming Pair
Stake XPS — Earn XPS & BSW Launchpool
Stake BSW — Earn XPS Launchpool
💎 Coinracer is is a low-poly-style blockchain multiplayer racing game. This collab created such a new lucrative opportunities on Biswap DEX:
CRACE token is officially listed
Swift CRACE Launchpool
💎 Autofarm is is a cross-chain yield farming optimizer that allows users to earn by stacking tokens in Autofarm vaults. This prominent cooperation will introduce a broader range of opportunities on Biswap:
AUTO token listing
AUTO-WBNB Farming Pair
14 Vaults with Biswap DEX Liquidity on Autofarm
💎 LaunchZone is is a decentralized non-custodial cryptocurrency exchange-centered ecosystem that runs on BSC and has a variety of high-profile products. This collaboration became strategic and provide thriving benefits on Biswap:
LZ & LZP tokens are officially listed on Biswap
LZ-BNB Farming Pair
Firing LZP Launchpool
💎 League of Ancients is a free-to-play, play-to-earn MOBA NFT-game. This prosperous partnership gave us:
LOA token listing
Thriving LOA-BUSD Farm
💎 Unus DAO is a new DeFi 2.0 + GameFi platform built upon Decentralized Reserve Currency protocol.
Experience lucrative offers via the bright collab on Biswap Dex:
UDO token official listing
Vivid UDO Launchpool
Biswap Altcoins Season Going On | Multiplied Farms for Big Profits!
Biswap constantly adds tokens that are gaining popularity and have a high potential. In such a way Biswap creates new lucrative opportunities for the users.
Check out newly listed tokens on our DEX:
CCAR and CPAN are top tokens on the Binance Smart Chain network.
GALA is the token of a platform that builds a range of blockchain-powered games.
EOS and ATOM are in the TOP 50 tokens on CoinMarketCap
CGAR is one of the leading positions among GameFi tokens
Check NEW Lucrative Farms with top Multipliers that November brought us:
💰 0.1X CCAR — BNB
💰 0.1X CPAN — BNB
💰 0.1X GALA — BNB
💰 0.15X CGAR — BNB
💰0.15X EOS — BNB
💰 0.15X ATOM — BNB
APR can be boosted mighty on the popular Farms!
$50 000 BSW AirDrop on CoinMarketCap!
This month Biswap launched a stellar $50 000 BSW AirDrop on the famous CoinMarketCap.
It made a splash all over the DeFi world and gained up to 4 000 000 active participants. Also the BSW Airdrop was remarked as the 2nd most active in the history of CoinMarketCap!
What an illustration for BSW popularity!
Biswap Trading Competitions | Tournaments for Beneficial BSW Prizes!
The seventh month gave us two vigorous Trading Competitions!
🏆 GameFi Trading Competition with variety of GameFi tokens
🏆 XPS Trading Competition as a part of Biswap x Xpansion Collab
Passionate 5 668 traders took part in 2 Trading Competitions.
$14 000 in Collaborative Biswap Twitter Events!
During this month, there were 4 gainful Twitter Events that Biswap launched alongside with its partners and some of them still go on! So take a look and rush to take part before they are over:
$3 ​​000 BSC x Biswap Christmas Twitter Event
Biswap & BinanceSmartChain stellar tandem will shower its lucky users with exciting rewards.
🗓 Date: 25 December
⏰ Duration: 24 hours
🎁 Reward pool: $3 000 in BUSD & BSW
🤴 10 winners will get $100 in BUSD and $200 in BSW
Check the conditions and rush to take part:
https://bit.ly/3ptcvHa
$5 000​​ Biswap & LaunchZone Winter Event
Biswap x LaunchZone strategic collaboration presents a vivid opportunity to gain splendid crypto rewards!
📆 Dates: 25/12/2021–3/01/2022
🎁 Reward Pool: $5 000 ($2 500 in BSW | $2 500 in LZ)
Each of 125 lucky winners will get $40 in both tokens ($20 in BSW | $20 in LZ)
Are you thrilled for new Robi avatars?
They are an essential part of the event and condition to win!
Choose one of the avatars and change the profile image:
👉 https://bit.ly/3HarhJc
Access all the conditions and hurry up to win:
👉 https://bit.ly/3su5Dvj
$5 000 Biswap x Xpansion Extensive Twitter Event
$5 000 in XPS were shared among the winners
16 000+ active participants
$1 000 Biswap x Binemon Galactic Twitter Event
$1 000 in BIN & BSW were shared among the winners
6 000+ active participants
Thank you all for your participation!
Biswap and its partners are glad to see such an activity!
Biswap Sharing Seasons Were Held during this Month!
More than 37 000+ Biswappers shared their Biswap experience via Twitter with everybody using #biswap_earn, and #biswap_exchange hashtags.
Significant 37 324 tweets were sent during the 6th month of the platform!
📨 18 399 tweets — #biswap_earn
📨 18 925 tweets — #biswap_exchange
👥 37 300+ participants
Biswap has more profitable events!
Don't miss the chance to get crypto in such an easy way!
Renewed Biswap Checklist! Achieved Targets & Inspiring Plans!
This month Biswap completed new powerful objectives! The Biswap hardworking team keeps aiming higher and making ambitious plans for the future. As a result, we constantly need to update our checklist.
In the updated checklist, you can examine our progress and look over future goals!
Closing thoughts
These were the main events of this month, Biswap DEX has gained such momentum that all its merits may not fit into a one monthly report!
Biswap ends its 7th month and 2021 year with excellent results. Just look how many milestones have been achieved, how many releases have been launched and how many crypto earned! Our team is thankful for the support you've provided us from the very beginning. Your dynamic energy charges us to gain new crucial summits and provide you with the best users' experience among all over the DeFi world! It was a wonderful year for Biswap, and it has come to an end. The next year will be filled with more unique, lucrative and just explosive achievements of the Biswap Global project!
Once you join Biswap Metaverse, you will never want to leave it!
Join Biswap Social Media
Welcome to the Mighty Biswap Community!
📢 Telegram Channel: https://t.me/biswap_news
💬 Telegram Chat: https://t.me/biswap
🕊 Twitter: https://twitter.com/Biswap_Dex
💻 YouTube: https://bit.ly/2YXYve7
📃 Medium: https://biswap-dex.medium.com/
Feel free to share your ideas and ask any questions!
🤖 Find the Community Drivers of Biswap here:
💬 Telegram Chat: https://t.me/biswap