Hello, Biswappers!
This week of Biswap DEX was full of grand events, epic collaborations, and new fantastic records! Robi is glad to provide you with fantastic news. Let's check out all the great events, that happened on our platform this week!
$1 000 000 000+ TVL ATH Record! | Fantastic Biswap Growth!
Biswap has reached a new stunning height! Watching our Ecosystem flourish is so exciting!
$1B+ Total Value Locked on Biswap DEX!

As we celebrate this ATH record, it demonstrates the level of trust we have earned over time.
https://biswap.org/
Numbers talk for themselves:


$379 769 000+

Trading Volume in 24 hours

101 000+

BSW holders

332 100+

Active Users on Biswap

25 930+

Active Users in 24 hours

425 000+

ATH of Biswap Social Media Members
Biswap DEX is thankful to active users for the support. Together we keep vastly evolving in the DeFi universe!
You will benefit from continual Biswap development!
​​
100 000+ Users Hold BSW
|
New ATH for Biswap DEX!

There is a rapid increase in BSW popularity! It is no wonder that BSW is so beloved by lots of users – multiple profitable utilities make it a great tool for passive income!

Let's together enjoy this great ATH record:
100 000+ BSW Holders on Binance Smart Chain!
Check this immense number of addresses on BSCScan:
BSW token keeps reaching new milestones in the DeFi! Use BSW to earn crypto effectively on Biswap:
Thank you for developing the BSW token and Biswap platform in innovative ways. The BSW token will continue to grow in value and attain greater success!
To the Moon together with Biswap!🚀

$2 397 000 000+ Weekly TTV | New ATH Record on Biswap Dex!


One more milestone has been reached by Biswap. We conquer new DeFi heights together with our powerful community! Thanks for your great contribution!
Check out this great number:

💥$2 397 000 000+ TTV in the last 7 days
Watch our progress conveniently - directly on Biswap Home Page:
Biswap DEX is ready to break new records!

Results of Community Voting for BSW Emission Reduction!
Biswap continues evolving in the DeFi space! We aim to constantly enhance the tokenomics and value of BSW.

During the Community Voting Biswappers voted for the strengthening of the BSW token!
The decision has been made:
94.43% - voted to make BSW Stronger by reducing the BSW Emission from 26 to 20 tokens per block.
📍All the changes to the tokenomics will be made soon.
Check the results of the voting on Biswap:
👉https://biswap.org/tokenomics_voting
Our team is thankful for your participation in the voting process. Each vote is important and attentively evaluated by the Biswap team during the voting process.
We are glad to give our users an opportunity to decide the future of Biswap development!
Biswap DEX is Officially Listed on CoinGecko!

Biswap becomes more and more popular and reaches new heights in DeFi! Our powerful platform is now listed on CoinGecko!
CoinGecko - provides the world's largest fundamental analysis of the crypto market
This listing means that we reached one more important goal in our Checklist. From now on Biswap is listed on the TOP crypto tracking platform!
200M+ monthly CoinGecko users can now track:
Biswap DEX volume, market capitalization, major events

BSW price, on-chain metrics, popularity growth, and more
Find both the Biswap DEX and native BSW token on CoinGecko:
👉 https://www.coingecko.com/en/exchanges/biswap
Together with you we are reaching new milestones!

​​Discover Biswap GameFi in Docs! | Epic Release Soon!


The colossal launching of the jaw-dropping Squid NFT World will happen soon! Take advantage of all the BSW you have & be one of the first players! Be ready to acquire valuable player experience in the admirable Biswap Play2Earn!
🌟 BNB & BSW rewards for Squid NFT World players
🌟 New Utilities for BSW
🌟 Expansion of Biswap Ecosystem
Read the thrilling GameFi details here:
https://docs.biswap.org/biswap-gamefi/squid-nft-world
Mint NFT Players & Buses for $30 in BSW per 1 NFT
Mint GameFi NFTs to enter the Game
Game Contracts for the Player
Buy Contract for Players to start the Game
Earn crypto rewards and up to 10 000% APR
Gain and upgrade SE
Your friends win - you get 3%!
Get BNB & BSW rewards
Check out the important details and get ready to win. The Squid NFT World is on the way!
​​
​​10 000 Squid NFT Mystery Boxes Sold Out | First Sale – First Records!
Biswap announced a great opportunity to get the NFTs for upcoming GameFi! There was a chance to get Buses & Players with different powers in one pack. Marvelous Mystery Boxes contain all you need to start the most lucrative and joyful Play-to-Earn!
This Mystery Boxes sale brought numerous benefits:
🌟 Users were able to get all required NFTs at once
🌟 NFTs were purchased at the extra-profitable price
🌟 Opportunity to get several NFTs of high level
🌟 Ability to own brand-spanking-new Biswap NFTs
Check all details about NFT Mystery Boxes:

⚡️The unique sale of NFT Mystery Boxes went with breakneck speed: 10 000 of GameFi Mystery Boxes were sold in just 60 seconds for stunning 600 000 BSW!
60 000 BSW will go to the BSW Token Burn!

540 000 BSW will go to GameFi Pool!
Thanks for your intense activity! Stay tuned – The Squid NFT World Release is Coming!

30 000 Christmas Robbies Sold Out In Just 30 Minutes!
The 6th Sale of Christmas Robbies was really quick as a flash! These Robbies are a part of Biswap Robbies Earn NFT Collection.
30 000 of 1st LVL Robbies were sold in just 30 minutes for a total of 1 500 000 BSW! Great numbers! Biswap community surprises us more and more during each NFT Sale on the Biswap Launchpad.
150 000 BSW

will go to

BSW Token Burn
1 350 000 BSW

will go to

NFT Staking Pool

on Biswap
Check all the benefits of Biswap NFT Marketplace:
https://marketplace.biswap.org/
Experience the vivid Marketplace and profitable NFT Staking on Biswap!

​​BSW is TOP 7 on BSC by Txn Count in 24 Hours!
Binance Smart Chain puts progressive BSW token on a powerful position! Every new week we conquer new leading places!
💥263 209 BSW by Txn Count in 24 hours
Check out the great BSW ranking on BSCScan:
👉https://bscscan.com/topstat#Token
BSW is poised to conquer new heights and proves it with new records! We thank each of you for experiencing popular BSW tokens and potent Biswap Ecosystem!
Make profit easily with BSW:
Biswap DEX - your way to success!🌟

Robbies Earn Christmas Records​​​​ | More BSW in Biswap NFT Staking Pool!
It's stunning to see a great desire from the Community for Biswap Robbies! Every day they become more popular and gain value!

Let's check out the latest statistics of the vivid Biswap NFT Collection:
105 555

Robbies NFTs were sold for

3 348 000 BSW


📍Note: 10% from each sale's revenue goes to BSW Burn, 90% goes to NFT Staking Pool on Biswap.
10 727+

NFT Holders

2 951 689+

Total Staked Robi Boosts

2 800 000+

Robi Boosts users got for swaps

295 138+

NFT Transactions

65 291+

NFTs were already burned while upgrading
🔥The NFT Staking Pool is flourishing with increased rewards for you:
💸 35 000 BSW per day
💸 2 000 USDT per day
💸 3.4 WBNB per day
💸 55 555 BFG per day
A powerful up to 600% APR in the pool will boost your yields:
Robbies NFTs and their popularity bring you giant profits!

Biswap x LaunchZone Strategic Collaboration | Welcome Great Utilities!
We are glad to announce a new strategic partner of Biswap DEX – Launchzone!
LaunchZone is a decentralized non-custodial cryptocurrency exchange-centered ecosystem that runs on BSC and has a variety of high-profile products:
LZ Pad

LZ Pool

LZ Swap

LZ Wallet
Our important collaboration brought:


Official LZ & LZP Listing

Exchange LZ & LZP tokens with the lowest 0.1$ Fee on BSC:

👉https://exchange.biswap.org/#/swap



Stake LZ-BNB-LP to earn BSW on Biswap Farms with high APR and initial 0.1X Multiplier:
As the liquidity provider of LZ - BNB Farming Pair, you will also obtain 50% rewards of 0.1% exchange fee from each swap made on the platform!


Stake BSW— Earn LZP Launchpool
Use popular BSW tokens to earn LZP:

✨Stake BSW
✨Earn LZP
✨Giant APR
✨Unlimited max stake

👉https://biswap.org/pools/stake_bsw

Interested in all details of Biswap x LaunchZone Strategic Collaboration?

Our eminent partnership will provide you with great yields!

Biswap & League of Ancients Vigorous Collaboration!
Biswap establishes collaborations with top-notch projects! Welcome a fantastic partnership with the League of Ancients!
League of Ancients is a free-to-play, play-to-earn MOBA NFT-game: own NFT skins that are securely stored, trade hero skins, or combine them for greater rewards, and increase your LOA by holding onto your NFT skins.
LOA

token is officially listed on Biswap DEX!





Trade it with the lowest 0.1% fee on BSC!
👉https://exchange.biswap.org/#/swap
Gain more profit from LOA-BUSD-LP Farming Pair with a lucrative 0.2X Multiplier!




Liquidity Providers on Biswap Farms also get multiple benefits:

⚡️earn esteemed BSW tokens
⚡️get 50% of the trading fee for LOA-BUSD-LP staking
⚡️make profit with huge APR

👉https://biswap.org/farms
Stake BSW - Earn LOA Launchpool
✨Stake BSW
✨Earn LOA
✨Unlimited max stake
✨High APRs
👉 https://biswap.org/pools/stake_bsw
📍LOA Launchpool will be available for 6 months. Use the limited offer to increase your crypto assets!


Read the details about our collaboration:
Stay tuned & use the profitable opportunities on Biswap DEX!

​​Swift CRACE Launchpool!​​ | Biswap x Coinracer Collaboration Boost!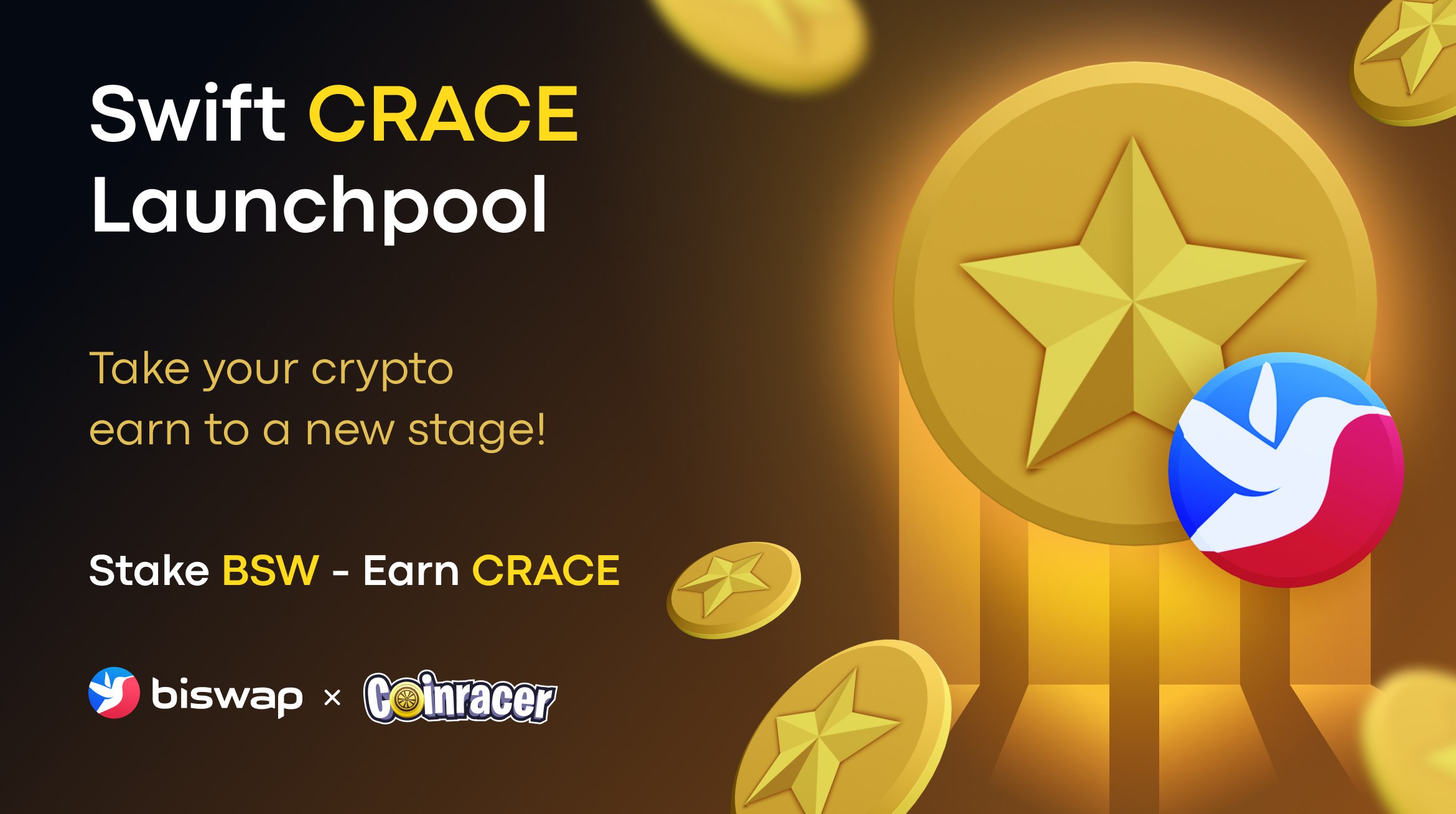 Biswap x Coinracer enhanced the potent collaboration! As a part of our stunning partnership, we created a profitable opportunity for our users!

CRACE Launchpool will increase your crypto income with a high APR:
👉https://biswap.org/pools/stake_bsw
Stake BSW

Earn CRACE

Unlimited max stake

High APR
Read all details about our mighty collaboration:
Biswap DEX establishes profitable partnerships for you!

New NFT Collections Added! | Pancake NFTs on Biswap Marketplace!
Pancake NFTs are whitelisted on the Biswap Marketplace!
We are upgrading our Marketplace to expand the number of NFT collections. Trade newly added NFTs and earn easily on the popular Biswap Marketplace:
🥞Pancake Squad
🥞Pancake Bunnies
👉https://marketplace.biswap.org/
Use the best benefits of Biswap NFT Marketplace:
Lowest Commission Fee of 1%

Exclusive NFT Auction

Lucrative Offer to Buy
Head to Biswap Marketplace and enjoy the novelties!

Biswap Altcoin Season Keeps up! | New Farms with Multipliers!
Biswap continues the Altcoin Season! New tokens are now listed on Biswap DEX!
CCAR

and

CPAN

are top tokens on the Binance Smart Chain network.

GALA

is the token of a platform that builds a range of blockchain-powered games.
Multipliers will boost your passive income on Biswap Farms:
0.1X CCAR - BNB

0.1X CPAN - BNB

0.1X GALA - BNB
Providing Liquidity is beneficial: get BSW in return from Farms, as also a 50% Fee Reward of 0.1% exchange fee from each swap.
New tokens are new opportunities to earn high yields!

Epic Growth of Biswap Community in Twitter & Telegram!

Biswap DEX develops with lightning speed! We are happy to create more profitable opportunities for our users and vastly expand our Ecosystem. The focus on continuous progress and user satisfaction are our priorities. This is why our community is growing so fast:

🌟200 000+ subscribers on Biswap Twitter!



Official Biswap Twitter account provides users with the latest news and announcements, regularly launches profitable Sharing seasons and rewards the participants. Various Twitter Events and Art Contests are extremely popular among our Twitter subscribers!
👉https://twitter.com/Biswap_Dex
What about the official Telegram Chat of Biswap?

🌟100 000+ Biswappers communicate & share their thoughts and ideas with others!




Join the global community:
👉https://t.me/biswap


Biswappers, it's so pleasant to see your active participation and feedback in our social media. Without any doubts, we can say that you are truly reliable and great users and our expansion is that great thanks to your activity, creativity, and wisdom.
Our friendly team works hard to reach new DeFi milestones, and develop new profitable opportunities for you!

Blooming RPS-BNB Farming Pair | Biswap x RPS League Collaboration!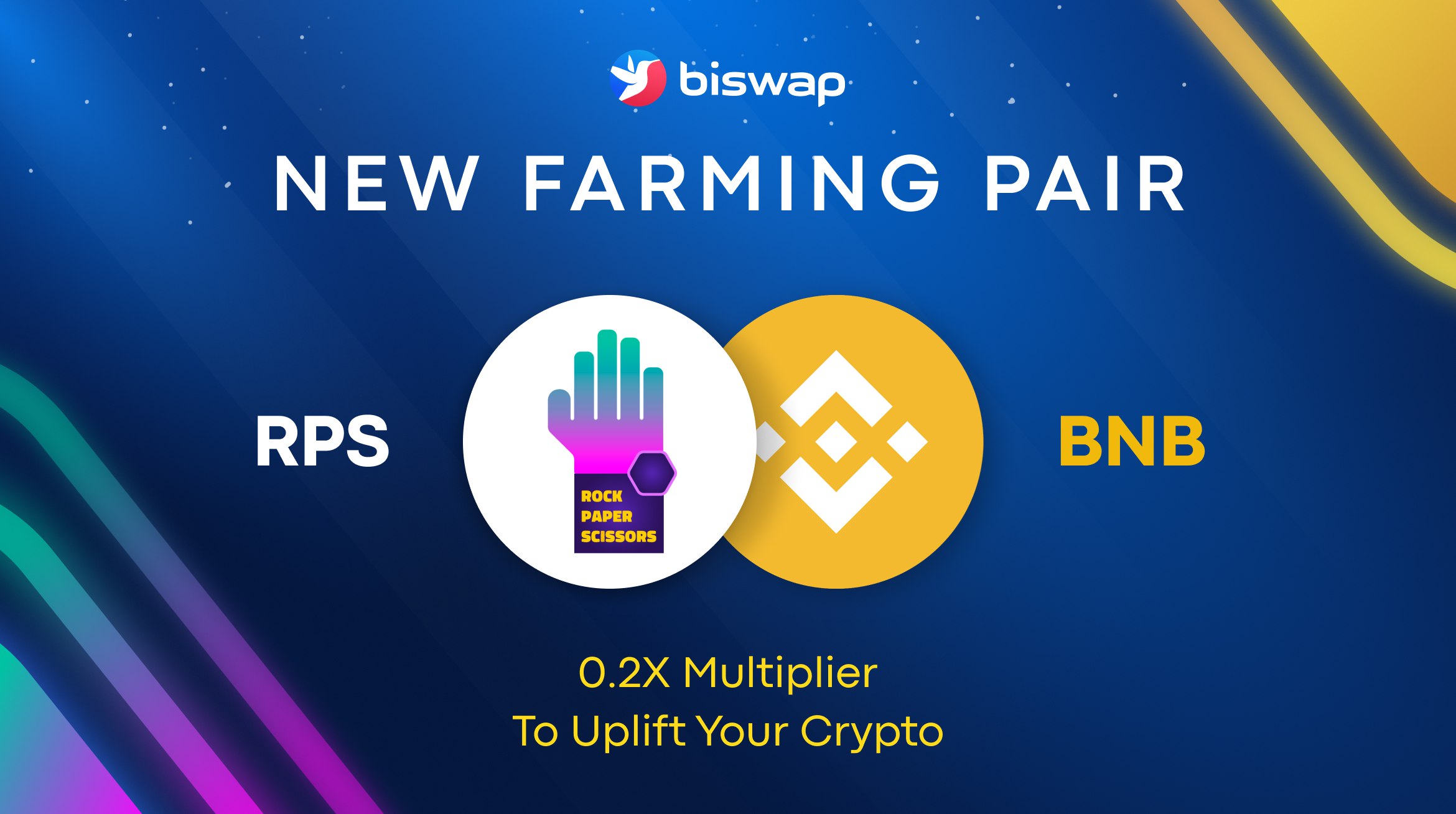 Biswap x RPS League collaboration provides even more opportunities to boost your income!
We increase the income of our users with a 0.2X Multiplier for the RPS-BNB Farming pair!

📍0.2X Multiplier is a limited offer!


Launch your passive income here:
Become the liquidity provider & get such profits:
Receive potent

BSW

tokens

Beneficial

APR

on Farms for RPS-holders

Gain

50% of the trading fee

for RPS-BNB-LP staking
Check out all the details about our potent collaboration:
Biswap and its partners create the best profitable opportunities!


Striking XPS Trading Competition! | Share the Huge $5000 Share Pool!
Trade the venerable XPS tokens to gain precious rewards! Set the highest trades on Biswap DEX and share $5 000 in BSW tokens.
Trading period: 15/12/21 - 22/12/21
Token: XPS
👉https://biswap.org/xps_competition


🥇1 place - $1 000
🥈2 - 200  places -  $4 000 for all in % correlation
Read all the details on Biswap Zendesk:
📍Your rank in the winner's table is determined by the Trading Volume with XPS token (including buys & sells).
📍If your trade goes through the Route which includes XPS token, it will be also added to your Trading Volume of the competition.
XPS Trading Competition on Biswap rewards the most powerful traders!

Biswap x Xpansion Collaborative Twitter Event!
Biswap x Xpansion massive collaboration provides users with an opportunity to get significant crypto rewards!
Dates: 13/12/2021-20/12/2021
Prizes: Each of 125 lucky winners will get $40 in XPS
Follow these easy steps & win:
1️) Follow Biswap & Xpansion on Twitter
2) Like + Quote the tweet & tag 3 friends
3️) Fill out the Form: https://bit.ly/3GVQuXN
📍XPS rewards will be distributed within 72 hours after the finish of the Twitter Event.
Experience all the benefits of our collaboration and compete for crypto rewards!


Biswap x Binemon $1 000 Twitter Event Report!
A vivid Biswap x Binemon Twitter event is finalized! Lucky participants have won valuable prizes!
🎁25 winners received $20 in BSW & $20 in BIN prizes
🏆Find the lucky Biswappers in this list:
Biswap & Binemon partnership makes users of both platforms happy!
​​Biswap & CryptoMines Art Contest Report!
Biswap and Cryptomines were amazed to see that many talented participants! Lots of artworks, that depicted our Strategic collaboration were really masterpieces! That's great to have such an amazing and creative Community.
Let's find out more about the winners:
👨‍🎨20 champions shared $4 000 in BSW:
🥇1st place  -  $550
🥈2nd place  - $400
🥉3rd place  -  $300
🏅4th - 5th places - $250 each
🏅6th - 10th places  -  $200 each
🏅11th - 15th places  -  $150 each
🏅16th - 20th places - $100 each
📄The winners' table:
Admire the artworks and their talented creators on Biswap Zendesk:
📍The prize pool of the contest will be shared in BSW tokens, as that the demand for the ETERNAL token has significantly decreased in the industry.

Our team is thankful for your participation and efforts! We highly value that!

25th Sharing Season Report! | Champions Shared $1 060 in BSW!


The 25th Sharing Season on Twitter was full of stunning participants! Hey Biswappers, your activity is truly wonderful!

The numbers are great, lots of tweets were shared in the OFFICIAL Biswap Twitter!


11 020 total participants

5 220 #biswap_earn tweets

5 800 #biswap_exchange tweets

List of 202 lucky users, who obtained esteemed BSW tokens:

📃Read how to engage in this stunning event:
https://biswap.zendesk.com/hc/en-us/articles/4406867753745-Biswap-Sharing-Season-2-530-Rewards-Weekly-

Share your Biswap experience in the 26th Sharing Season and get lots of BSW rewards!

Biswap Lottery Competition Report | $4 352 for the Highest Tickets Volumes!
The 13th Weekly Lottery Competition has ended! It is an essential part of the Biswap Lottery.
All winners received valuable BSW rewards to their competition balances.
Check out the great statistics:


2 352 users took part in the Biswap Lottery Competition

100 Biswappers shared $4 352 in BSW.




Here comes the champion with the highest tickets volume and his BSW reward:
🥇1st place — $1 305 in BSW
Check your ranking here:
https://biswap.org/lottery_competition_13
Take part in the glorious 14th Lottery Competition and win huge rewards:
https://biswap.org/lottery_competition

Biswap Lottery Competition rewards the strongest participants!

Become a part of the Biswap Community!
📢Telegram Channel: https://t.me/biswap_news
💬Telegram Chat: https://t.me/biswap
🕊Twitter: https://twitter.com/Biswap_Dex
💻YouTube: https://www.youtube.com/channel/UCHartwkRUURf2Q7MlKOV84w
📃Medium: https://biswap-dex.medium.com/

Find the OFFICIAL Biswap Admins here:
👉 Telegram Chat: https://t.me/biswap
❗️These are the OFFICIAL channels of Biswap❗️
Watch out for fake accounts! The Biswap platform will never text you first and ask for private keys or individual information!