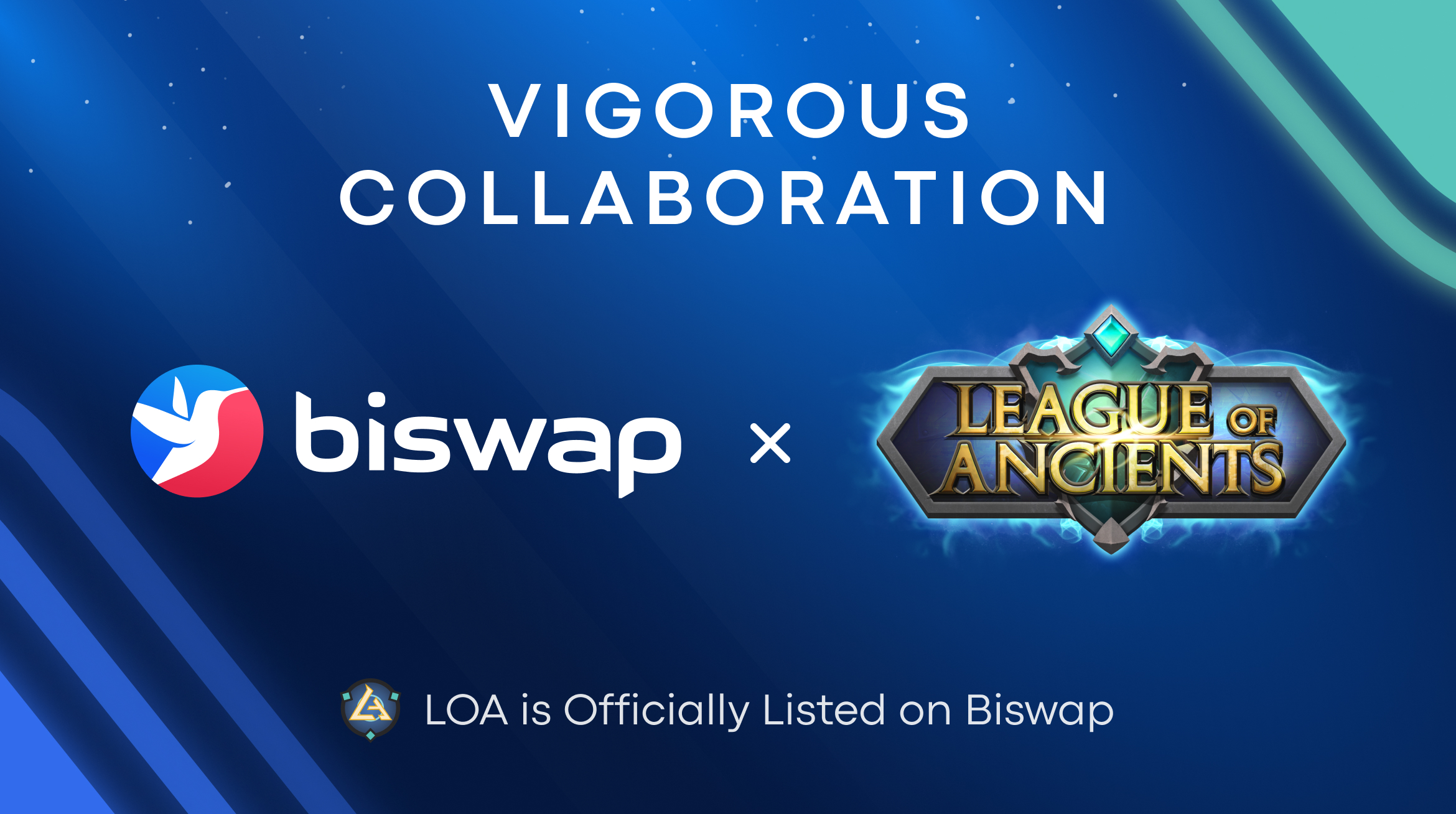 Are you ready for the new fantastic opportunities? Biswap is always working on improving products and developing great partnerships! We are happy to announce our latest incredible collaboration with League of Ancients!
Why the League of Ancients?
League of Ancients (LOA) is a MOBA NFT-game that aims to create an engaging community with a flourishing economy; focusing on Free-to-Play and Play-to-Earn mechanics by leveraging on blockchain technology.
Some of its distinctive features are:
🛡MOBA Game - battle it out in the Ancient Realm for FREE and earn $LOA while doing it
🛡NFT skin ownership - your skins are securely stored on the blockchain
🛡Market Place - trade hero skins or combine them for greater rewards
🛡NFT staking - increase your $LOA token yields by holding onto your NFT skins


Experience them here:
https://leagueofancients.com/

Are you excited yet? Look over the prominent benefits of our collaboration!


Incredible LOA is Officially Listed on Biswap!
LOA growing token is listed on Biswap DEX! Use this unique opportunity to exchange LOA with the lowest fee of 0.1% in the DeFi world:
👉 https://exchange.biswap.org/#/swap
Ready for some crazy crypto experience? Let's go!
Expand Your Crypto with 0.2X Multiplier on LOA-BUSD-LP Farm!
Biswap x League of Ancients collaboration gives excellent opportunities to gain immense profit by staking LOA-BUSD-LP via Biswap Farms with skyrocketing 0.2X Multiplier!


Lose no time to earn vast rewards:
Acquire growing

BSW

tokens

Collect

50% of the trading fee

for LOA-BUSD-LP staking

Rewarding

APR

on Farms for LOA-holders
If you want to make lucrative profits in the crypto world, better to make it with Biswap! 💵
Grow Your Assets via
Thriving LOA Launchpool!
Make your crypto wallet burst from your profit with LOA Launchpool!
https://biswap.org/pools/stake_bsw
LOA Launchpool is a significant part of the Biswap x League of Ancients collaboration
Take simple steps to achieve vast results:
Stake prominent BSW

Earn vigorous LOA
👉 https://biswap.org/pools/stake_bsw

Stake your BSW and enjoy using the amazing benefits of LOA Launchpool:
Unlimited max stake

High APRs
📍LOA Launchpool will be active for 6 months
Use this limited offer to magnify crypto!
Obtain cosmic profit on Biswap!

Follow the Biswap Social Media:
🔥Website | Telegram Channel | Telegram Channel in Russian
Telegram Chat | Twitter | YouTube | Instagram | Medium | Zendesk

Local TG Communities:
🇲🇨 Indonesian-Speaking | 🇻🇳 Vietnamese-Speaking | 🇷🇺 Russian-Speaking
🇫🇷 French-Speaking | 🇵🇹 Portuguese-Speaking | 🇩🇪 German-Speaking
🇨🇳 Chinese-Speaking | 🇹🇷 Turkish-Speaking | 🇪🇸 Spanish-Speaking

Follow the Astounding League of Ancients Social Media:
💬 Telegram Chat: https://t.me/leagueofancients
🕊 Twitter: https://twitter.com/LOAOfficialMOBA/
💻 YouTube: https://www.youtube.com/c/LeagueofAncientsOfficial
📃 Medium: https://leagueofancients.medium.com/
🤖 Discord: https://discord.com/invite/loa
📩 Reddit: https://www.reddit.com/r/leagueofancients/