ADA is a robust token of a strong network Cardano.
Cardano is a blockchain platform that was founded in 2015 by Ethereum co-founder Charles Hoskinson and launched in 2017. The native cryptocurrency of Cardano is called ADA. The platform is named after the Italian mathematician Gerolamo Cardano, and the cryptocurrency is named after the English mathematician Ada Lovelace.
How do Cardano and ADA work, and what are their achievements?
Cardano is written in Haskell, a highly fault-tolerant programming language. The applied Proof-of-Stake Ouroboros protocol provides for the participation in the voting of all cryptocurrency holders.
ADA tokens have a limited supply. The release of 45 billion coins is planned. Already generated about 30 billion. About 10% of them were given to companies that design this platform and are engaged in its development. The rest are distributed among the holders-miners. The emission is entirely dependent on new blocks. To date, 2,000 coins are produced after the signing of each block. Further, the indicators will gradually decrease. It is planned to complete the issue of the entire volume of coins in 2023.
See what height ADA tokens achieved during the year: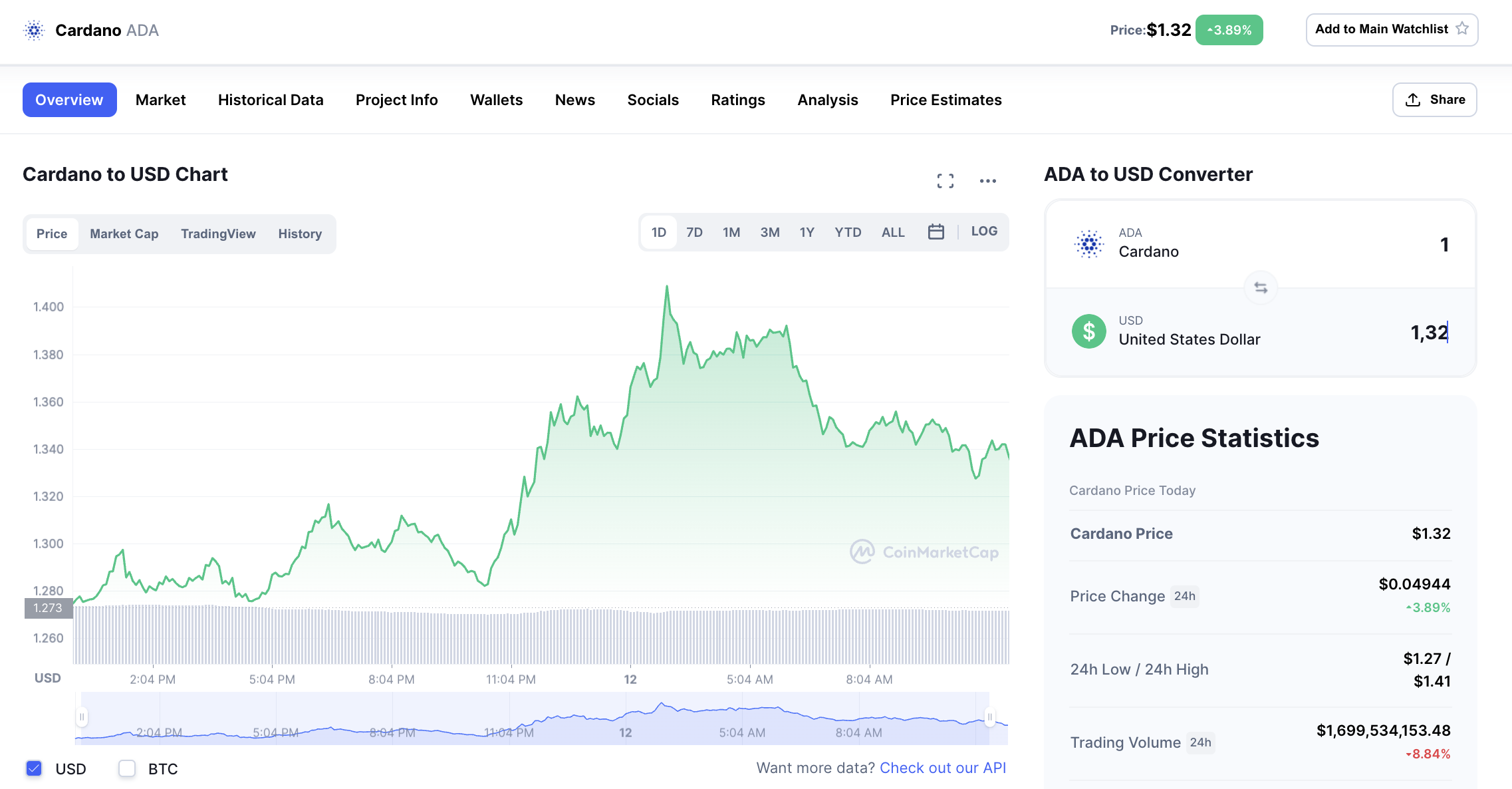 https://coinmarketcap.com/currencies/cardano/
Strengths & Weaknesses of Cardano
The main specificities of the network can be described as its pros and cons:
Ouroboros Safety System

Fast transactions

Ability to work with digital assets



Blockchain is currently working on the Beta version

Low spread of Cordano assets

Issues with official synchronization with wallet and its connection to the network

Double spending
Discover Cardano Ranking and Where to get this Coin
Let's look at the vivid ADA achievements. It takes the top 6 tokens due to Coinmarketcap.com.
https://coinmarketcap.com/currencies/cardano/
Experience ADA on Biswap with the Lowest Commission Fee
You can swap ADA on Biswap exchange. Why Biswap? Because you can't find the lowest commission fee at other DEXes. Also, it's safe! CertiK Audit approves it. So enjoy gainful circumstances and trade ADA on BISWAP:
👉 https://exchange.biswap.org/#/swap
To sum up, the Cardano (ADA) rate is quite resistant to inflation, and due to the limited total turnover, the demand for it continues to grow. The decentralized nature of the Cardano blockchain makes it secure, and the layered architecture provides scalability. Taken together, these technical features make Cardano a unique coin with good potential.

Follow the Biswap Social Media:
🔥Website | Telegram Channel | Telegram Channel for CIS Users
Telegram Chat | Twitter | YouTube | Instagram | Medium | Zendesk
CoinMarketCap | Facebook

Local TG Communities:
🇲🇨Indonesian-Speaking | 🇻🇳Vietnamese-Speaking | 🇷🇺Russian-Speaking
🇫🇷French-Speaking | 🇵🇹Portuguese-Speaking | 🇩🇪German-Speaking
🇨🇳Chinese-Speaking | 🇹🇷Turkish-Speaking | 🇪🇸Spanish-Speaking
🇮🇳Indian-Speaking