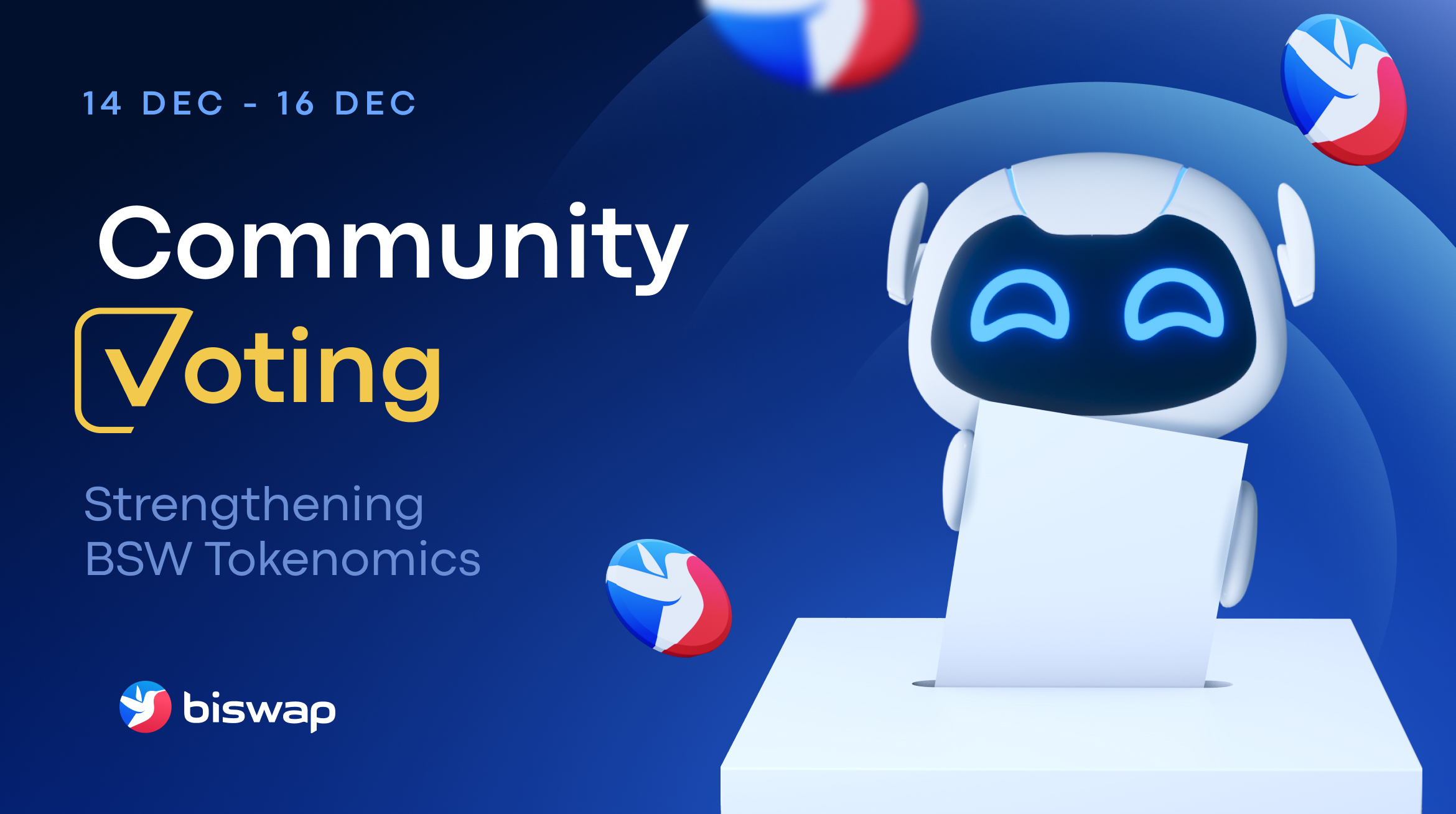 Biswap is breaking new records and moving ahead in the industry. Conquering higher levels and stepping on a new stage only means a great motivation for the team to break through even further. There is no stop sign for Biswap, only the route forward which requires a lot of effort and significant decisions which will fuel Biswap progress.
The Biswap team values its native token BSW and tokenomics as a whole, therefore in a constant manner applying methods for its enhancement. As a robust project with great aspiration for development, Biswap wants to take another important decision and add incredible power to the BSW token.
As you know, the planned BSW emission reduction from 28 to 26 tokens per block took place on December 2. The cost of the BSW token at the time of the emission reduction was $ 1.07. In just 5 days after the reduction, the price is now over $1.6 for BSW.
Considering the current BSW price and the upcoming launch of Biswap GameFi (22 - 29 December), in which users need to constantly buy BSW to participate, it is the right moment to take BSW to more potent levels. The Biswap team offers to increase the value of the BSW token by decreasing the emission of BSW tokens from 26 tokens per block to 20 tokens per block.
As you know Biswappers, the improvement of the project is not possible without your feedback, support, and dynamic energy. Each of you is the main navigator in the further rise of the global Biswap DEX in DeFi. If we look back we will see how many great innovations, ideas, releases, and features have been implemented thanks to our collective decisions and synergy created by the project and Biswap Community itself. For this reason, Biswap needs your voice and support in taking this vital decision which will notably impact the advancement of BSW.
Advantages of the Substantial BSW Emission Reduction:
5 184 000

BSW tokens less will be released each month, which will positively affect the strengthening of BSW token price

More benefits for BSW Holders

Increase BSW value in DeFi

Greater demand for BSW

Positively impact on BSW price

in a long-term perspective

Up in statistics and new records for BSW

Higher position of BSW token in top crypto rankings
As you see, this decision will have a bright and positive impact on BSW and its holders. New utilities will be opened along with new lucrative possibilities for users of biswap.org!
New Position & Ranks for BSW in DeFi
Currently, BSW token is #269 in the rank among all tokens on CoinMarketCap:
https://coinmarketcap.com/currencies/biswap/
It is a worthy result, but there are no limits for perfection and upper levels, right?
The BSW token can accomplish higher peaks on the market and grow in the ranking list. To make this goal real, it is vital for Biswap to reduce the emission of BSW tokens from 26 to 20 tokens per block.
Take Part in the Community Voting
The Biswap team aims to make your experience the most profitable and beneficial in DeFi. Strengthening of BSW will take the project to new positions and bring remunerative offers for BSW holders on the platform and beyond. There are two proposals to vote for available on the voting page.
📩Vote here:
Let's enhance the growth of BSW tokens and conquer new levels together!
Terms & Conditions
The voting period is from 14

/12/2021 to 16/12/2021

The voting counts BSW tokens in BNB - BSW, USDT - BSW Farming Pairs, BSW Auto-compounding Launchpool, Manual BSW Launchpool, and BSW tokens in your BEP-20 wallet.

If the number of votes is 51% or more for option "Make BSW Stronger", the implementation date of token emission reduction, from 26 to 20 tokens per block, will be announced by the Biswap team after the voting completion.

Despite the voting outcome, the allocation of 600 million BSW tokens in tokenomics will be distributed by the initial ratio:
Farms / Launchpools: 80.7% per block

Referral Program: 4.3% per block

SAFU: 1% per block

Team: 9% per block

Investment Fund: 5% per block
Once voted, you will not be able to vote again.

There is no need to unstake your BSW tokens from Farms and/or Launchpools to vote.

The system will automatically sum up all your tokens on the wallet and those locked in Farms & Launchpools

. Your BSW tokens will stay with you.

If you are unable to vote on the Biswap Voting page, please vote on the snapshot.
Ending Word
Biswap wants to thank those who take an active position in the continuous development of the project! Your request and feedback pave the path forward and fuel the team with motivation to work harder and apply 100% of energy to make every new product more lucrative and beneficial. We can add power to Biswap and its BSW token together with you.
Let's take the steps for the mutual upgrade!


Follow the Biswap Social Media:
🔥Website | Telegram Channel | Telegram Channel for CIS Users
Telegram Chat | Twitter | YouTube | Instagram | Medium | Zendesk
CoinMarketCap | Facebook
Local TG Communities:
🇲🇨 Indonesian-Speaking | 🇻🇳 Vietnamese-Speaking | 🇷🇺 Russian-Speaking
🇫🇷 French-Speaking | 🇵🇹 Portuguese-Speaking | 🇩🇪 German-Speaking
🇨🇳 Chinese-Speaking | 🇹🇷 Turkish-Speaking | 🇪🇸 Spanish-Speaking
🇮🇳 Indian-Speaking