Biswap DEX globalizes in DeFi with every new day!🦾
Time to see the huge field of Biswap expansion that was established in just several months!
This is the result of the tireless work, tons of events, massive collaborations, important negotiations and difficult decisions, serious changes and bright updates, immense efforts that were made to achieve such a colossal spread!
Biswap is not a general DEX, it's a huge system with the top-notch opportunities that are revealed for Biswappers:
🌟High-security level
🌟Biswap DEX integrations on the prosperous platforms
🌟Vaults & Margin Trading with Biswap Liquidity
🌟Detailed Biswap stats on analytics charts
🌟Strong partnerships
🌟620 000+ Community
In just several months of unstoppable Biswap development, we achieved many goals and set even more for the future. These mind-blowing results we gained together with our faith community and thoroughly selected progressive BNB Chain projects!
Many Thanks to each member of this big and friendly crypto family of Biswappers! Your support is an endless engine of motivation that helps to develop and expand the high-quality product!🙏
Biswap has already cooperated with a lot of potent projects that continue to grow rapidly in the crypto-industry. Ready to see your amazing project on the partners' list?
Biswap Partners
To ensure platforms' constant growth and improvement, Biswap collaborates with leading projects! Our partnerships drive impact, innovation, and longevity in overall returns.
All Biswap collaborations are fruitful and are warmly met by the crypto community. That's because Biswap & Partners aim to provide new products into the BNB Chain network along with new utilities for users!
Check out the mighty projects, Biswap collaborated with!
Leading GameFi & I-Gaming Projects:
BetFury – the №1 i-Gaming multicurrency platform where you can earn great wins and experience its native BFG token! BetFury is the project with the fastest growth rate in the i-gaming sphere, according to dapp.com. Additionally, BetFury is licensed and authorized by the Government of Curacao.
IguVerse is a GameFi App that redefines the concept of NFT using AI / ML technologies. You can experience innovative game mechanics: Socialize, Move, Play and Help to Earn via modern NFT pet.
My DeFi Pet – a life-style based pet game on Blockchain! The winner of the Top-1 Binance Vietnam Super Hackathon and Top 10 MBVII, My DeFi Pet is blazing the trail in the gaming industry.
Faraland – a multiplayer RPG NFT Game that lets the user engage in the combat arena and profit from battles. The Faraland Universe has a lot of different races like humans, orcs, angels, demons, dragonborns, elves, and fairies which are waiting for the user to discover and collect.
ZOO-Crypto World – a leading & innovative NFT project that uses animal-based NFTs as the main gaming element! ZOO-Crypto World provides lots of unique features, such as high-rewarding yield farmings, NFTization of IP collections, and an autonomous influential community!
CryptoMines – NFT SciFi game that offers the users an opportunity to roam through the vast universe on mighty Spaceships, with a crew of devoted Workers! Searching for ETERNAL — token, that allows users to gain profit both in virtual and real worlds!
CryptoBay – a leading metaverse game platform on BNB Chain, that gives a chance to earn while playing! CryptoBay is the world of grand ships, dangerous pirates, gorgeous harbors, and your own crew!
CryptoZOON – a complete NFT gaming platform of digital creatures, based on the BNB Chain.
Binemon - a meme NFT mobile game that combines many genres including Collectible, Gacha, RPG, Adventure and Idle. You can amass an army of cute and funny meme 3D pets, fuse them together into create even more cute and funny pets, and let them battle on end to collect Ambrosia. There is a vast open world called BineLand for you to explore and have fun.
RPS League - a NFT game, based on the widely-popular Rock Paper Scissors game, in which participants can play against people from all over the world and even create their teams.
Coinracer - a low-poly-style blockchain-powered multiplayer racing game. CSP or CoinracerSmartPool system controls the prize pool redistribution between winners of the race. It's a truly exciting and competitive environment for novice and professional gamers alike!
League of Ancients - a MOBA NFT-game inspired by DoTA2 and League of Legends. LOA aspires to create an engaging community with a thriving economy; focusing on Free-to-Play and Play-to-Earn mechanics by leveraging on blockchain technology.
Magic Beasties - a new blockchain multiplayer game with the ability to collect exclusive NFT's, rich in content and variety of gameplay. PvP, Dungeons, Adventures, NFT Marketplace - it's all at the heart of the Beasties!
MOO Monster - is a free-to-play, play-to-earn NFT-game. Place where you can enjoy your adventures in the Mooniverse (metaverse) and earn money as a reward.
It will be easily accessible on iOS and Android mobile devices.
Human: Memento - a Sci-Fi play-to-earn NFT game designed to provide the users with a fun experience by collecting Explorers and Time Machines to travel back to the past eras searching for $EPK. The game is deployed on the BNB Chain and is compatible with web3 wallets such as MetaMask, which will be used to accept transactions and pay gas fees.
Tank Battle - is a war-themed strategy game with a completely new style and various modes. Assert yourself in the Tank Battle universe with different in-game modes: PVE, PVP, Alliance War, and Tournament to enjoy the gameplay and gain valuable token rewards.
CryptoBattles is a web-based blockchain PVP game on the BNB Chain that is available to play from the PC and mobile devices via MetaMask App.
ULAND is the first crypto project where NFT virtual land is mapped to actual countries, states and cities. It's combined with its ULAND currency to create an insulated, organic and secure economy where Ulanders can trade and earn.
TopGoal is an officially licensed digital collectable with NFT and blockchain empowered GameFi of football metaverse. TopGoal has the support of famous and dynamic football players!
Outer Ring is an MMORPG video game in a science fiction and fantasy universe based on the economic Play to Earn concept. It represents a unique investment opportunity in a growing industry with an experienced company developing the project.
Exobots: Omens of Steel is a turn-based battle NFT game with a sustainable 'Play to Earn' model, featuring different game modes such as Adventure, Battle or Dungeon.
AgeOfGods - is a new type of video game, one that implements a "Play-to-Earn" model.
Ultiverse - AAA gaming metaverse, and a mix of Web3 with immersive VR-compatible virtual world. The project raised $9.5 million from global investors: Sequoia, Binance Labs, DeFiance Capital, & Three Arrows Capital.
NFT Marketplaces & Platforms:
Twinci – the first NFTs social marketplace, where you can create, sell and collect digital items secured with blockchain.
Altura – a smart contract platform that allows game developers to mint, distribute, and transact Smart NFTs representing in-game items.
AirNFTs – a BNB Chain-based NFT Marketplace, that holds its focus on the users' experience!
The Sandbox - is a virtual Metaverse where players can play, build, own, and monetize their virtual experiences. Players can create digital assets in the form of Non-Fungible Tokens (NFTs), upload them to the marketplace, and integrate them into games with Game Maker.
Meta 17:17 - is focused on the development of corporate and gamers outreach campaigns with the aim of promoting new DeFi projects from Web 3.0 and taking them to The Sandbox Metaverse.
Pikaster — is Metaland's first card-based NFT battle strategy P2E game. You can experience an innovative NFTs staking and evolution system, an outstanding scholarship system, guilds and wars, a marketplace and in-game wallets. Try a unique 3-token model: RBP, SRBP as game tokens and MLS as governance token.
Radio Caca is backed by OKX Blockdream Ventures & Tachyon accelerator of Consensys Mesh. RACA has a United States of Mars 3D Metaverse, popular blockchain game Metamon World, NFT Marketplaces and a potent native token RACA, which is listed and traded on Biswap and has utilities on other leading DApps.
Top-notch DeFi Platforms:

FLOKI is a popular and people-oriented cryptocurrency which combines the power of utilities, memes and charitability! We invite BNB projects to try FlokiFi Locker and enjoy high security and easy storage of assets.
MEXC Global – a centralized exchange that employs a high-performance mega-transaction matching technology.
Rabbit Finance – a cross-chain leveraged lending protocol, allowing users to multiply their funds up to 9x.
Nabox – a cross-chain DeFi wallet with Decentralized Identifier for Web 3.0.
Bella Protocol – a DeFi project that allows users to simplify their deposits and enjoy the high yields from sophisticated arbitrage strategies, either on-chain or via custodian service.
TEN Finance – a yield optimizer that simplifies staking and yield farming with BNB Chain Liquidity Pools. Moreover, it provides a robust yield earning environment on the market while adhering to security, sustainability, longevity, and simplicity.
Pinecone – a BNB Chain-based yield optimizer protocol, responsible for sustainable and user-friendly single-asset farming via multiple strategies. Pinecone strives to be secure and profitable!
KALATA – the BNB Chain-based mainstay of Synthetic Asset issuance and transaction agreements, that allows everyone to experience real-world financial assets. KALATA is also a derivative trading and mortgage lending platform for decentralized synthetic assets.
Yieldwatch – a smart DeFi dashboard that lets you track your yield farming, lending, and liquidity pool performance on BNB Chain.
Liquidus - the application that makes the whole DeFi space accessible to a mainstream audience, finding inspiration from the simplicity credited on centralized solutions like Nexo and Celsius, but allowing a much higher APY to be earned.
ACryptoS - a yield farming optimizer designed for the longer-term investor who values sustainable tokenomics, safety and careful risk management.
Autofarm - a yield optimizer platform focused on providing DeFi users with auto-compounded yields at empirical optimal intervals, whilst pooling gas costs through battle-tested smart contract code and best-in-class yield optimizing strategies.
LaunchZone - a decentralized non-custodial cryptocurrency exchange-centered ecosystem that runs on BNB Chain and has a variety of high-profile products.
UnusDAO - a new DeFi 2.0 + GameFi platform built upon Decentralized Reserve Currency protocol. Each UDO token is backed by a basket of assets (e.g. BUSD) in the Unus treasury, giving it an intrinsic value that it cannot fall below.
LBank - is a global cryptocurrency trading platform that offers safe, convenient cryptocurrency exchange services, derivatives services, grid strategy, DeFi mining for global users. It is compatible with iOS, Android, Windows and Mac.

XT.COM - is the World's First Social Infused Exchange.
Hot Cross - is an extensive multi-chain and cross-chain toolbox that enables blockchain networks and their communities to thrive.
LaCucina is a DeFi project that offers DeFi users the chance to earn additional benefits on top of their Swap fees and Farm earnings, without any additional staking or having to move their original staking positions.
PancakeSwap is the leading decentralized exchange on the BNB Chain that helps you make the most out of your crypto in three ways: Trade, Earn, and Win.
Beefy Finance is a decentralized, multi-chain yield optimizer that allows users to earn compound interest on their crypto holdings.
BSCStation has a wide variety of products, including a launchpad where promising projects can hold an IDO or INO.
OpenLeverage is a permissionless lending margin trading protocol that enables traders or other applications to be long or short on any trading pair on DEXs efficiently and securely.
PinkSale is a protocol aiming to allow users to launch their token and create their initial token sale.
Alpaca Finance is the leading and largest lending protocol allowing leveraged yield farming on BNB Chain and Fantom.
Ripae Finance is a cross-chain algorithmic stable coin pegged to each native chain the project is deployed on.
Unicrypt provides 5 main services plus several sub-features, making it a one-stop shop with everything you need to launch a project, purchase tokens from a launchpad, simply stake your tokens, create a farm, and so on. Ultimately it is a Blockchain tech provider.
Red Kite - is a cutting-edge launchpad and Defi platform powered by PolkaFoundry and has already launched more than 67 IDO projects! Red Kite carefully chooses the projects through vetting, which takes everything from the origins of the project teams to legitimacy and implementation capacities into account. Become a $PKF Holder to get access to hand-picked projects' token sales and other lucrative features.
Moonpot – a win-win savings game powered by Beefy Finance and launched on BNB Chain in July 2021. Everyone in each pot is in with a chance of winning big-money Moonpot prizes paid out in crypto. And everyone always earns interest.
WOO Network - is a liquidity network democratized across CeFi and DeFi, connecting traders, exchanges, institutions, and platforms through their products.
GrizzlyFi is a Liquidity Mining platform that allows you to generate a predictable income on your crypto assets. GrizzlyFi provides investing in the best opportunities in the DeFi space by making Liquidity Mining accessible through innovations, security, and simplicity.
Space ID is a decentralized name service network that connects people, data, crypto & Apps. It is chain-agnostic, decentralized, censorship-resistant, and open-sourced. With its help, you can unite all your multi-chain addresses in one unique .bnb domain name.
ApolloX is a decentralized crypto derivatives exchange on the BNB Smart Chain that aims to make crypto accessible to everyone. ApolloX allows trading a wide selection of perpetual futures with leverage and provides a solution shaping Web3 trading and perpetual futures for businesses.
Ankr is a decentralized WEB3 infrastructure company that offers various on-blockchain products for building, earning, playing, and more to help drive the growth of the crypto economy while providing a full suite of multi-chain tools for users.
Carbon is a fast privacy web 3.0 browser that blocks online ads and website trackers by default. The project is rapidly gaining popularity, with over 5.7M downloads and more than 1.5M MAUs.
Major Cryptocurrency Wallets:
Metamask – a software cryptocurrency wallet. MetaMask allows users to store and manage account keys, broadcast transactions, send and receive cryptocurrencies and tokens, and securely connect to decentralized applications through a compatible web browser or the mobile app's built-in browser.
Trust Wallet – a mobile cryptocurrency wallet that supports dozens of popular native assets, in addition to popular tokens on the Ethereum, Binance, and TRON blockchains.
Walletconnect – an open-source protocol for connecting decentralized applications to mobile wallets with QR code scanning or deep linking.
Coin98 – a cryptocurrency wallet, which supports over 25 networks on both its mobile and desktop platforms.
Binance Chain – the official Binance cryptocurrency wallet for accessing BNB Chain, Binance Chain, and Ethereum.
SafePal Wallet – a cryptocurrency wallet that helps users to protect and grow their digital assets. SafePal provides hardware and software wallets, all paired and managed through the SafePal App, and was the first hardware wallet invested in and backed by Binance.
Go Pocket - a wallet that provides overall, real-time and scenario-based security service and is born to be the security defender for the web3 world.
Token Pocket - is a multi-chain self-custodial wallet. The wallet supports different public chains: BNB Chain, BTC, ETH, Polygon, Solana, etc.
Coinbase is a more fair, accessible, efficient, and transparent financial system enabled by crypto. It offers a trusted and easy-to-use platform for accessing the broader crypto economy.
Huobi Wallet is a professional Multi-chain light wallet. It guarantees the assets' security of global users from multiple dimensions and provides Digital Asset Management (DAM) services that are simple, convenient, and secure.
Crypto.com wallet is the world's fastest growing crypto application.You can securely Buy, Sell, Store, Send and Track your crypto there.
BitKeep - the top DeFi multi-chain non-custodial crypto wallet providing secure & reliable crypto asset management services.
Math Wallet is a Multichain Wallet for Web3 that allows token storage of 100+ chains such as ETH, Polkadot, Solana, BNBChain etc. Moreover, It supports cross-chain token bridges and a multi-chain DApp store. This project attracted many influential investors, including Binance Labs.
Brave — a popular browser with 50M+ active users & native crypto Wallet. Brave provides you with online privacy, security and fast usage at the same time. The browser blocks the trackers and ads on every website you visit. It brings you independent search, free video calls, offline playlists, a customizable news feed, and more!
OKX Wallet is a one-stop Web 3.0 portal with easy access to over 1 000 DApp protocols. You can use the wallet via OKX App, web, and extension. Enjoy a universal gateway to all Dapp, traverse new networks with an all-in-one wallet, and keep your transaction safe with this integration.
Crypto Tracking & Analytics Projects:
CoinMarketCap – the world's most-referenced price-tracking website for crypto assets in the rapidly growing cryptocurrency space.
Dapp.com – a platform to discover and analyze thousands of ranked DApps built on Ethereum, EOS, Steem, TRON, TomoChain, IOST, and Blockstack.
DappRadar – a data acquisition and analysis company that tracks over 3,500 DApps across multiple blockchains including Ethereum, TRON, EOS, WAX, Steem, HIVE, and more.
CoinGecko – a platform that provides a fundamental analysis of the crypto market. In addition to tracking price, volume, and market capitalization, CoinGecko tracks community growth, open-source code development, major events, and on-chain metrics.
BSCScan – the leading block explorer for the BNB Chain, allowing users to easily lookup, confirm, and validate transactions that have taken place on the BNB Chain blockchain, similar to how Etherscan is used for the Ethereum Network.
DeBank – a dashboard for tracking your DeFi portfolio, with data and analytics for decentralized lending protocols, stablecoins, margin trading platforms, and DEXes.
Defistation – a DeFi leaderboard and analytics website for decentralized finance projects building and operating on BNB Chain.
ApeBoard – a cross-chain DeFi Dashboard. Currently supports Ethereum, BNB Chain, Terra, Solana, Binance Exchange, and Polygon.
DEXTools – an app and ecosystem for traders that provides info about all the decentralized markets. Create unique trading strategies, anticipate market movements, search for big spreads, track and copy the most profitable wallets and much more.
BNB Project - is a TOP tracking platform that recognizes the most prominent projects built on BNB Chain.
GeckoTerminal - is a platform that provides real-time cryptocurrency charts for blockchain networks.
EpiK Protocol is the world's first decentralized protocol for constructing, storing, and sharing AI data.
Blockchain Venture Companies & Biswap Launchpad Participants
Dreamboat Capital is a Blockchain Venture company that bridges good projects to cryptocurrency enthusiasts; it has the vision to educate and empower the community in Asia, especially Indonesia, through blockchain technology.
Xpansion - a decentralized 4x strategy game set in the near future. Faced with a dying world, the remnants of Earth's population have launched expedition waves to settle the habitable worlds surrounding nearby stars.
MV Ventures is a world-class community-backed venture capital investing in top blockchain projects of the future with over 120+ projects!

MVL is a blockchain mobility ecosystem with over 1.5 million users in Southeast Asia, where various services are linked into one. All the participants' mobility data are exchanged transparently at fair value.
Oddiyana Ventures is an investment firm exploring & investing in early-stage blockchain projects.
It considers funding projects in DeFi, NFTs, web3 applications, metaverse, and other relevant new developments in the space.
FaraStarter is a launchpad created by gamers for gamers to support all Blockchain Game Projects.
Biswap Listings on Global CEXs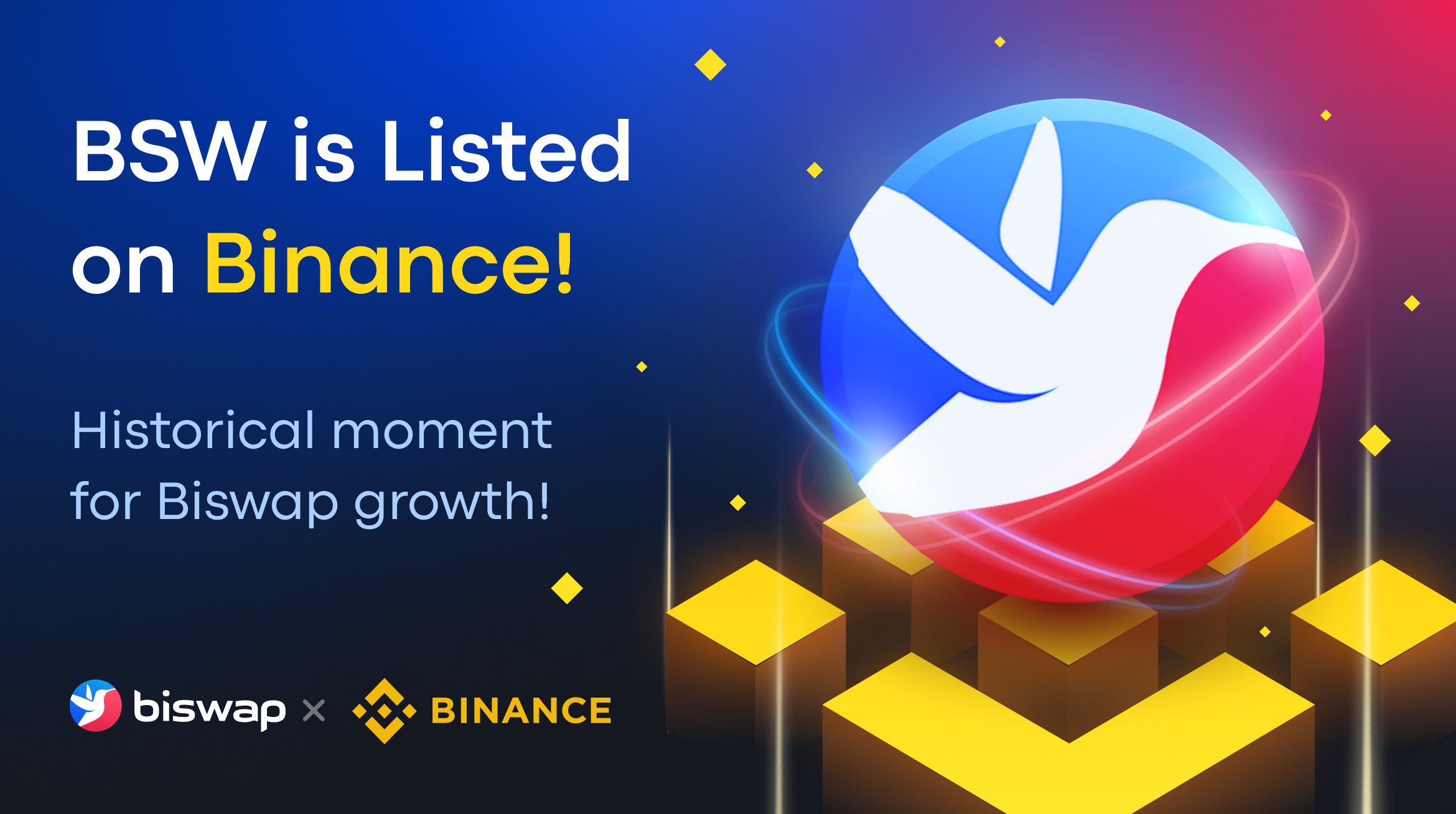 Binance is the major CEX on BNB Chain. Binance Exchange is the largest crypto exchange by trade volume and one of the fastest in the world.
Gate.io is one of the TOP 10 CEX platforms in the crypto world. It allows users to Buy, Sell and Trade over 1300 Cryptocurrencies including Bitcoin, Ethereum, Litecoin, Dogecoin, and more.
Tokocrypto is a digital asset exchange that has been breaking records in trading volumes and user registrations, well on its way to becoming the most prominent digital exchange in Indonesia.
Bybit is one of the leading CEX platforms. It aims to provide our users with the industry's safest, fastest, fairest and most transparent trading experience.

LBank is a global cryptocurrency trading platform that provides safe, convenient cryptocurrency exchange services, derivatives services, grid strategy, Defi mining for global users.
MEXC Global is known as the exchange of high performance and mega transaction matching technology.
KuCoin is a global cryptocurrency exchange for numerous digital assets and cryptocurrencies.
Become a Part of the Worldwide Development with Biswap!
The big partnerships start here! Choose your way and start the lightning-speed growth!
🚀Global Incentive Program for $10 000 000:
Biswap has launched the Global Incentive Program with a $10 000 000 Fund to provide effective partnership and development support for prospective projects on the BNB Chain network. This is a vivid chance to start potent integration of your project on the Biswap platform and get up to 100% Refund Commission.
How Global is the Incentive Program?
⭐️Farming pair on Biswap with rewards in BSW token
⭐️Launchpool for token distribution amidst 45K+ BSW Holders
⭐️Reversed Launchpool: stake your token — earn BSW
⭐️Trading Tournament to maximize Trading Volume with your token
⭐️Marketing Promotion among 400K+ users on Biswap social media
⭐️Continuous direct contact and support from the Biswap team
⭐️Token listing and marketing boost from our partners — №1 I-Gaming platform BetFury
⭐️$10 000 — $30 000 for project development & up to $10 000 funding for Security Audit
Check the details and join Global Incentive Program via the Biswap Incentive Program page:
👉 https://biswap.org/incentive_program
💼Biswap Business Partnership:
Launch your project on Biswap! One more powerful opportunity to level up your flourishing project with Biswap!
Experience all the benefits of collaborations with Biswap:
⭐Liquidity — projects launched on Biswap Launchpool will be listed and have high trading liquidity.
️⭐️Marketing Boost among 620K+ users on Biswap social media
⭐️Token Distribution — your token will be instantly distributed to a large user base that holds your token
⭐️New Opportunities—your token might also be added to Biswap Farms with high APRs.
Get to know how to build up a striking collaboration with Biswap and apply the form:
👉https://docs.biswap.org/business-partnerships
Biswap  —  your place of innovative progress!
Follow the Biswap Social Media:
🔥Website | Telegram Channel | Telegram Channel for CIS Users
Telegram Chat | Twitter | YouTube | Instagram | Medium | Zendesk
CoinMarketCap | Facebook | TikTok | Quora
Local TG Communities:
🇲🇨Indonesian-Speaking | 🇻🇳Vietnamese-Speaking | 🇷🇺Russian-Speaking
🇫🇷French-Speaking | 🇵🇹Portuguese-Speaking | 🇩🇪German-Speaking
🇨🇳Chinese-Speaking | 🇹🇷Turkish-Speaking | 🇪🇸Spanish-Speaking
🇮🇳Indian-Speaking