WalletConnect is an open protocol that helps to use Decentralized Applications (Biswap DEX platform in our case) via your mobile wallet.
WalletConnect lets users make the transactions through an encrypted connection by scanning a QR code, with mandatory confirmation on the user's smartphone.
Explore all the advantages of WalletConnect on Biswap by following the easy steps below!
How To Use WalletConnect With Biswap?
If you have decided to take full advantage of WalletConnect on Biswap, we recommend you to check the registration of your wallet in the WalletConnect Registry or in Settings of your wallet.
Availability of your wallet in the Registry means that you may confidently start the connection to Biswap via an open protocol — WalletConnect.
In case you do not have a wallet yet, the Biswap team has prepared the detailed instructions on how to create your first wallet on MetaMask: https://bit.ly/3pdME5j
While you have done all these actions, you may continue the connection of your wallet on our OFFICIAL website.
1. Firstly, you need to press Connect wallet on Biswap.
2. After that, you will see the list of available wallets and the open protocol — WalletConnect. Select WalletConnect.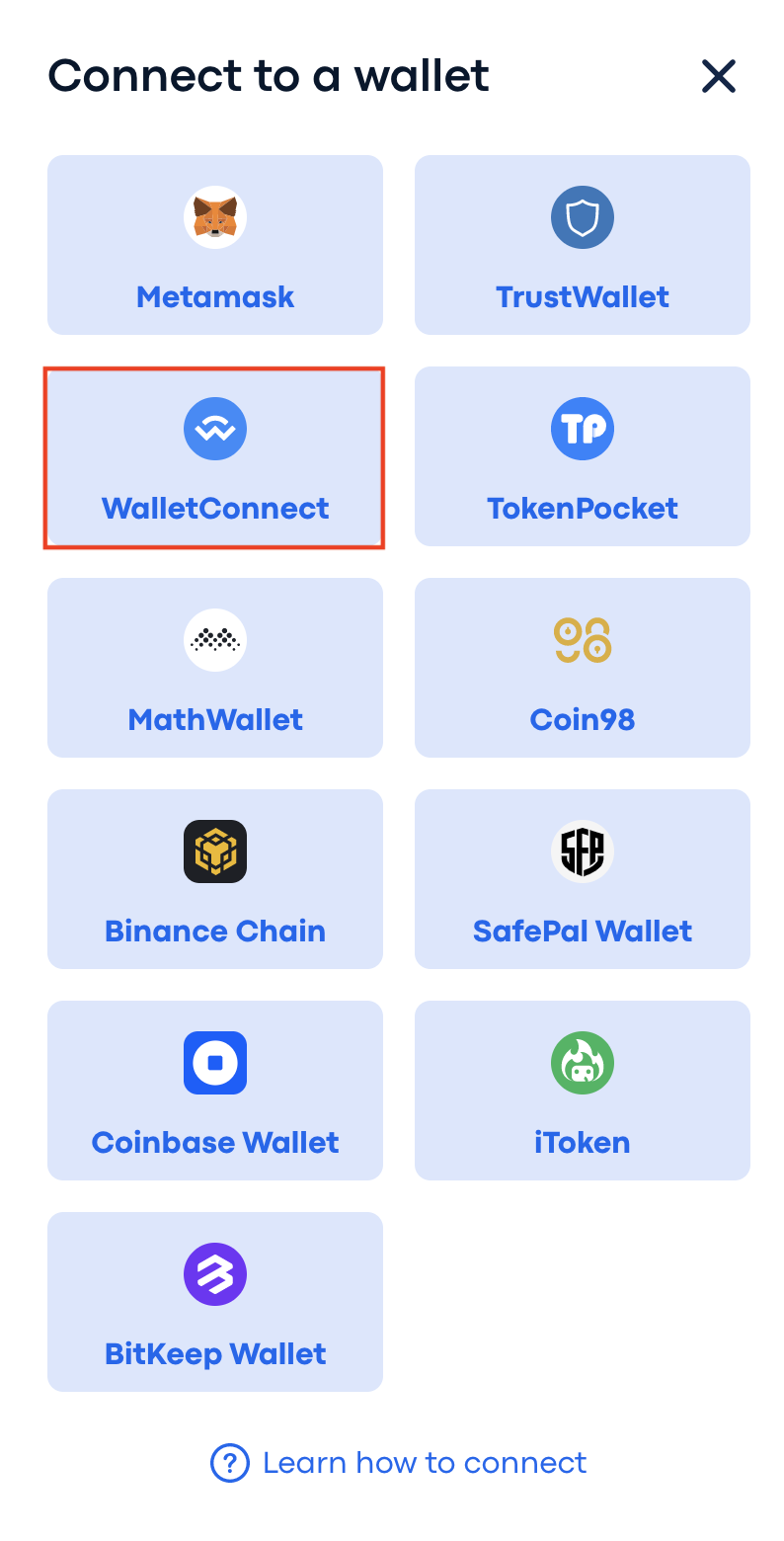 Pay attention that Biswap currently works with the BNB Chain network only.
3. Once done, the system will display a QR code. Depending on the mobile wallet that you are using, you either just scan the QR code by your phone camera and follow the link or copy a link under the QR code to your smartphone.
4. Press Connect and Sign on your phone, and that is how the connection will be made!
5. After the successful verification, you will see the address of your wallet on Biswap instead of Connect wallet.
Now, you can make transactions from a mobile wallet chosen on your own and do not waste your time by creating several wallets!

Follow the Biswap Social Media:
🔥Website | Telegram Channel | Telegram Channel for CIS Users
Telegram Chat | Twitter | YouTube | Instagram | Medium | Zendesk
CoinMarketCap | Facebook

Local TG Communities:
🇲🇨Indonesian-Speaking | 🇻🇳Vietnamese-Speaking | 🇷🇺Russian-Speaking
🇫🇷French-Speaking | 🇵🇹Portuguese-Speaking | 🇩🇪German-Speaking
🇨🇳Chinese-Speaking | 🇹🇷Turkish-Speaking | 🇪🇸Spanish-Speaking
🇮🇳Indian-Speaking