To start your journey via the Biswap platform and experience all the lucrative features, you will need to connect your crypto wallet. MetaMask wallet has shown to be effective for decentralized finance (DeFi) applications, especially for use on the BNB Chain.
Installing MetaMask Wallet
MetaMask can be downloaded on Chrome, Firefox, Brave, and Opera browsers or IOS and Android if you're a mobile user. In this tutorial, we will be using the Chrome browser, but the instructions are quite applicable for any search engine you prefer:
Press Add the extension in the pop-out screen
MetaMask has been successfully installed. You can also pin the wallet in the top right corner for quick access to your wallet.

Creating a MetaMask Account
Once you have successfully installed your MetaMask wallet, it is time to create an account!

To start the creation, click on the MetaMask icon in the upper right corner to open the extension:
Click Try It Now and then Continue.

Then, you will need to create a unique password. Enter the password and click Continue.

After seeing the above-illustrated screen, click Next and accept the Terms of Use.

Proceed by clicking Reveal Secret Recovery Phrase.

You will see the 12 words seed phrase, which should be saved as a file. You must copy these words to a safe place. Once you've safely stored your seed phrase, click Next.

Verify your secret phrase by entering the previously generated phrase and clicking Confirm.

❗️Please note:
Make sure you write down your seed phrase somewhere secret. Ideally, it should not be on the Internet-connected device. Without a seed phrase, you will not be able to access your account. Hence, all your funds will be permanently lost if you damage or lose your device.
Adding the BNB Chain Network to MetaMask
A new Ethereum address will be generated for you once you create an account on MetaMask. However, in order to use the Biswap platform, you need to add the BNB Chain network.
Follow our step-by-step guide to add the BNB Chain network straight away!
In the upper right corner of MetaMask wallet, press My Accounts and then Settings.

Select Networks and then click Add Network.

Now, manually fill in all the empty fields with the data presented below: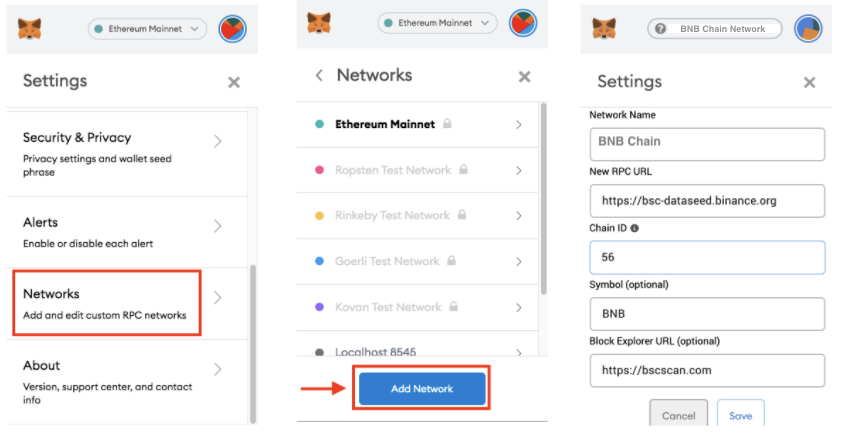 When you save all the changes and go back to the main menu, you will notice that the network has been automatically set to the BNB Chain network, and the units are denominated in BNB now.

If you need to change the network to another one, just go to Networks in the MetaMask settings.
Connecting Your MetaMask Wallet to Biswap
1. Once you've connected your wallet to the BNB Chain network, head over to the Biswap homepage and click the Connect Wallet button.
❗️Before connecting, make sure you have switched from the Ethereum Mainnet network to the BNB Chain.❗️

2. Select the MetaMask Wallet to connect.


Follow the Biswap Social Media:
🔥Website | Telegram Channel | Telegram Channel for CIS Users
Telegram Chat | Twitter | YouTube | Instagram | Medium | Zendesk
CoinMarketCap | Facebook | TikTok | Quora

Local TG Communities:
🇲🇨Indonesian-Speaking | 🇻🇳Vietnamese-Speaking | 🇷🇺Russian-Speaking
🇫🇷French-Speaking | 🇵🇹Portuguese-Speaking | 🇩🇪German-Speaking
🇨🇳Chinese-Speaking | 🇹🇷Turkish-Speaking | 🇪🇸Spanish-Speaking
🇮🇳Indian-Speaking